Each faces of vintage Barbie family are painted defferent. first, I thought that every Barbie doll was the same face doll but even the same #5 are different.
Not only vintage Barbie, vintage Barbie family's faces has a little difference by manual work. depending on how draw eyeblows, eyelashes(mold), irises, pupils…they are slightly different.
My brunette #5 the photo below-her eyelash molds are drawn beautifully crescent and her pupli positions are also great. her eyeblows are paled out why I am not sure. she is totally absolutely beautiful but she is very unfortunate typical oily skin problem so I have to clean her face reguraly and sometimes I put down her hair to clean her scalp too. my blonde #5 skin is no problem. very storange.
Now, vintage Barbie is easy to buy online but online shopping is still gambling especially when buying vintage toys. it is very diffucult to know the little differences from small information. my answer to this is…please look a lot of Barbie faces. there are many collector sites which shows vintage Barbie faces in the internet(this site too!). I hope you will see the difference!!
最初はみんな同じ顔に見えていたバービーたちが、見慣れてくると違いがあることが判ってきました。ヴィンテージ期のバービーたちは1体1体の顔が違い、同じ#5という種類の中でも違いがあります。
バービーの目は伏目で流し目ですが"眉、まつげ(モールド)、虹彩、瞳孔"のすこしのペイントの差で表情が変わります。
下の画像の左側のブルネット#5はまつ毛のモールドが綺麗な三日月型に描かれていています、瞳孔の位置も良い位置に描かれています。眉のペイントが薄くなっているのは何故だか判りません。
残念ながらこのブルネット#5は典型的なオイリースキンの問題を持っていて20年以上ヘッドから油が染みだしています。髪まで濡れるので時々彼女のポニーテールをほどいて洗ってあげないとなりません。上記右側のブロンド#5にはオイリースキンの症状が出ていません。
ヴィンテージバービー達はインターネットで簡単に購入できるものになりましたが、インターネットの小さな情報からヴィンテージバービーの小さな違いを知るのはとても難しい。ぜひヴィンテージバービーの顔をたくさん見てください、インタネットにはたくさんのコレクターサイトがあります(このサイトもです!) 小さな違いをたくさん観察して好みの表情を発見してください。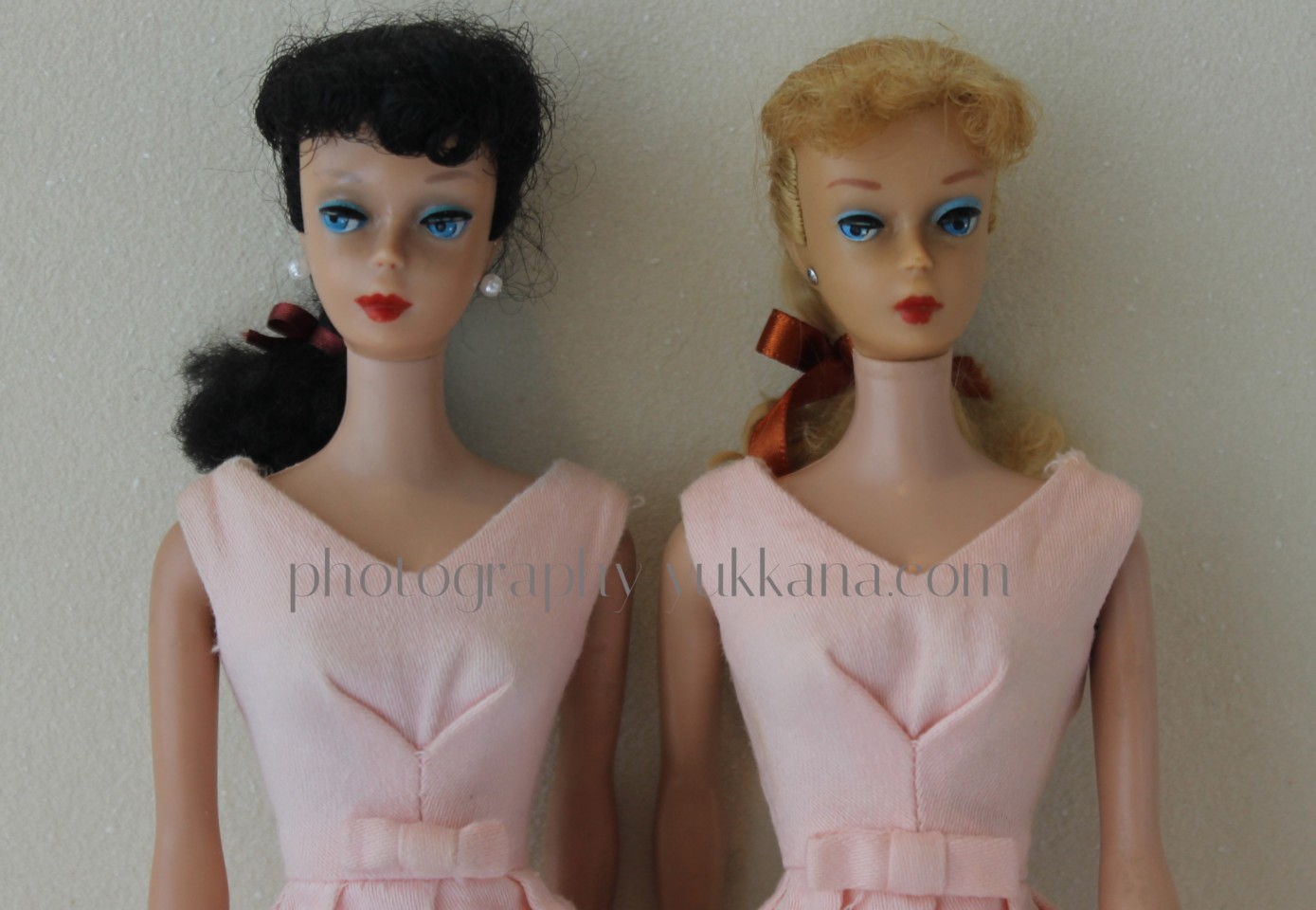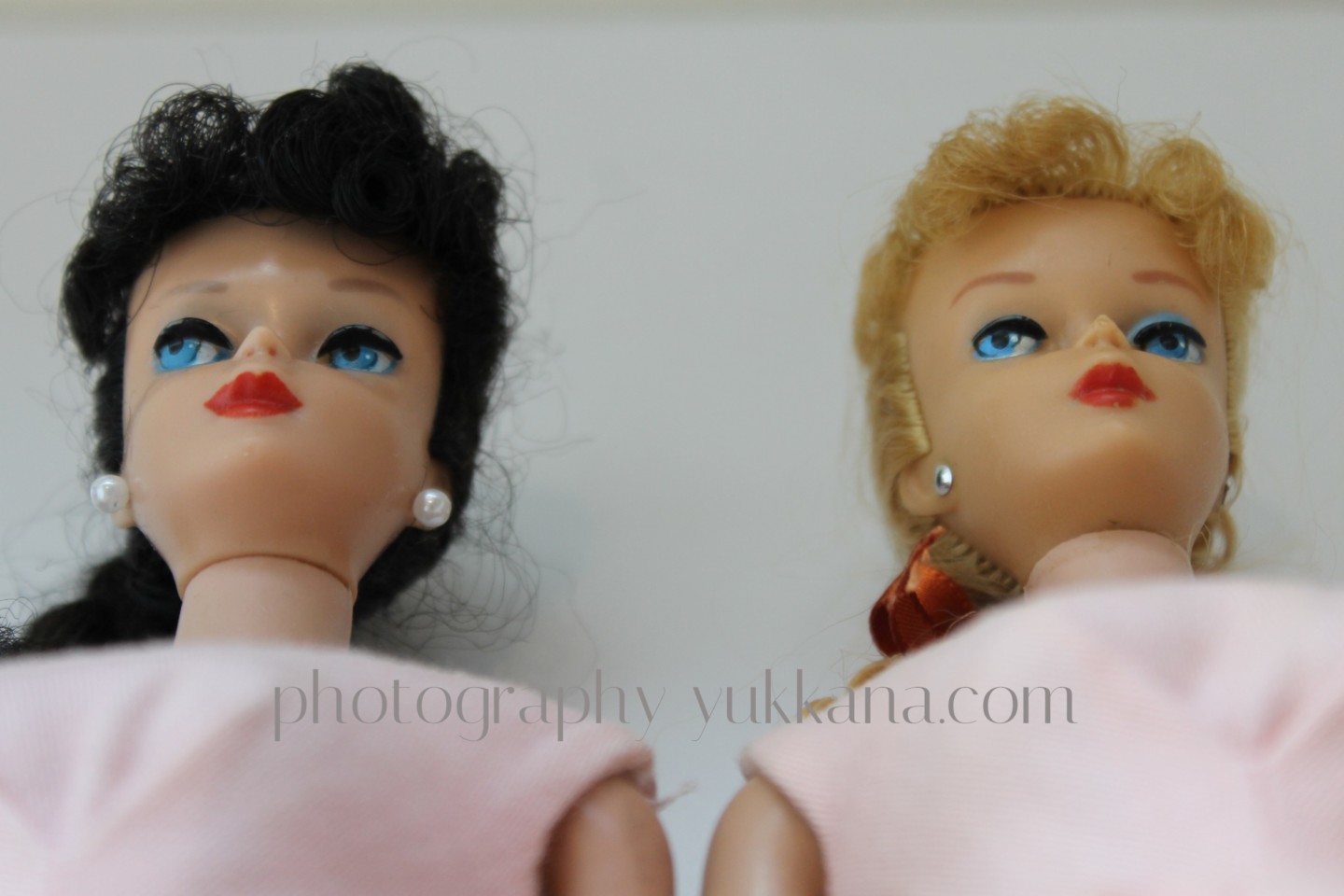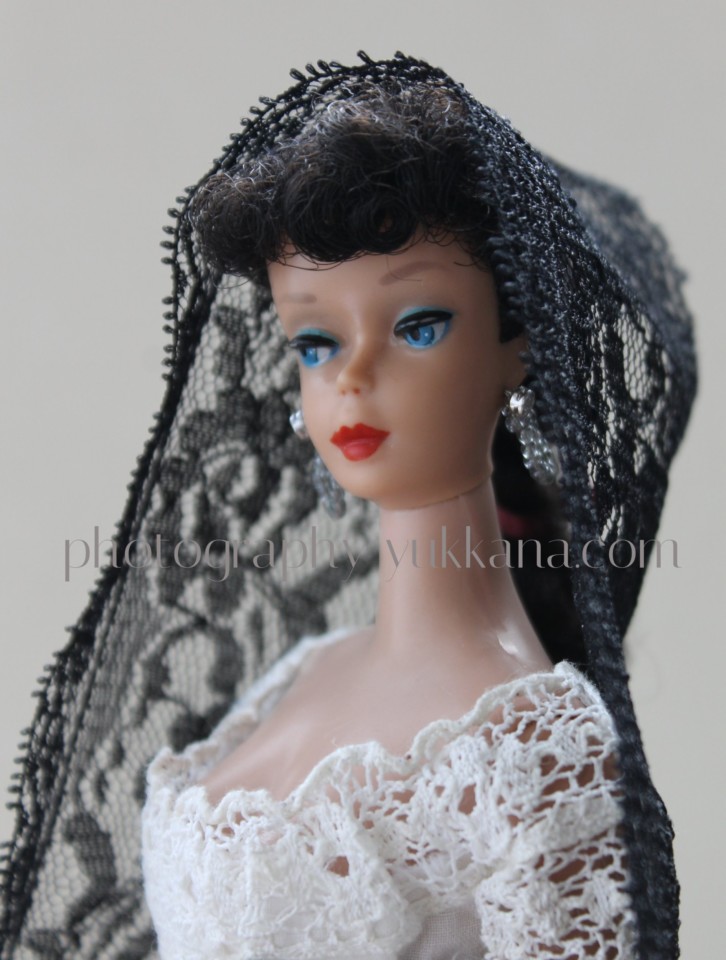 above photo:Beautiful raven #5 in 1964 #0820 Barbie in Mexico.