1959 #968 ROMAN HOLIDAY SEPARATES: coat, sheath dress, belt, hat, glasses, case, comb, shoes, bag, necklace, short, gloves, hankie $4.00
Coat(12 fabric parts):white and red weave patterned fabric, 7 buttons, 5 decorative button holes, 2 pocket flaps, label, red liner fabric(half lining and sleeve lining),yoke
Sheath dress(2 fabric parts):white and red weave patterned fabric, navy cotton fabric, YKK zipper
Short gloves(1 fabric parts/single glove):white tricot fabric, hand sewing or machine made
The second outfit from the TY collection. I'm delighted to be able to show such a wonderful outfit here. Enjoy an original luxurious fabric!
As very well known, ROMAN HOLIDAY SEPARATES/EASTER PARADE/'GAY PARISIENNE' COSTUME were sold for a very short time in 1959. These old outfits(includes APPLE PRINT SHEATH and CRUISE STRIPE DRESS) seems to be sewn often the smallest(size 0) YKK zipper. normally Japan-made Barbie family clothing were sewn YKK zipper(size 1). sometimes the size 2 was also used on bags and jumper jackets though, as far as I know the smallest zipper is rarely seen. I expected that Japan started manufacturing 1959-Barbie fashion in 1958 for next year's sales and finished until early 1959 at latest. among them, these outfits may have been made first.
ROMAN HOLIDAY SEPARATES has many accessories. TY collection's outfit is missing a brass compact/puff/glasses case otherwise still in very excellent condition.
1959 #968 ROMAN HOLIDAY SEPARATES:コート、ドレス、ベルト、帽子、眼鏡、ケイス、くし、靴、バッグ、ネックレス、手袋、ハンカチ $4.00
コート(生地パーツ12):白×赤色の織模様の生地、ボタン 7、ボタンホール 5 、ポケットフラップ 2、ラベル、赤色の裏地(半分の裏地/袖に裏地)、ヨーク
シースドレス(生地パーツ2):白×赤色の織模様の生地、紺色の生地、YKK ジッパー ラベルがつきません、ラベルがつくのはCRUISE STRIPE DRESSです。
手袋(生地パーツ1/片方):白色のトリコット生地、手縫いまたはマシンメイド
とてもよく知られているように1959年の衣装のROMAN HOLIDAY SEPARATES/EASTER PARADE/'GAY PARISIENNE' COSTUMEはとても短い期間に販売をされていました。これらの衣装(APPLE PRINT SHEATH と CRUISE STRIPE DRESSを含む)には通常よりも小さいYKKジッパー(サイズ0)がよく付けられていたようです。通常のバービー製品(日本が作った製品)にはYKKジッパーサイズ1が付けられています、またジャンパーやバッグなどにはサイズ2が付けられていますがサイズ0はほとんど見ません。1959年の衣装は1958年までに、おそくても1959年の初めまでには生産されていたと思いますが、これらはその中でも早い段階で作られていたのかもしれません。
ROMAN HOLIDAY SEPARATESにはたくさんのアクセサリがセットされていました。TYコレクションからはコンパクト/パフ/眼鏡ケースが失われていますが、それでもとても良い状態です。この衣装は1994年に復刻版でも販売をされた衣装ですがオリジナルをこのように詳しく見られる機会はほとんど無いと思います。オリジナルの赤×白の生地はヴィンテージ期の生地の中でも豪華な生地だと思います。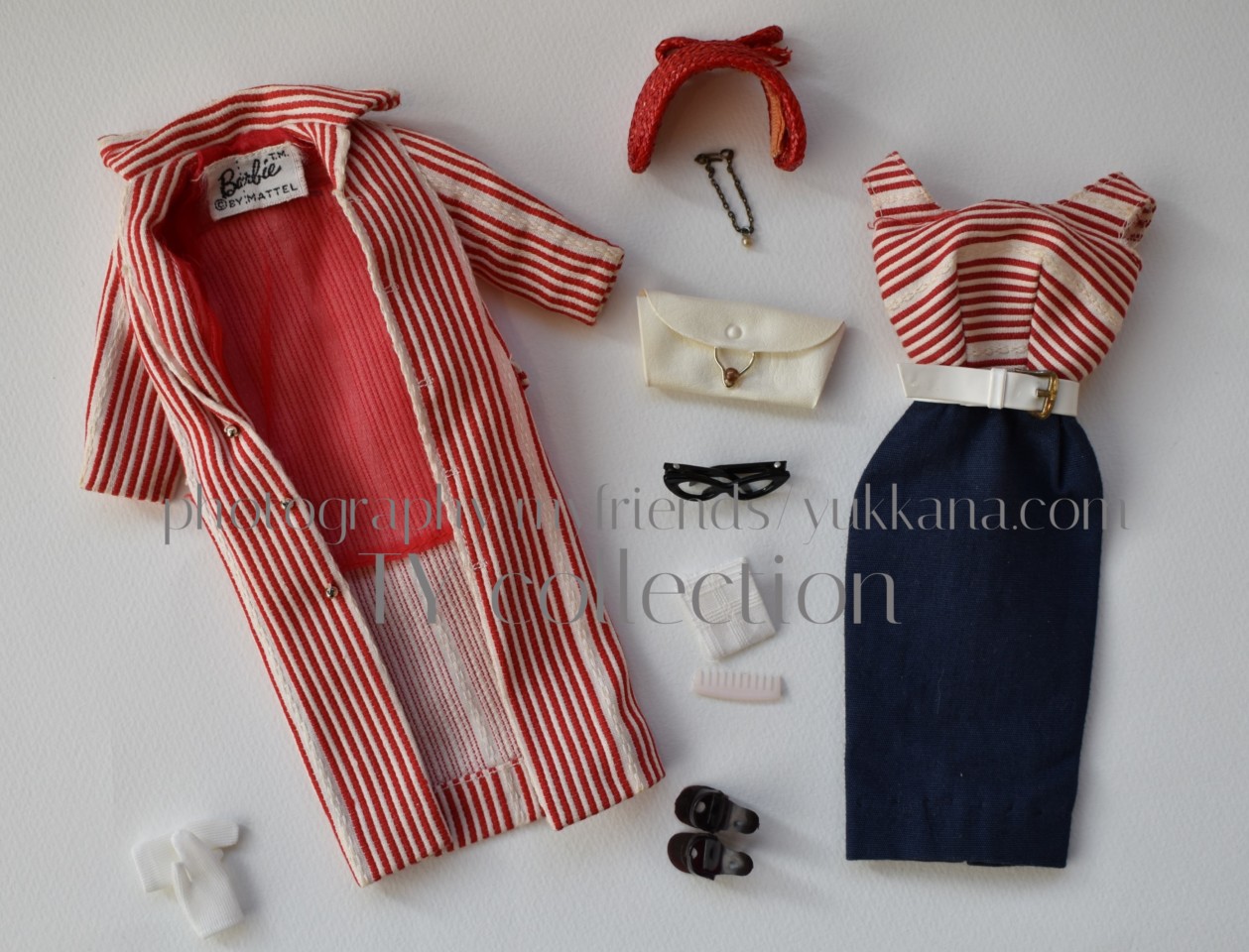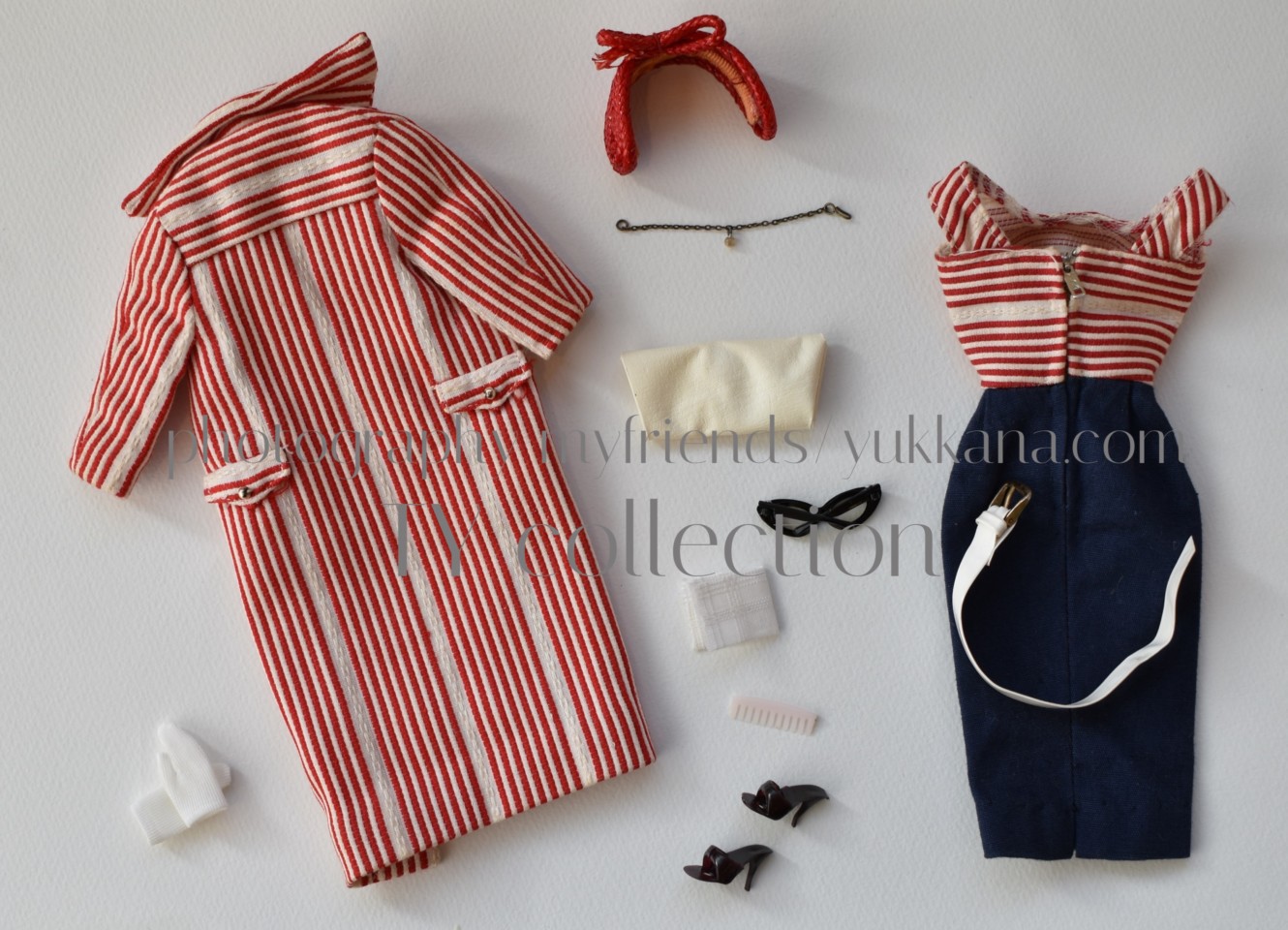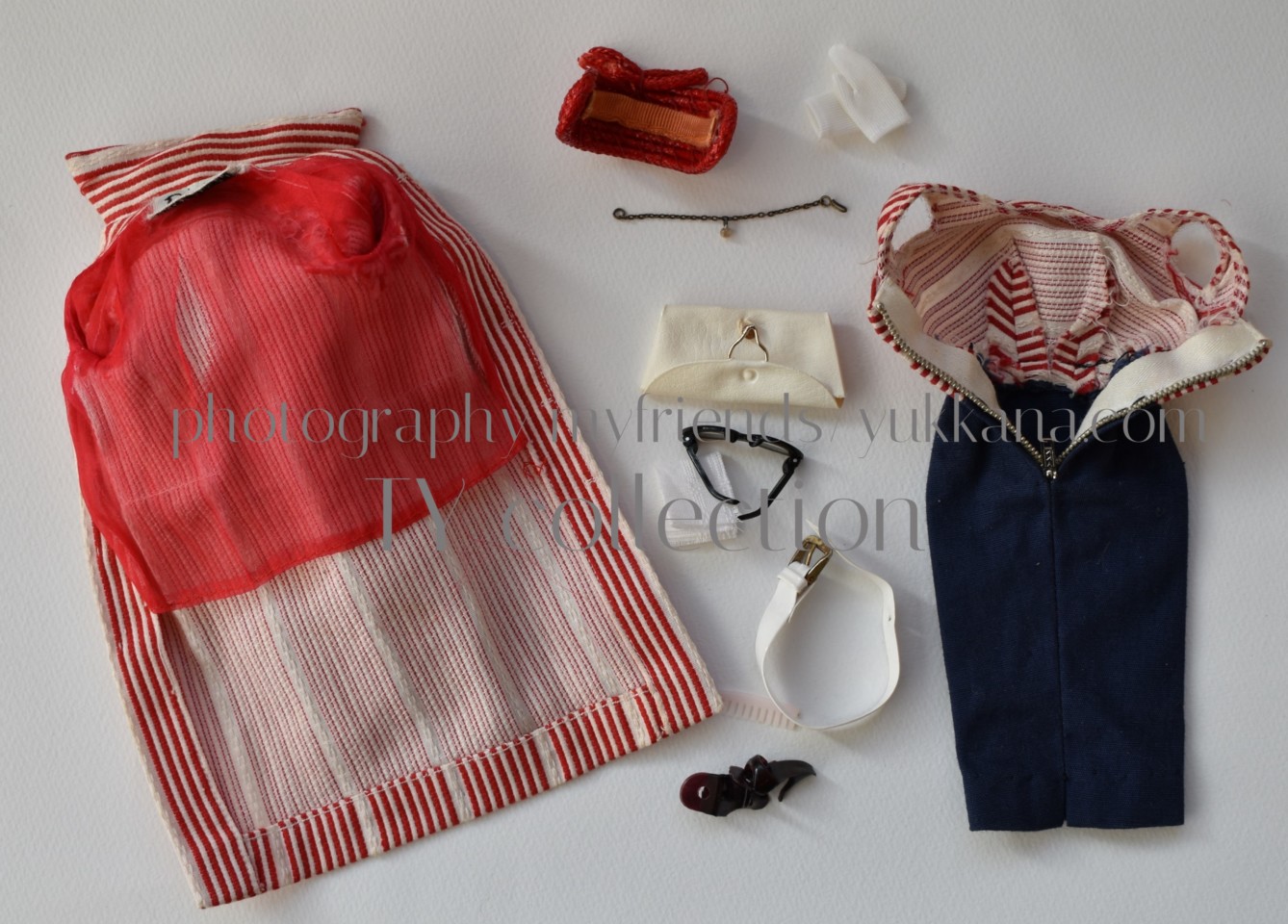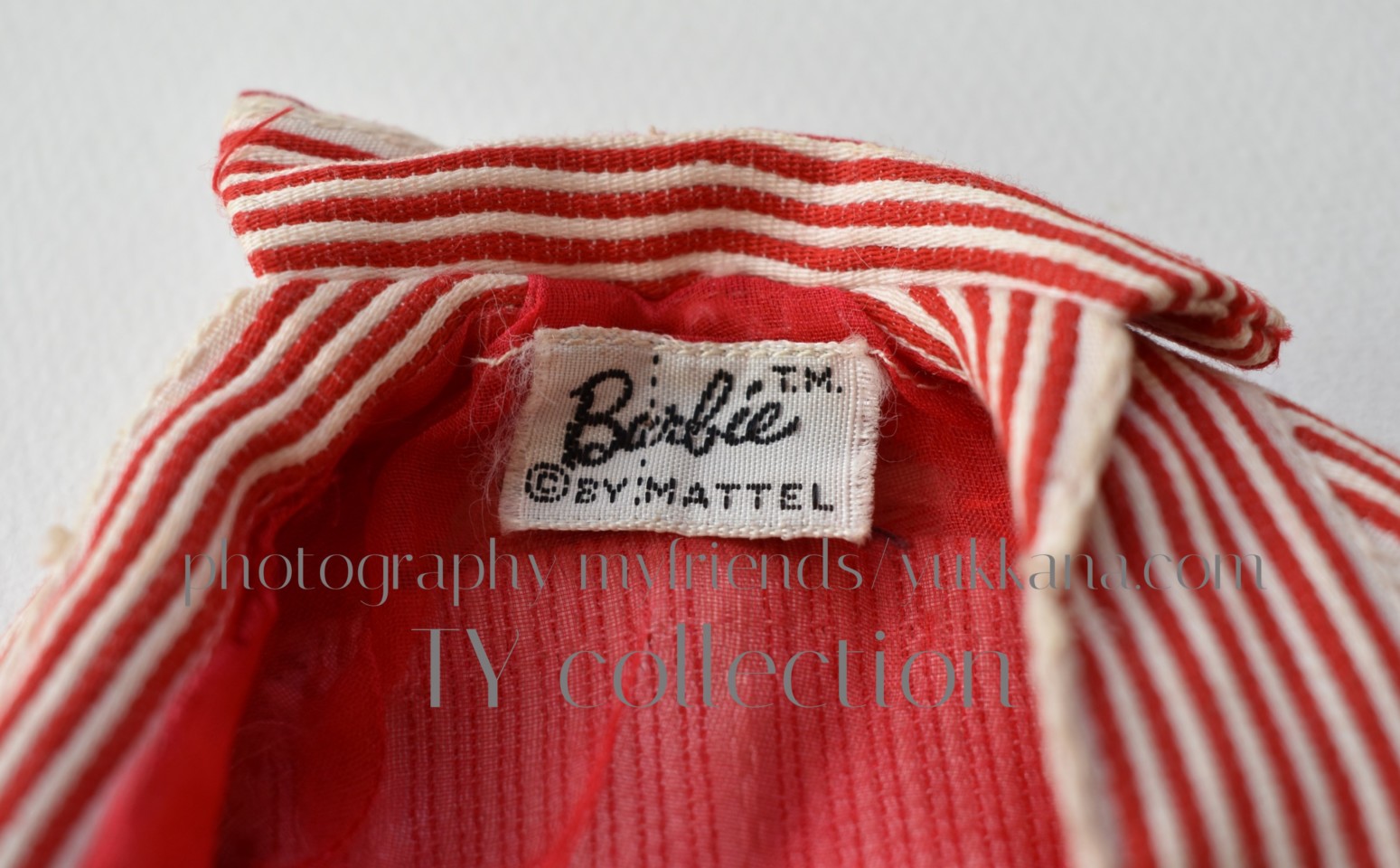 このハンカチが広げられているのを見たことはありましたか?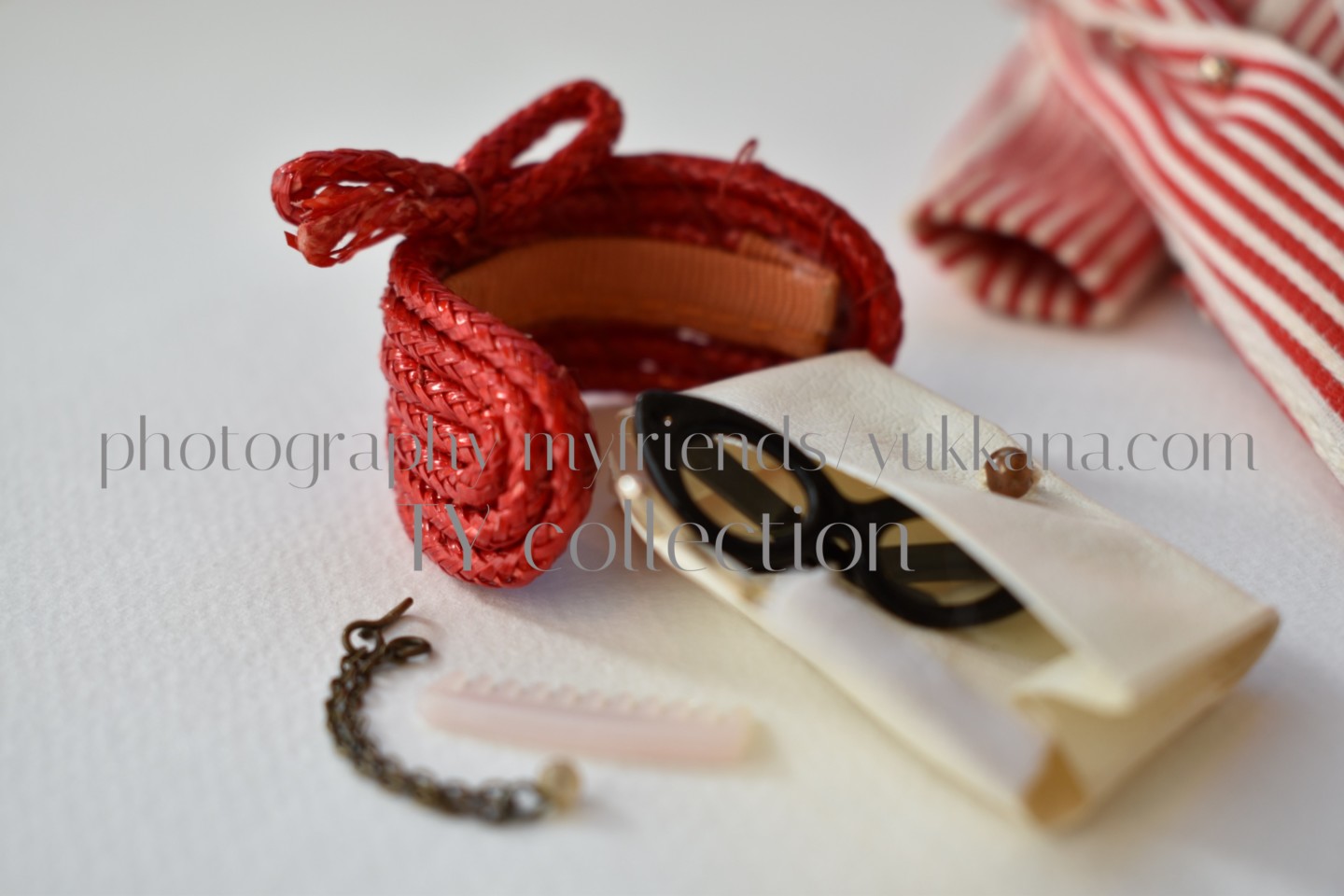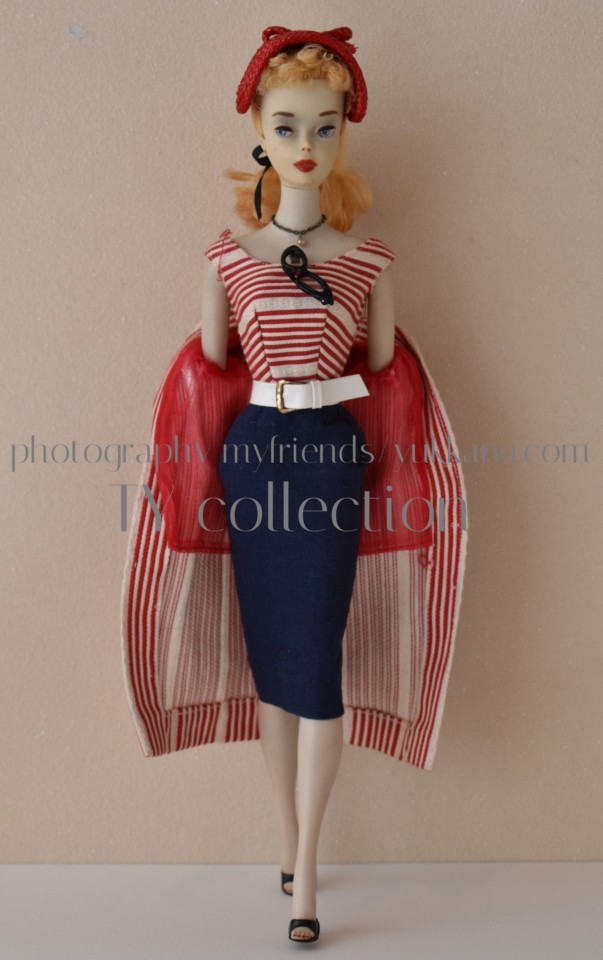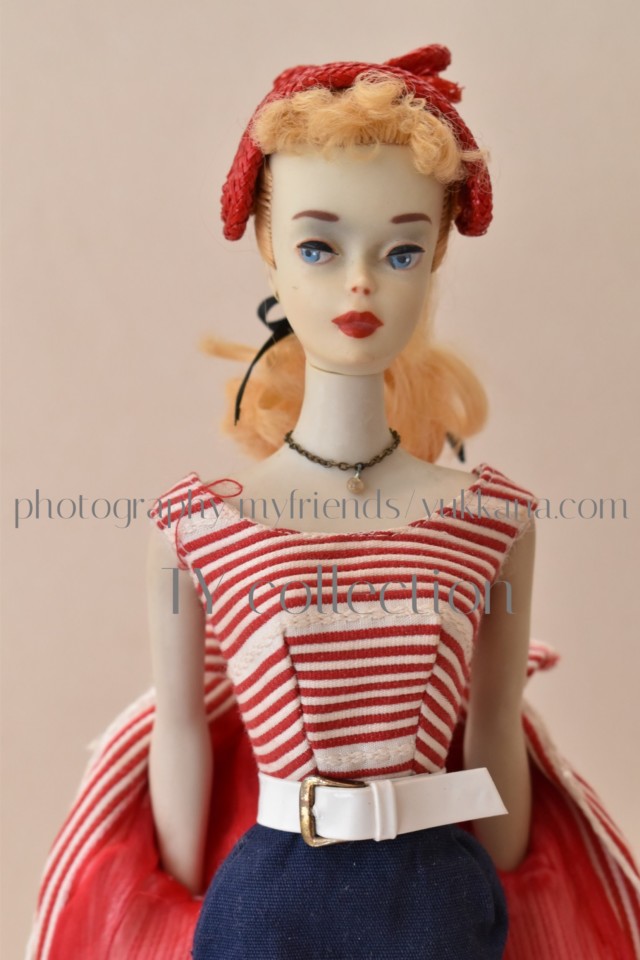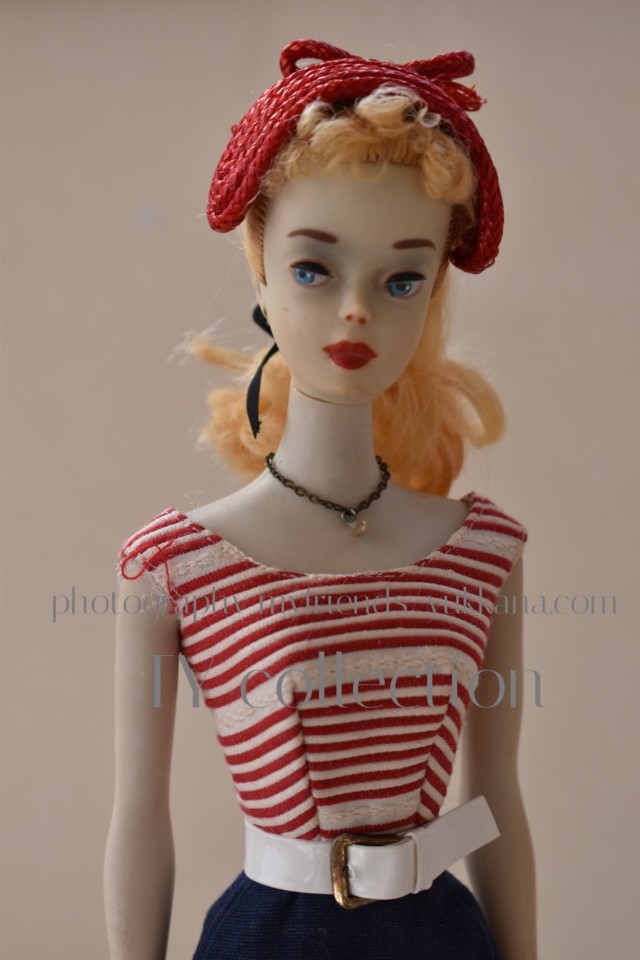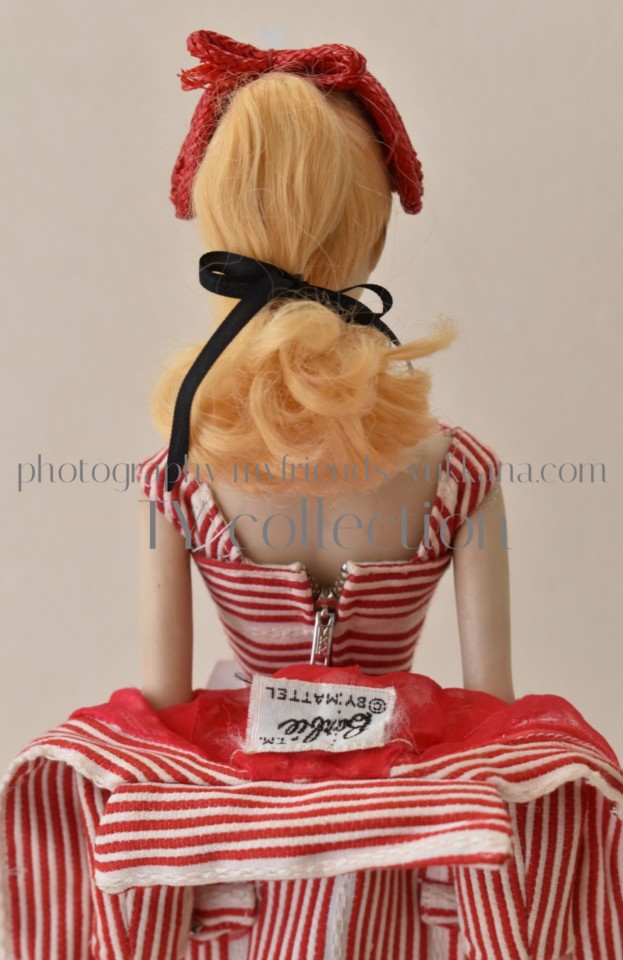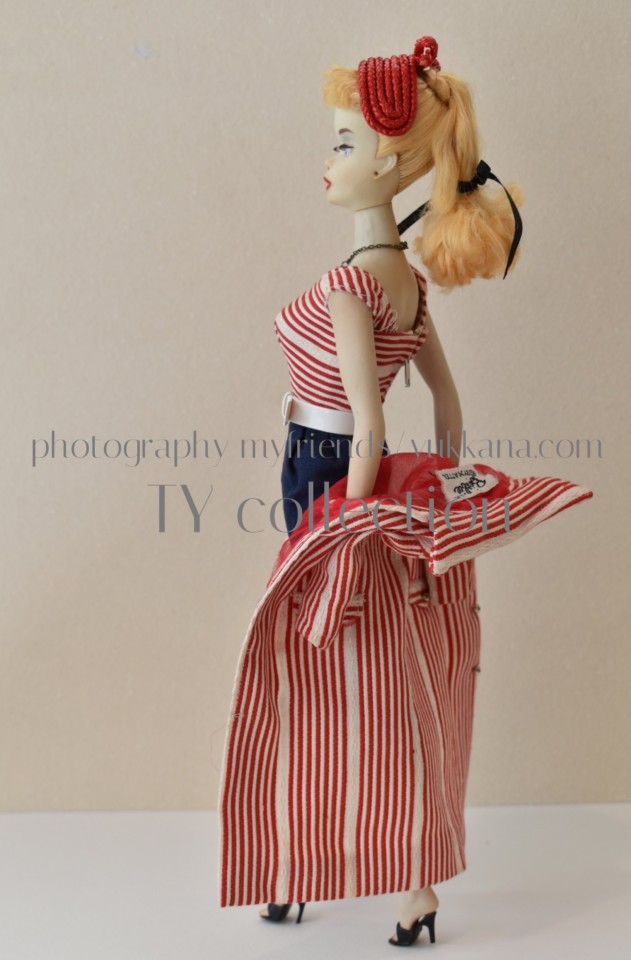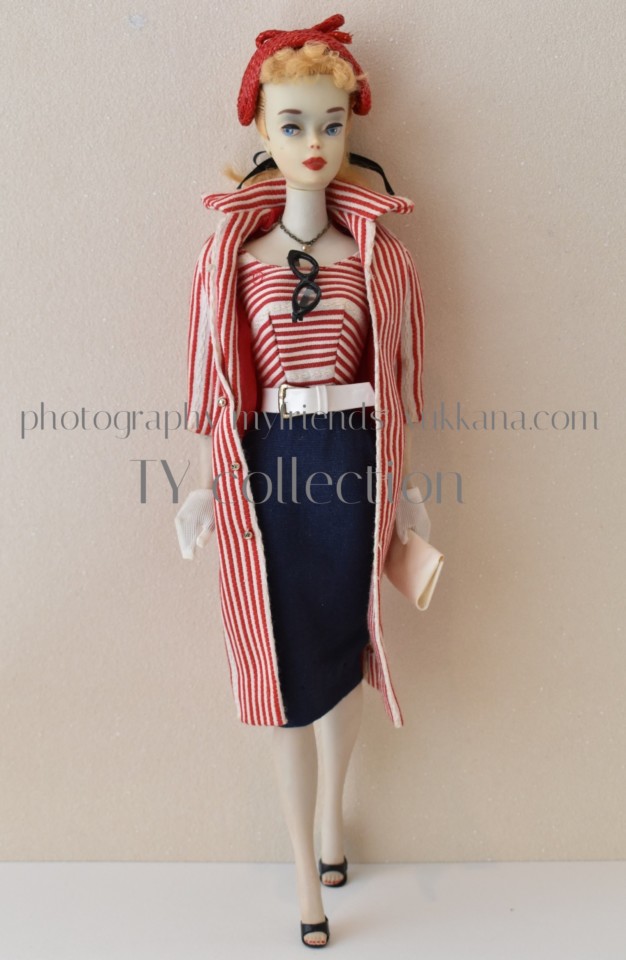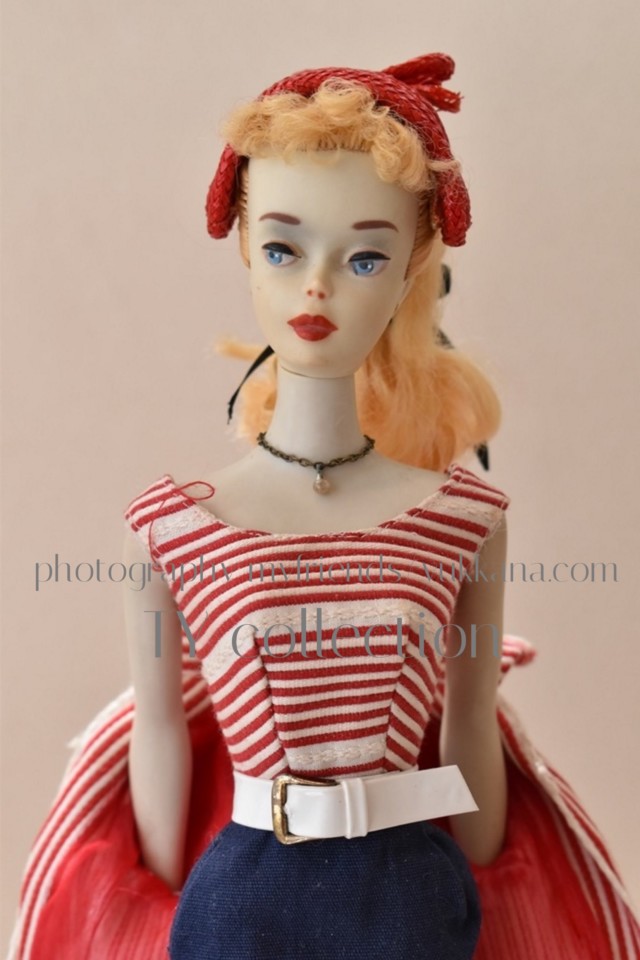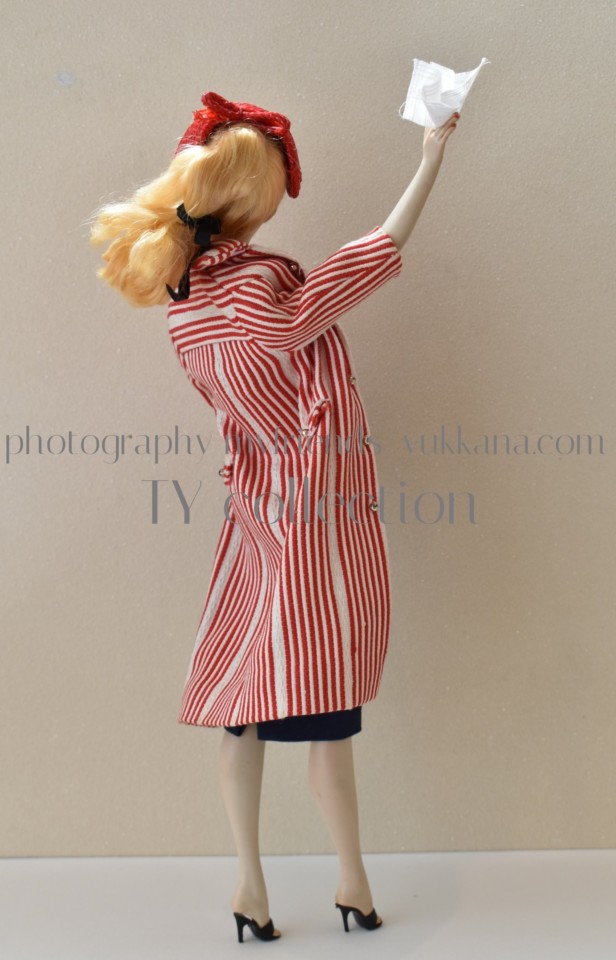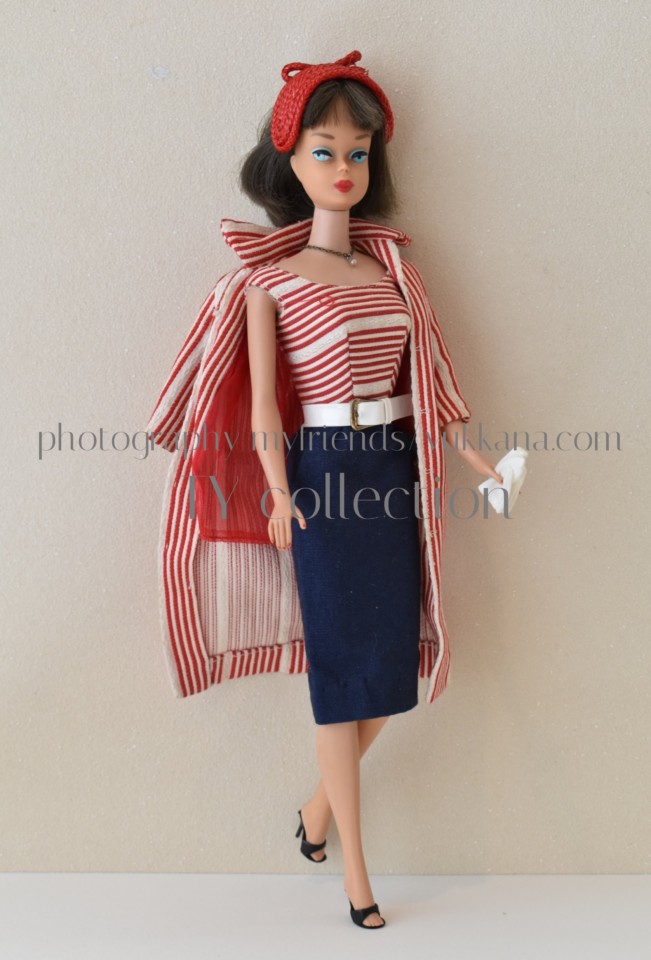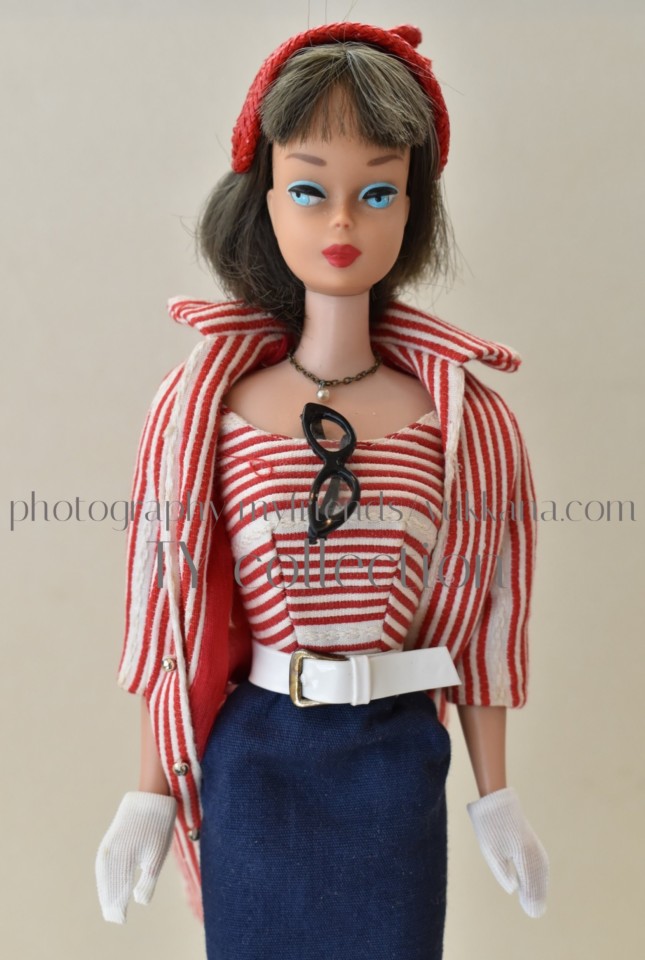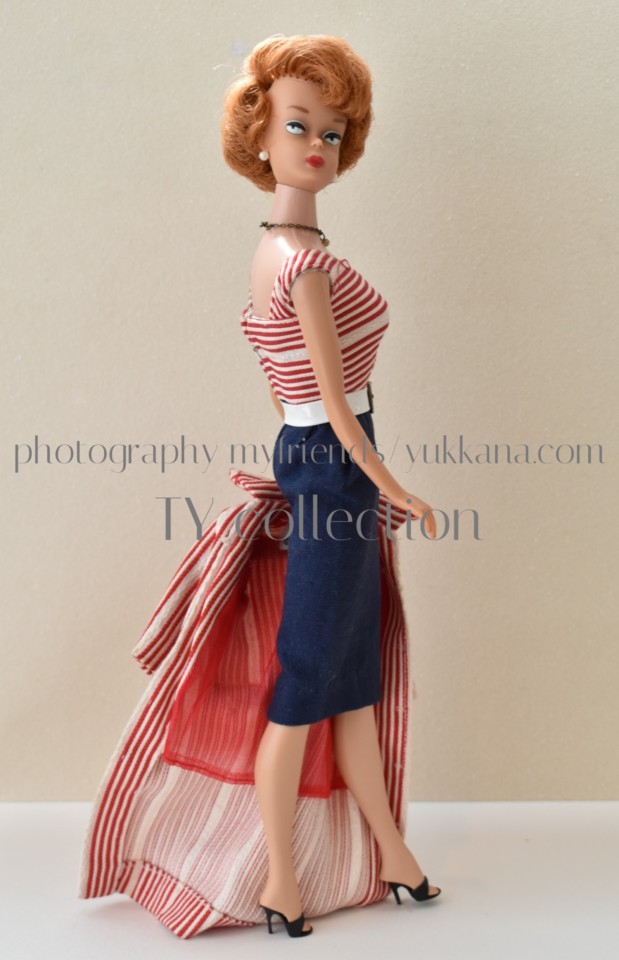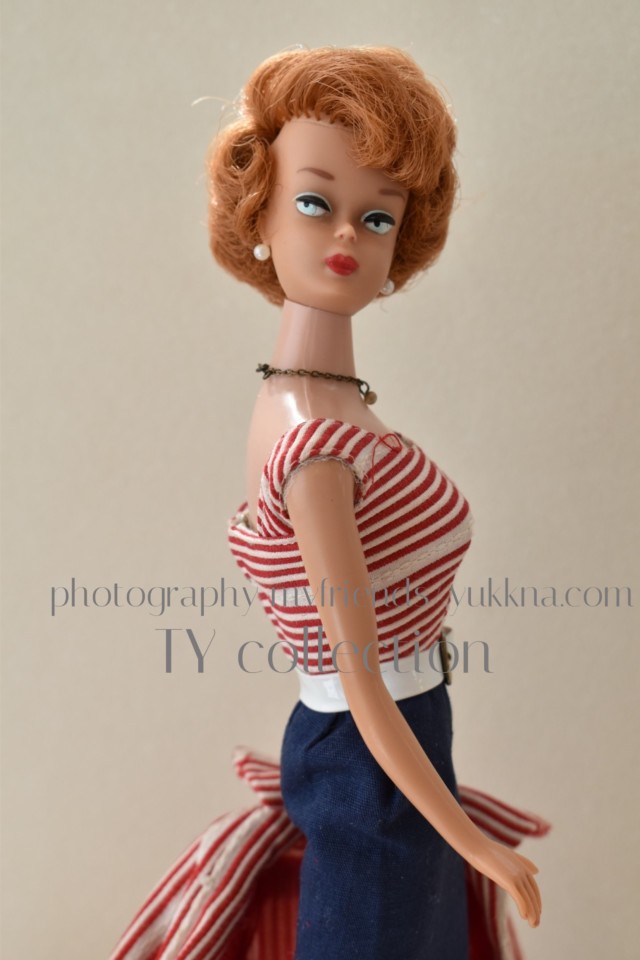 画像下、左側は#968 Roman Holiday Separates, 右側は#918 Cruise Stripe Dress