1959 #971 EASTER PARADE: coat, sheath dress, earring, necklace, shoes, bag, gloves, head band $4.00
Coat(9 fabric parts/coat+4 fabric parts/2 bows):black taffeta fabric, label, 2 pockets, 2 bows, yoke
Sheath dress(3 fabric parts):printed cotton fabric, YKK zipper, 4 darts, 2 tucks
Head band(1 fabric part): thin black fabric, grosgrain ribbon tape, thin metal plate
Short gloves(1 fabric parts/single glove):white tricot fabric, hand sewing or machine made
One of the famous outfit of 1959 from TY collection who is a Japanese vintage doll collector. Thank you so much for showing your great vintage collection on this site.  Genuine thing has absolute power, Japan-made Barbie family things too. that's all what I want say. only I should do is shooting beautiful photo.
As very well known, ROMAN HOLIDAY SEPARATES/EASTER PARADE/'GAY PARISIENNE' COSTUME were sold for a very short time in 1959. These old outfits(includes APPLE PRINT SHEATH and CRUISE STRIPE DRESS) seems to be sewn often the smallest(size 0) YKK zipper. normally Japan-made Barbie family clothing were sewn YKK zipper(size 1). sometimes the size 2 was also used on bags and jumper jackets though, as far as I know the smallest zipper is rarely seen. I expected that Japan started manufacturing 1959-Barbie fashion in 1958 for next year's sales and finished until early 1959 at latest. among them, these outfits may have been made first.
The black fabric used for the coat of EASTER PARADE is similar to #934 AFTER FIVE, but different.
Reproduction was sold in 1994, but the shape of the black coat is completely different from the original.
The original earrings/shoes are very fragile so I did not use them for shooting. I've added replacements on dolls instead of original. (but used the original shoes on bendable leg doll).
1959 #971 EASTER PARADE:コート、シースドレス、イアリング、ネックレス、靴、バッグ、手袋、ヘッドバンド  $4.00
コート(生地パーツ9/コート+生地パーツ4/リボン2):黒色タフタ生地、ラベル、ポケット2、リボン2、ヨーク
シースドレス(生地パーツ3):プリントコットン生地、YKK ジッパー、ダーツ4、タック2、ラベルはつかない
ヘッドバンド(生地パーツ1):薄い黒色の生地、グログランリボンテープ、薄い金属板
ショート手袋(生地パーツ1):白色のトリコット生地、手縫いまたはマシンメイド
ヴィンテージドールコレクターのTYさんのコレクションから有名な3つの衣装を紹介します。
とてもよく知られているように1959年の衣装のROMAN HOLIDAY SEPARATES/EASTER PARADE/'GAY PARISIENNE' COSTUMEはとても短い期間に販売をされていました。これらの衣装(APPLE PRINT SHEATH と CRUISE STRIPE DRESSを含む)には通常よりも小さいYKKジッパー(サイズ0)がよく付けられていたようです。通常のバービー製品(日本が作った製品)にはYKKジッパーサイズ1が付けられています、またジャンパーやバッグなどにはサイズ2が付けられていますがサイズ0はほとんど見ません。1959年の衣装は1958年までに、おそくても1959年の初めまでには生産されていたと思いますが、これらはその中でも早い段階で作られていたのかもしれません。
EASTER PARADEのコートの生地は#934 After Fiveに似ているのですが、同じ生地ではありません。この衣装は1994年に復刻版でも販売をされた衣装ですが、復刻版とオリジナルではコートの形が全く違います。
画像にはオリジナルのイヤリング/靴を使っていません、それらはとても弱くなっているので代わりのアクセサリを使って撮影をしました。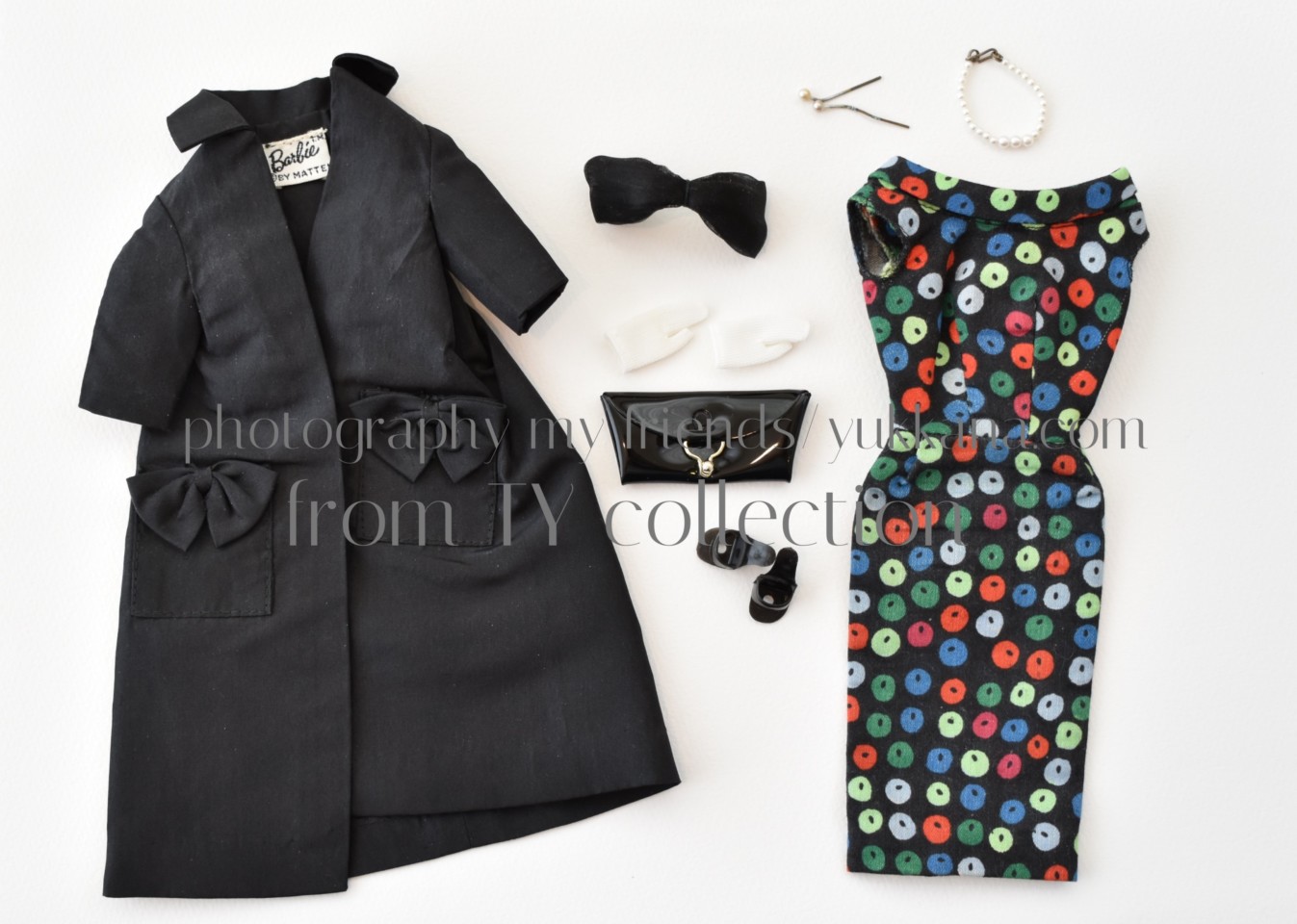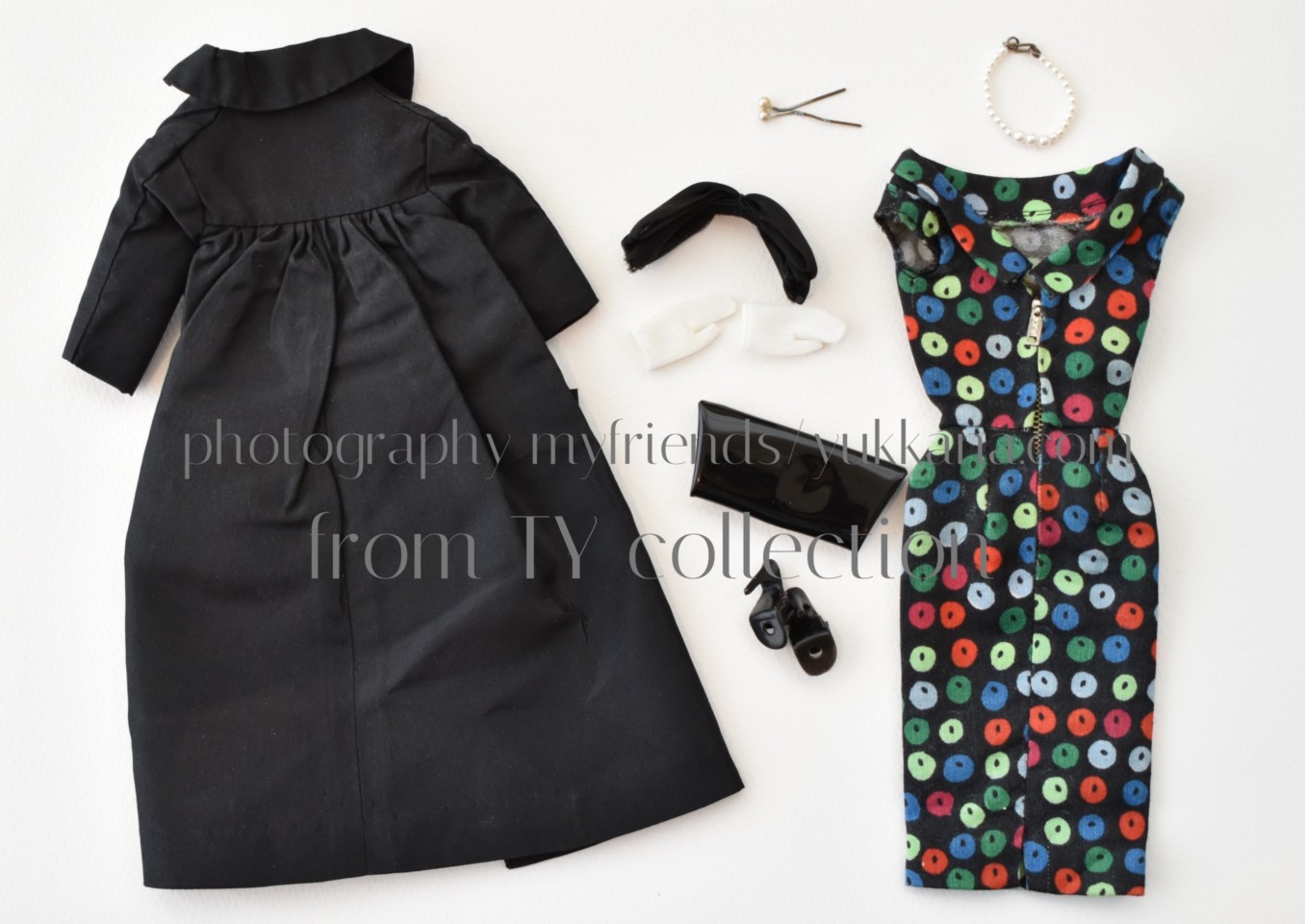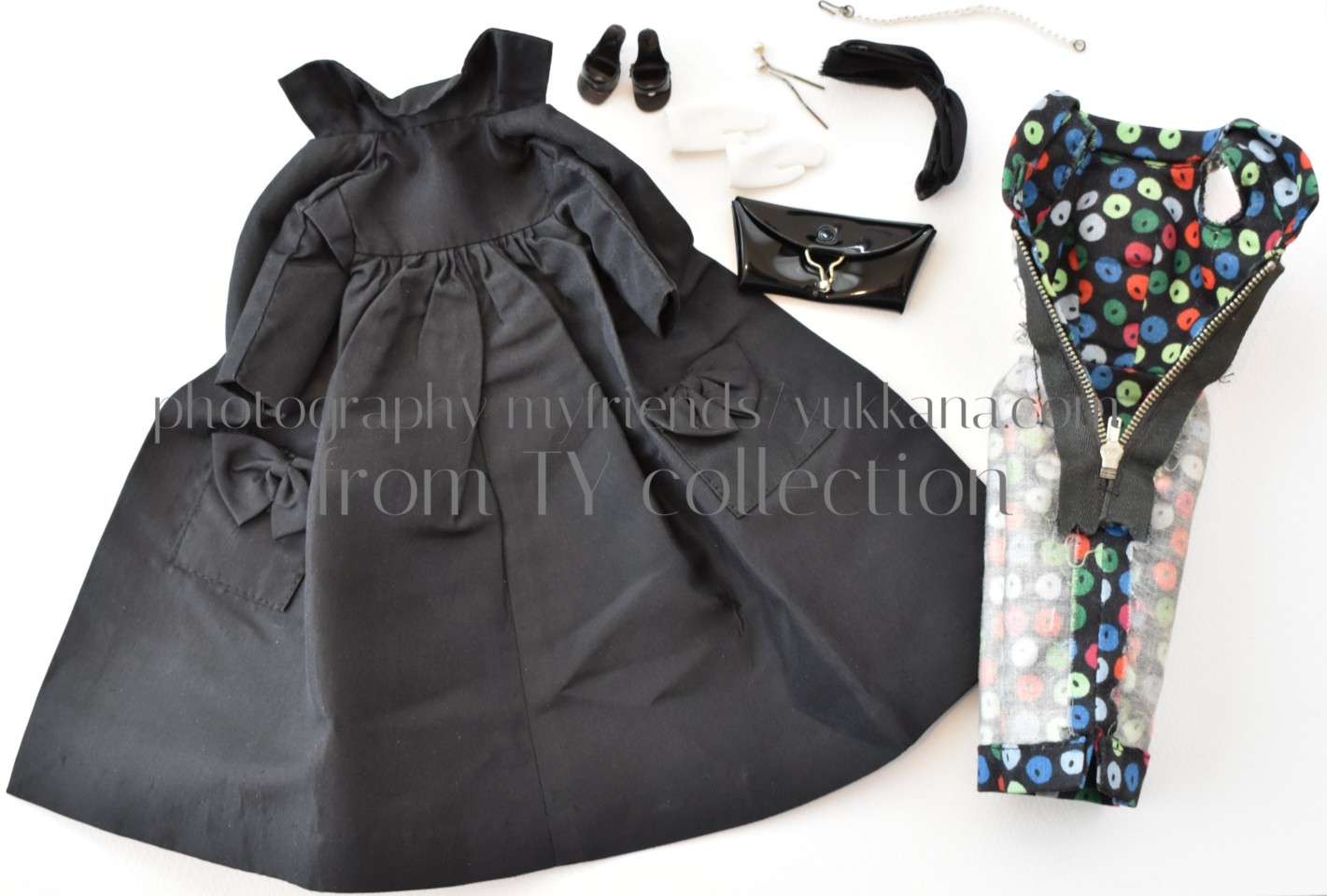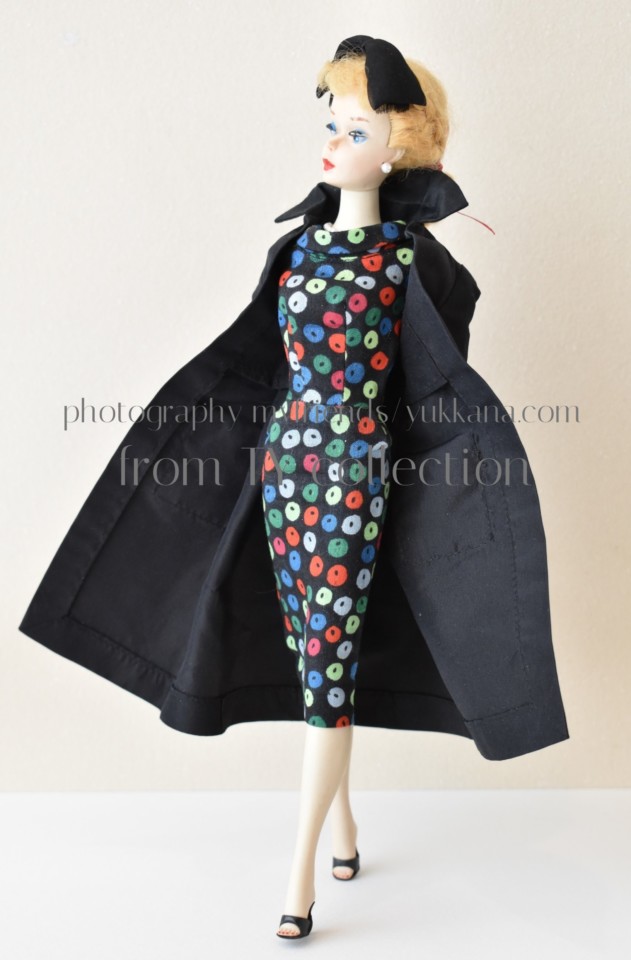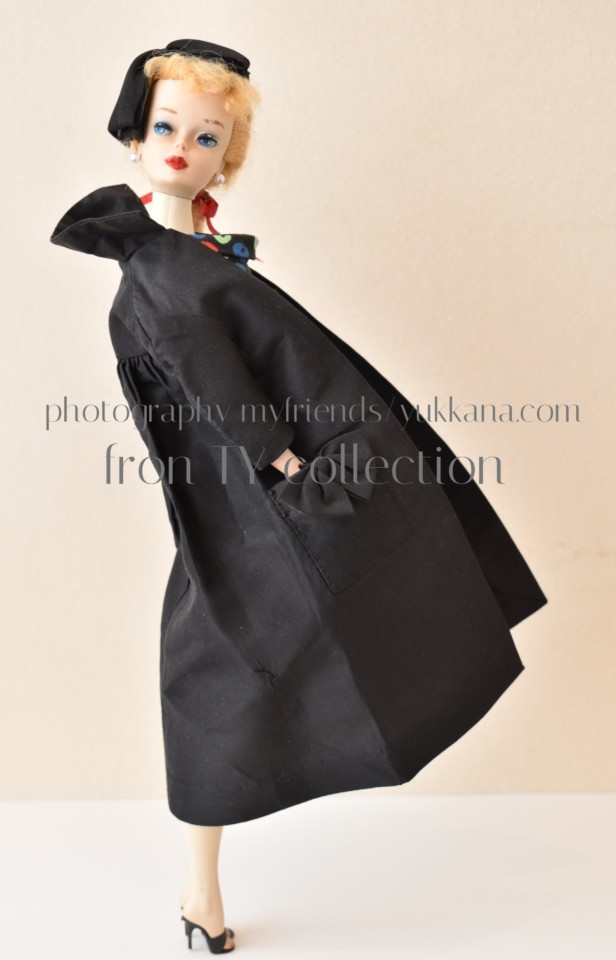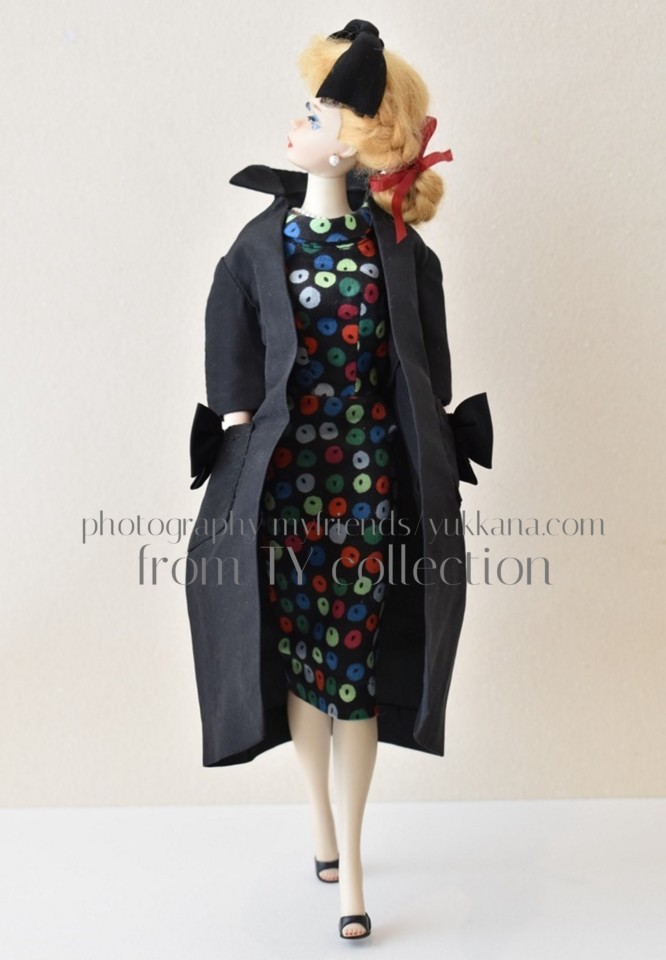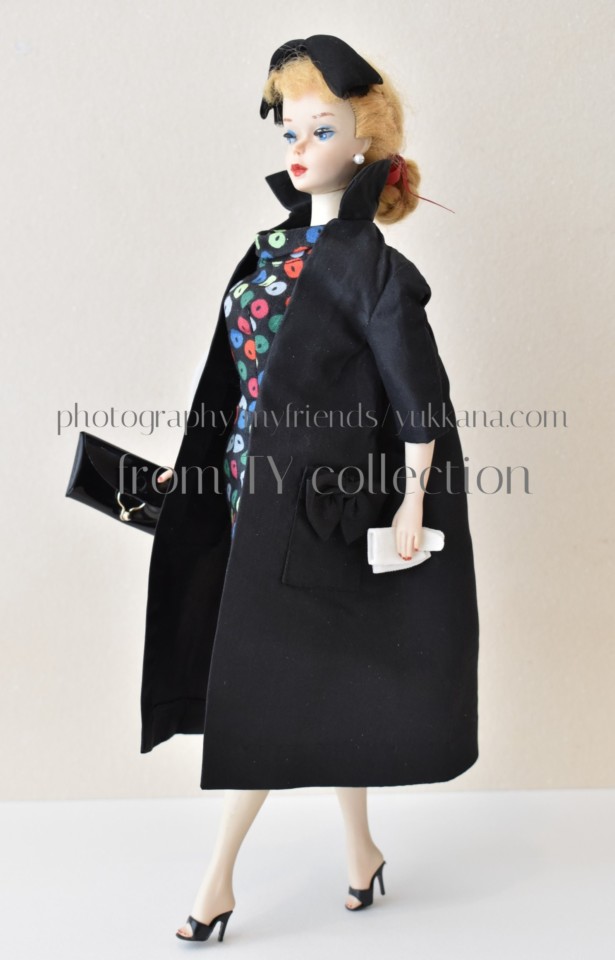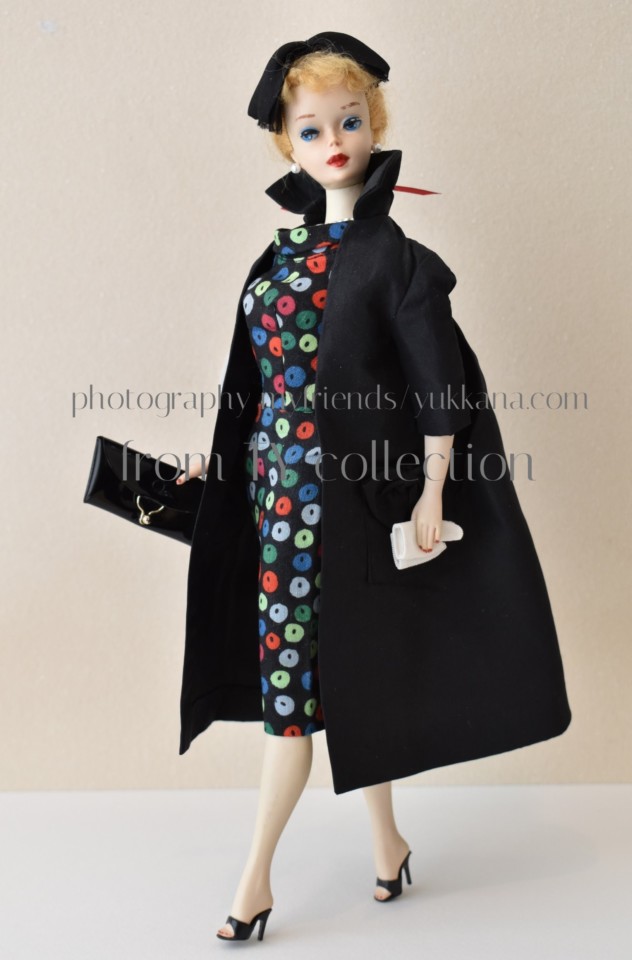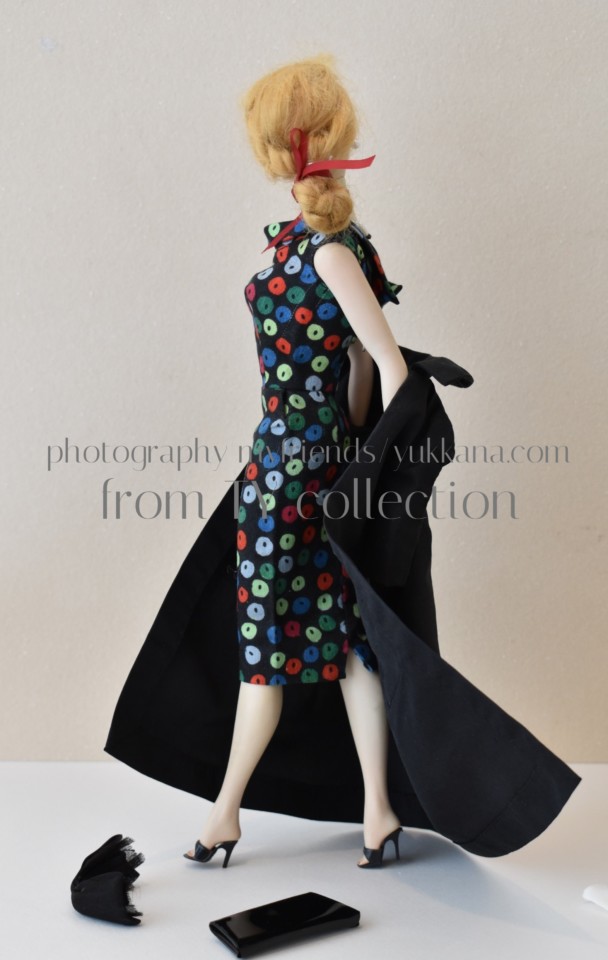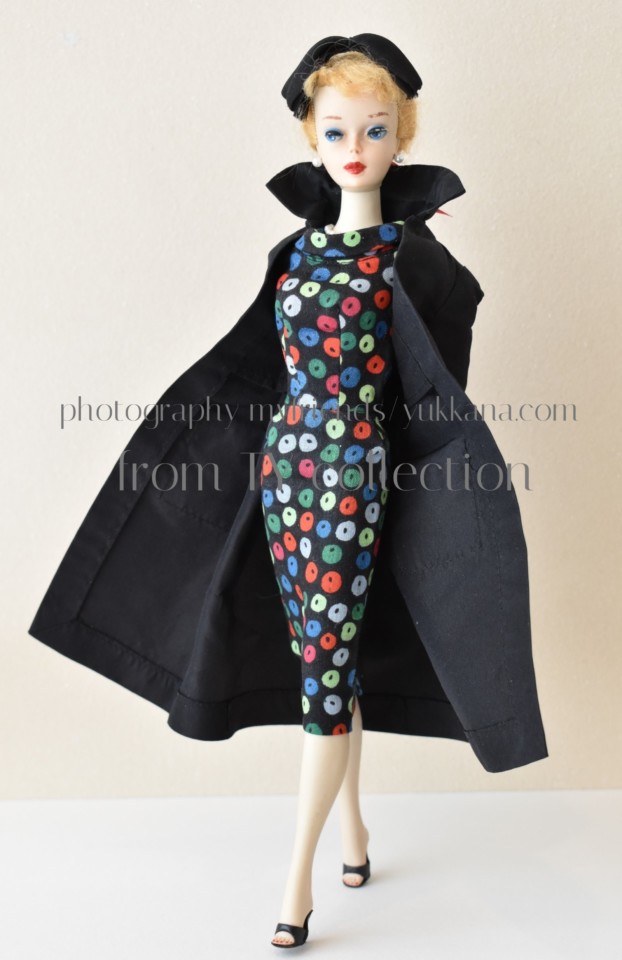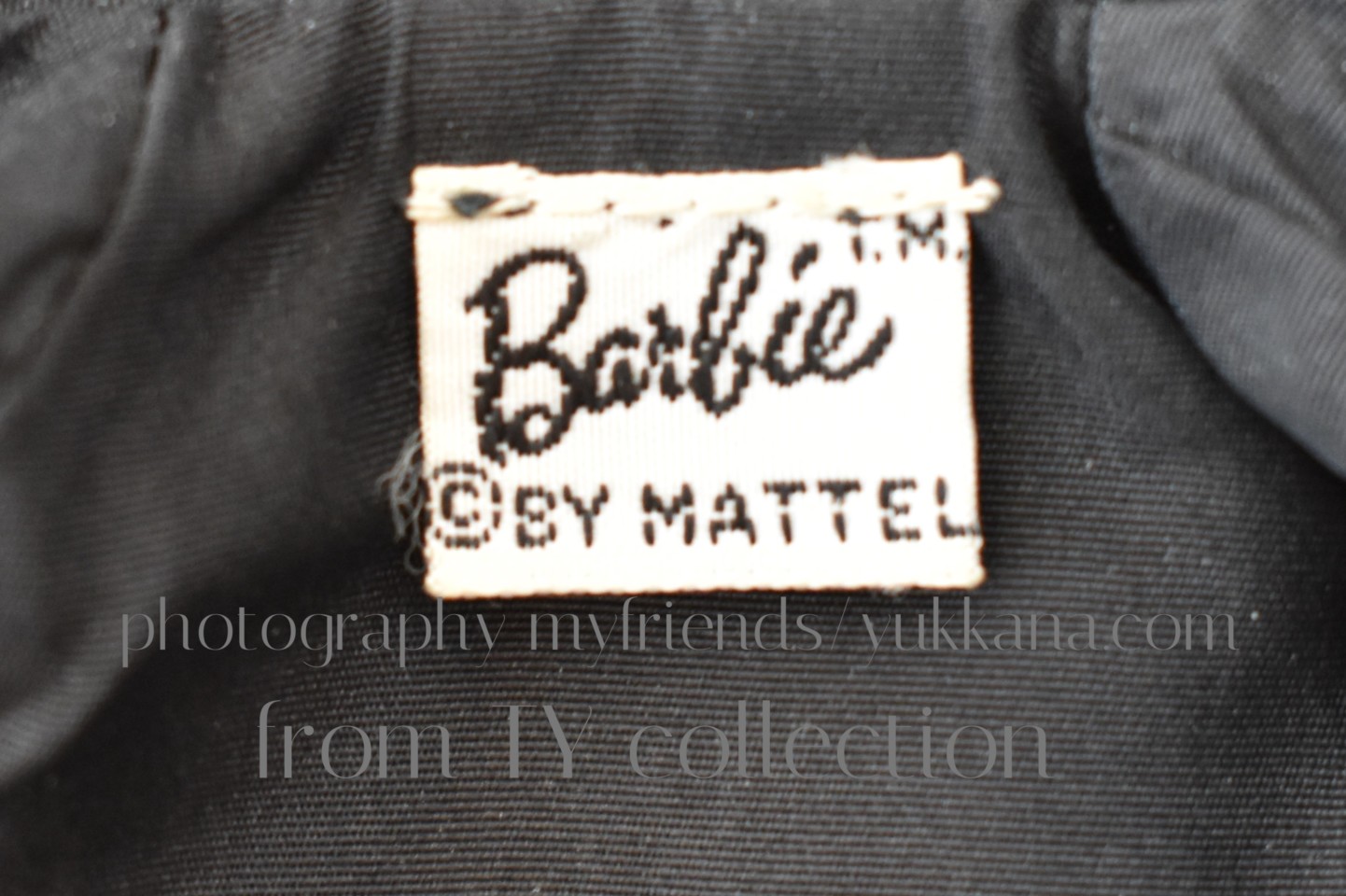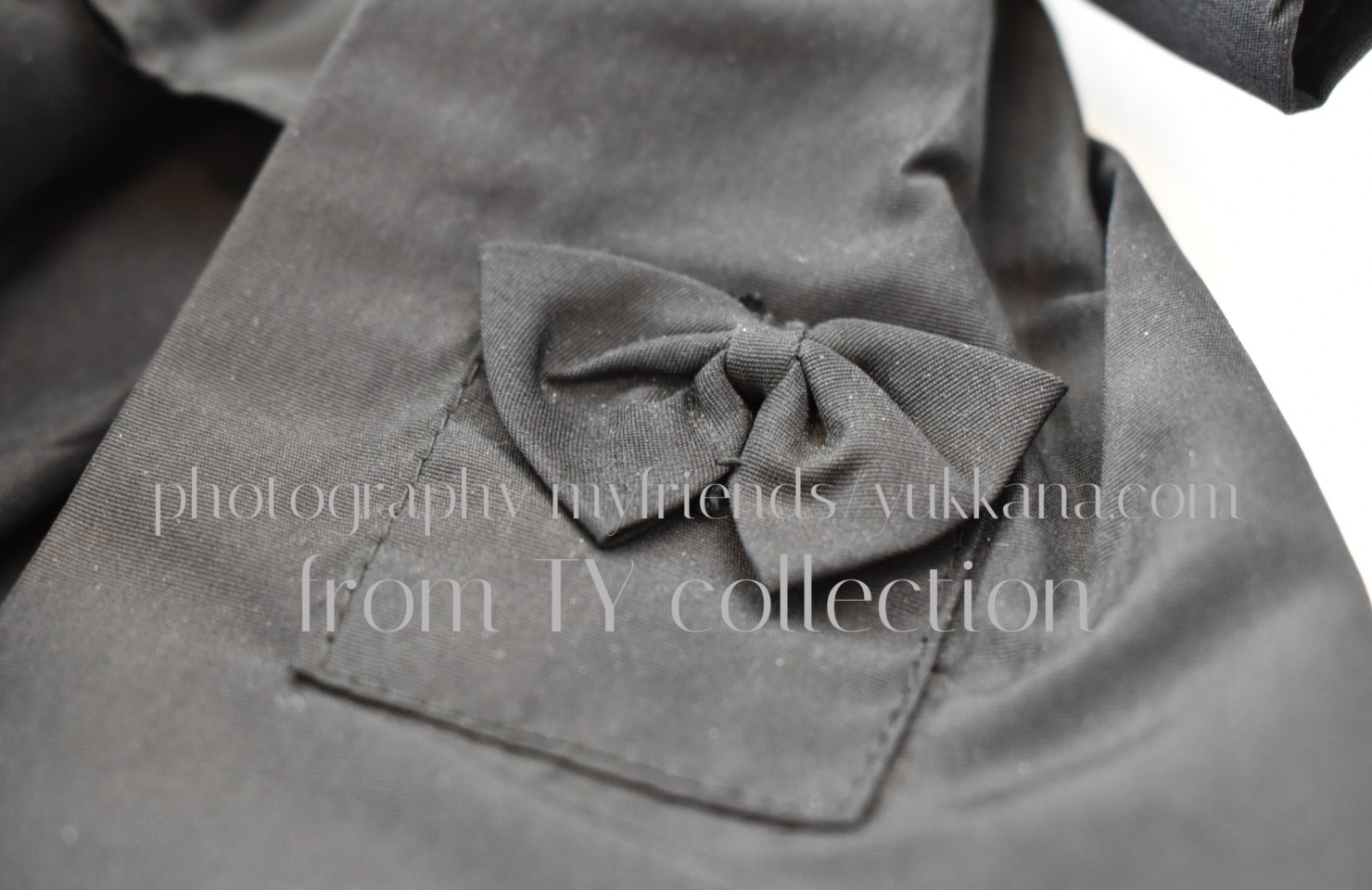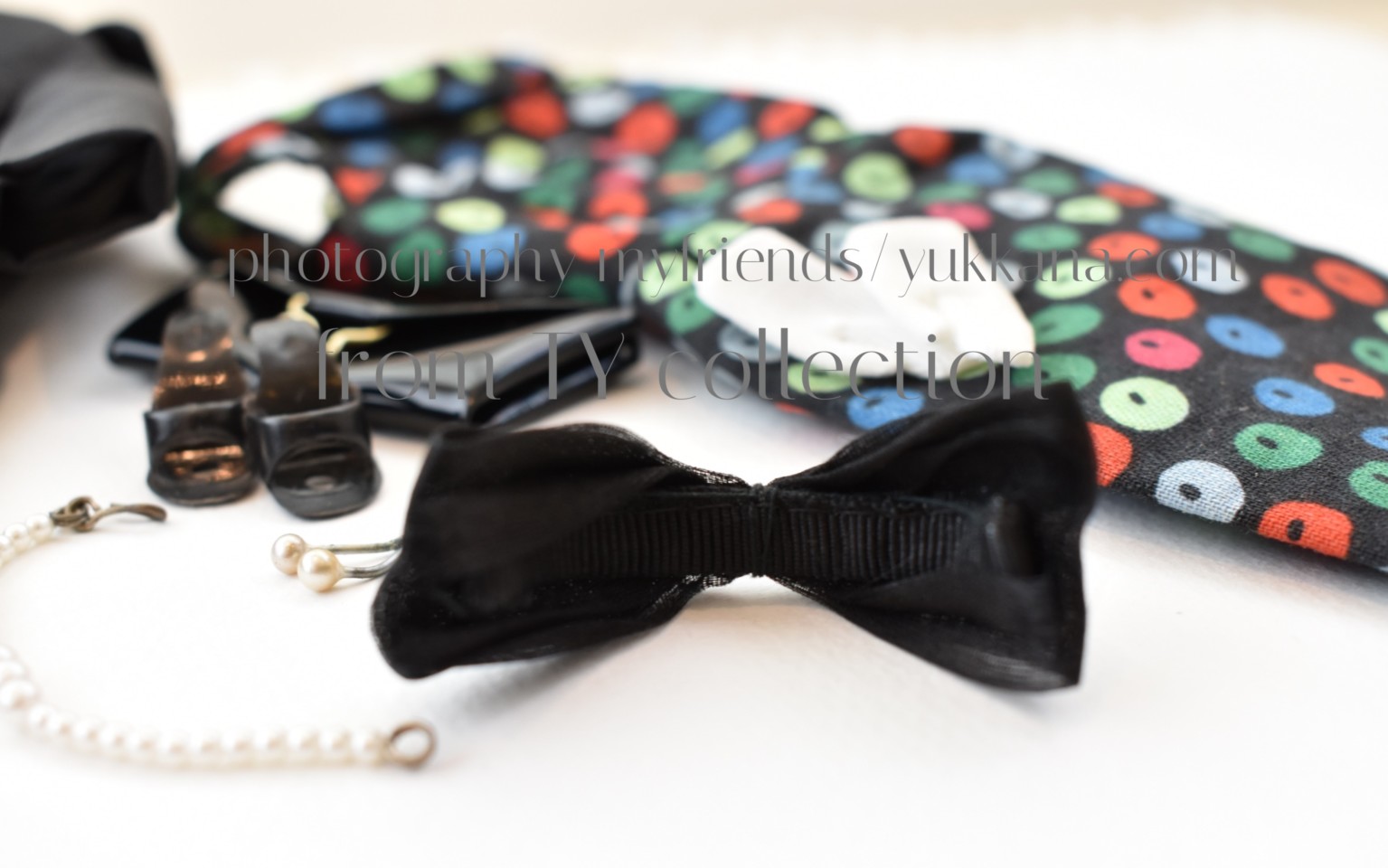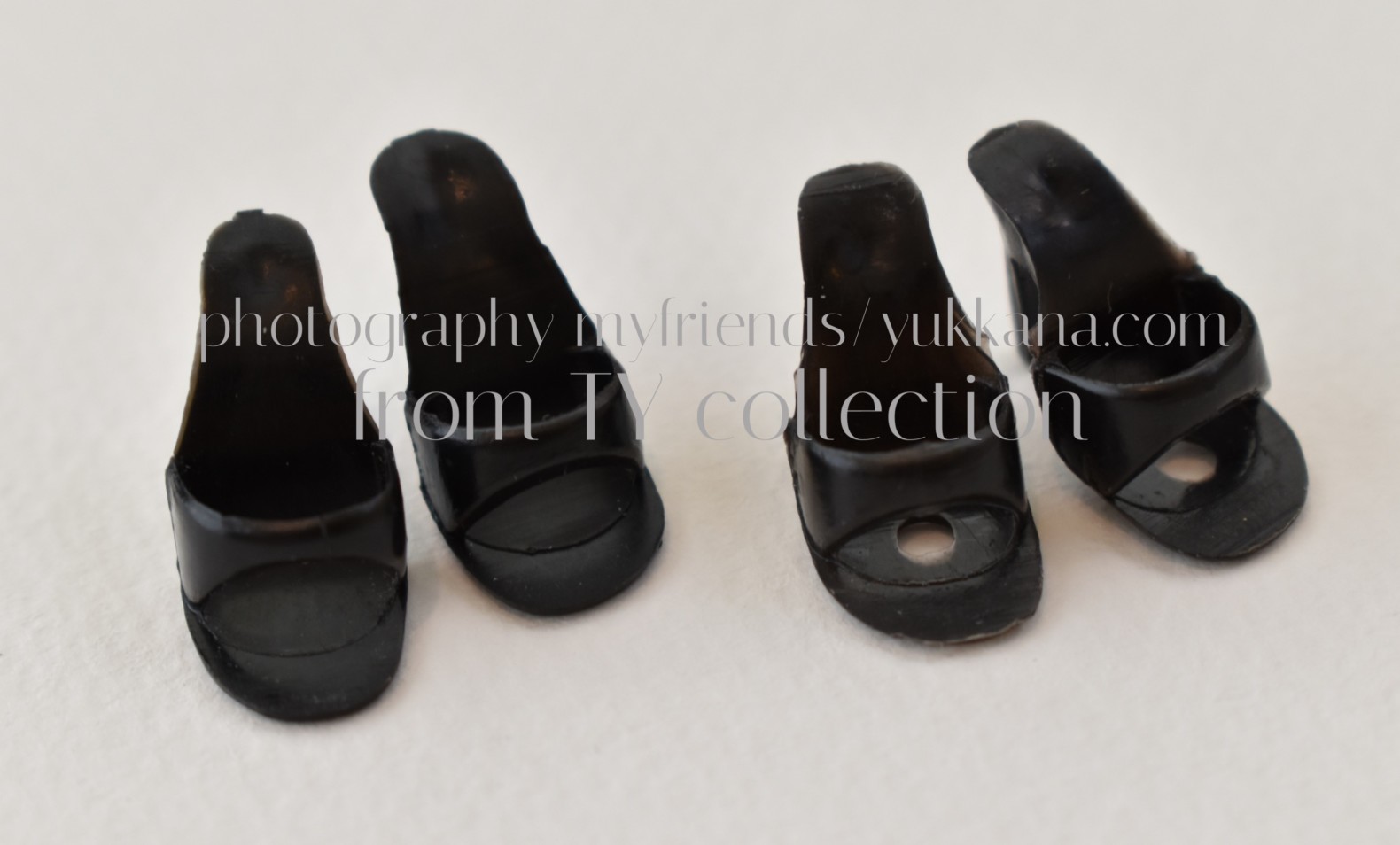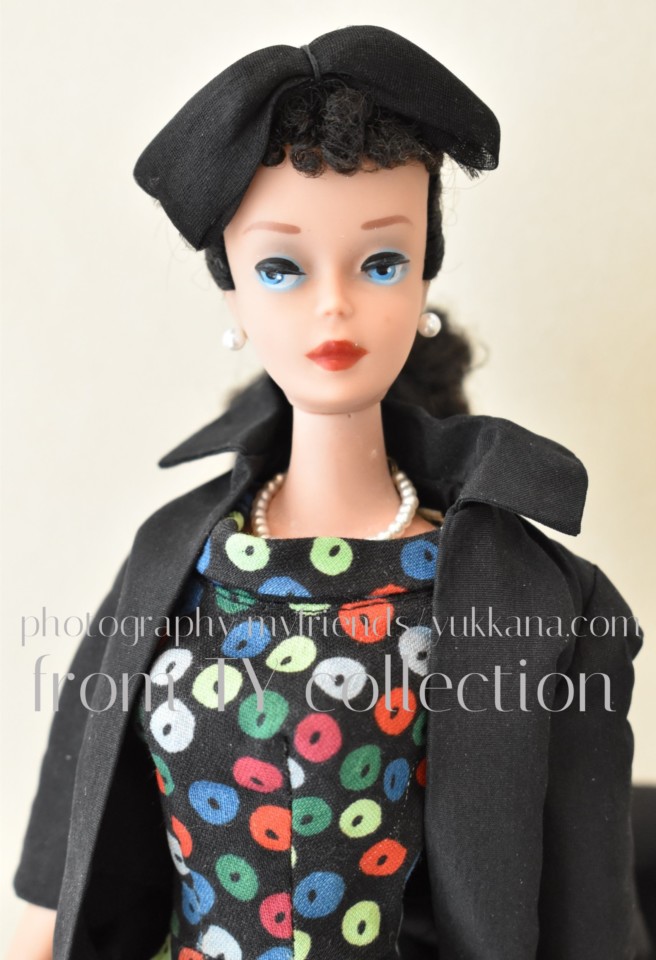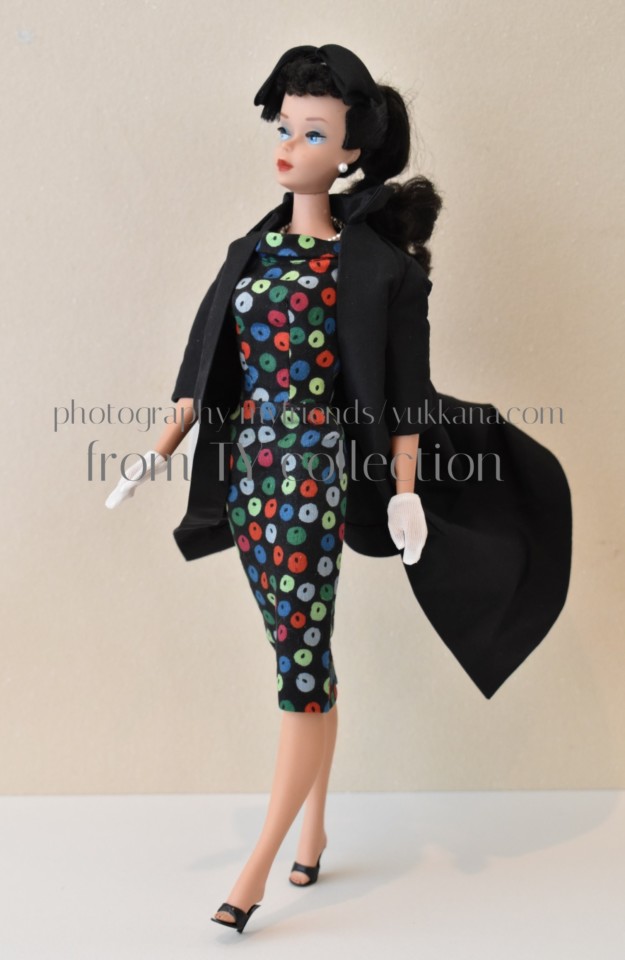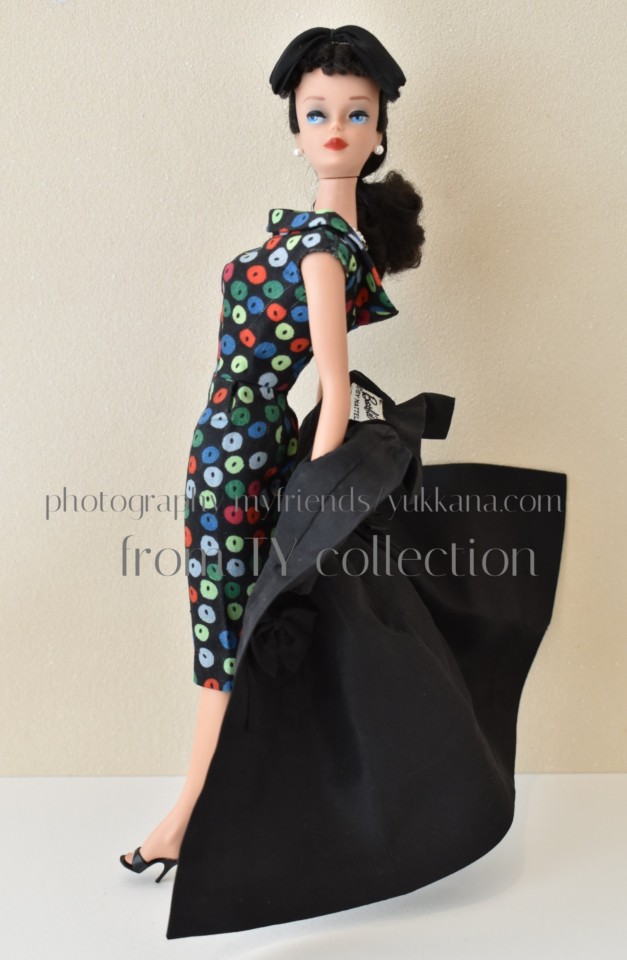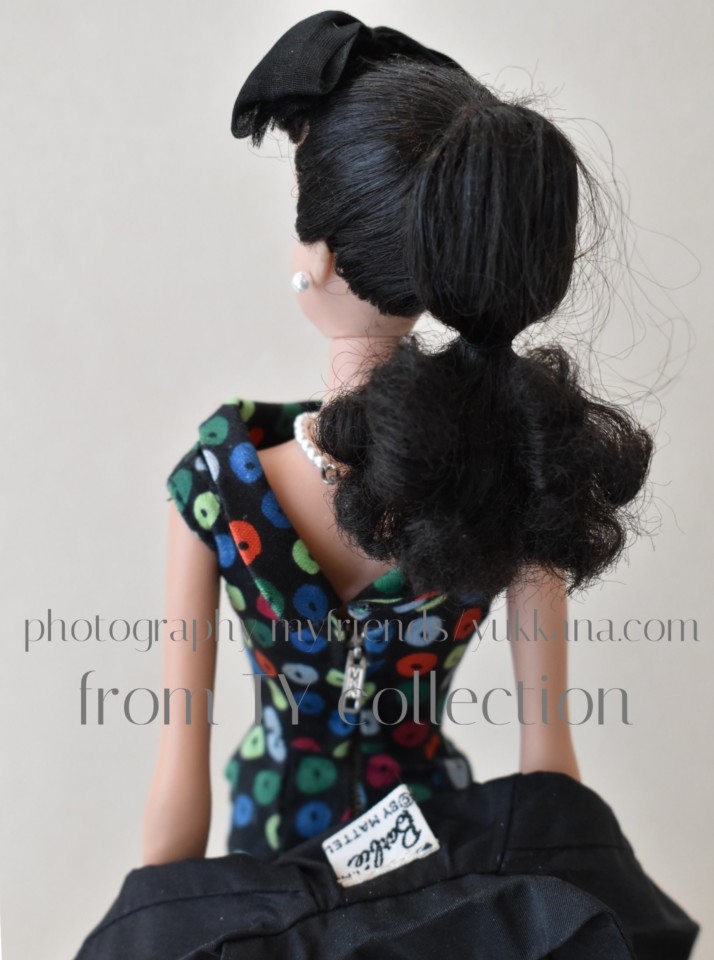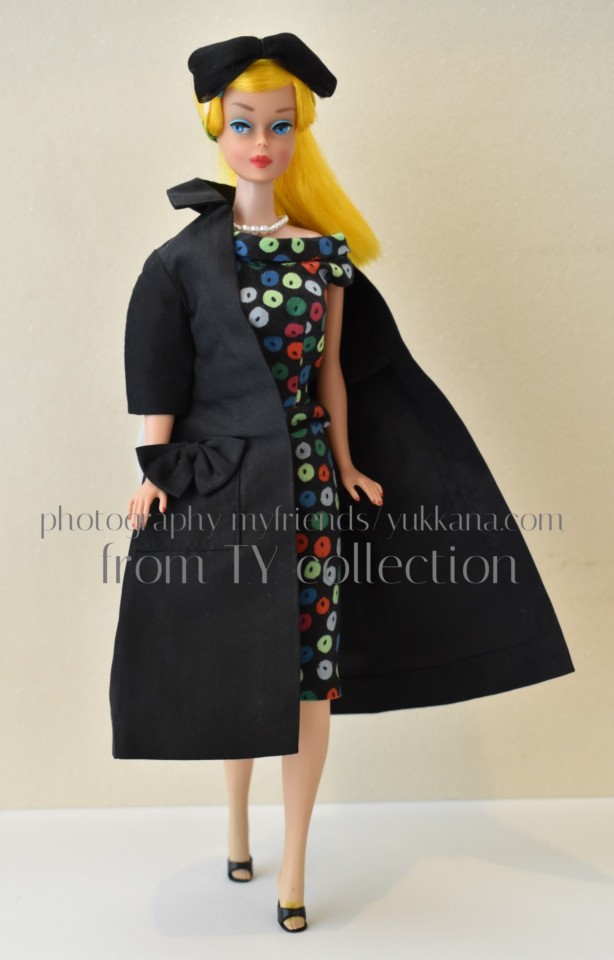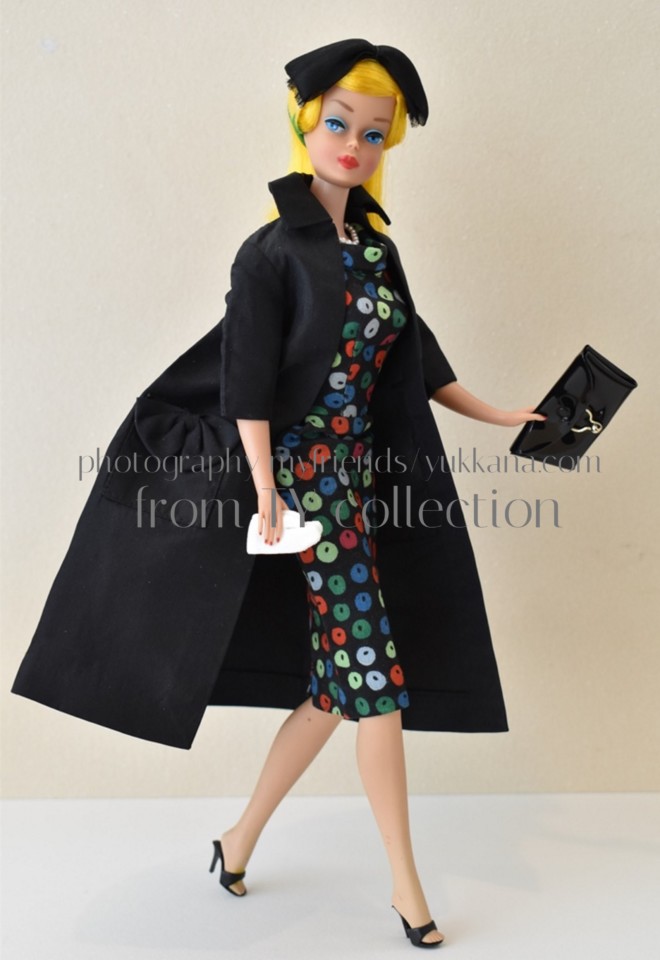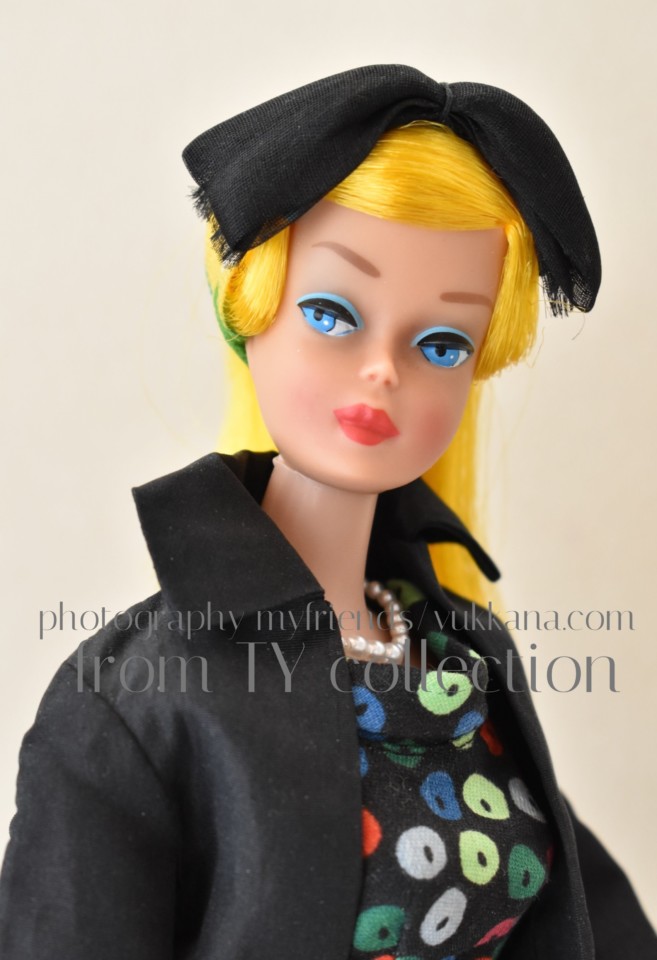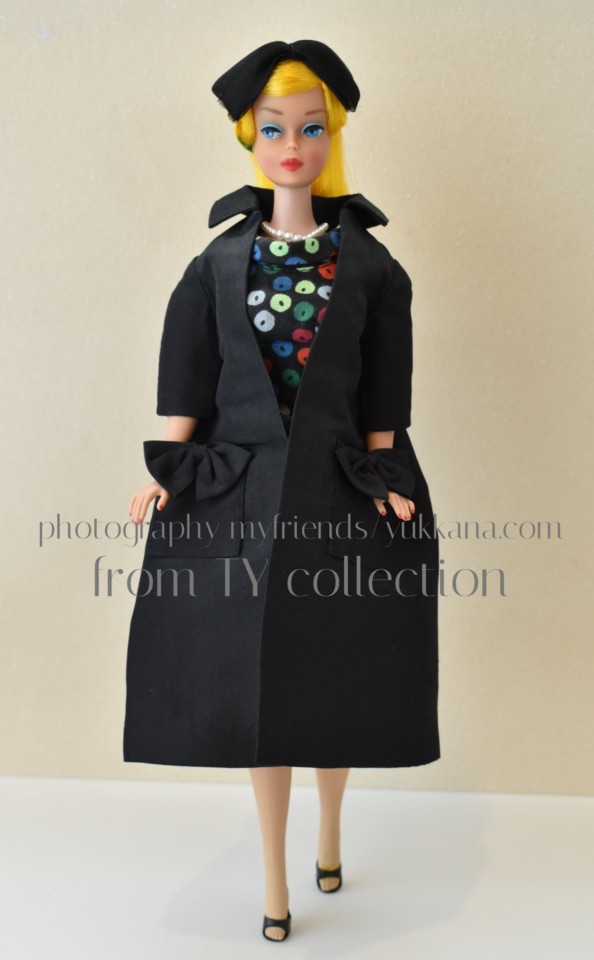 画像下、左側#917 APPLE PRINT SHEATH、このドレスにはラベルがついています。右側はEASTER PARADEにセットされたドレス、ラベルはつきません。