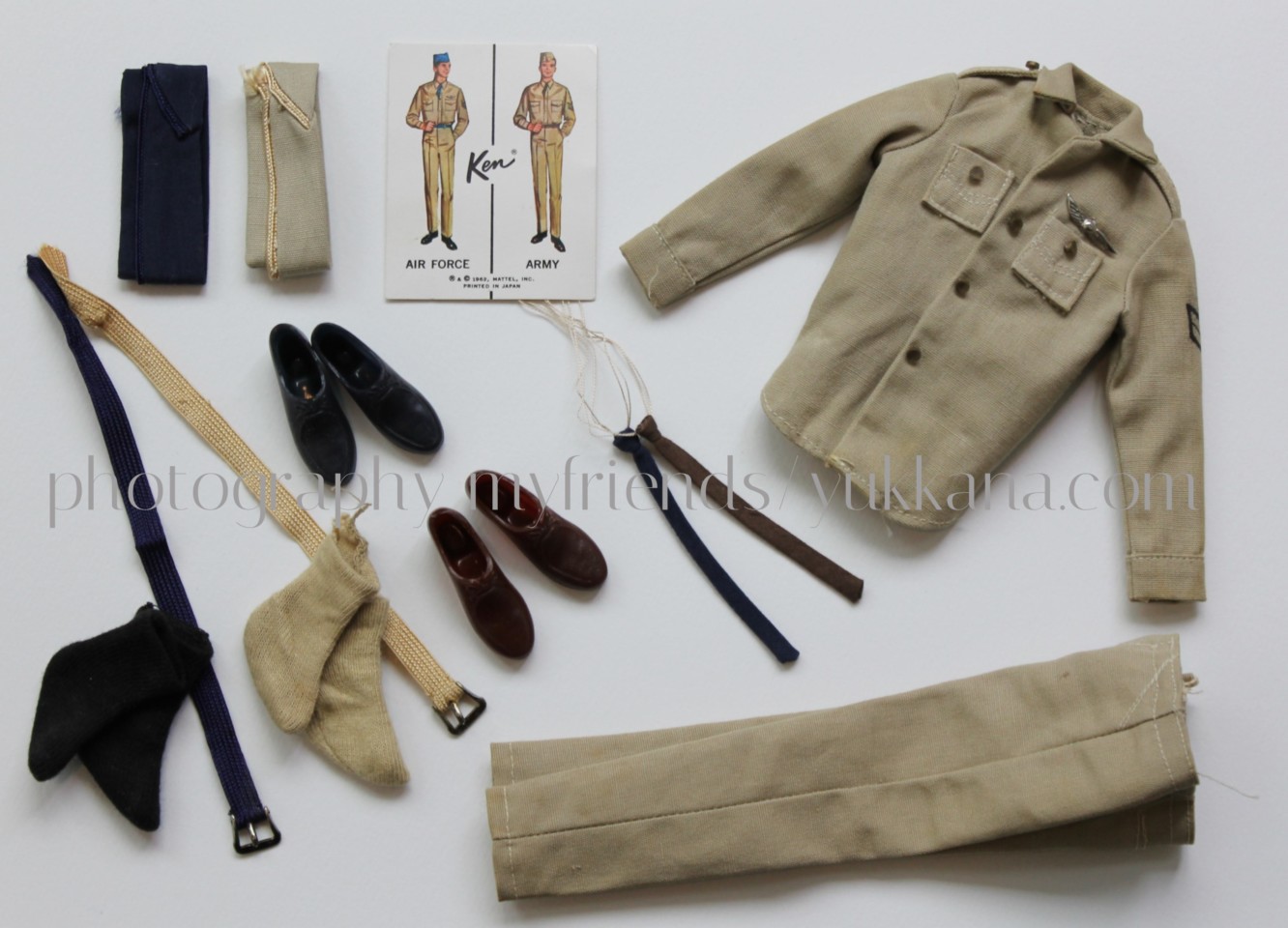 Vintage Ken probably wore military uniforms earlier than GI Joe.
the above photo is complete 1963 vintage Ken outfit #797 Army & Air force. his military rank is printed on the left sleeve of the shirt which suggests his is 'corporal'.  an enthusiastic GI joe fan Joefig san gave me this information(also he manages Japanese GI Joe site https://joefig.exblog.jp) .  Thanks so much Joefig san!
I have been collecting and researching vintage Ken dolls for years and I have found a few information(his back ground in Japan in the 60's) so far, sometimes GI Joe was included like attached article below.
attached a photo below is a Japanese article from Jan 1966 Japanese toy magazine. this article is a 'pre-release article of GI joe' which talks about how GI joe was introduced and how successful joe does in the U.S. also there is a sentence in it:'sample doll of GI Joe was ready in Feb 1964′.
according to this sentence, Ken probably wore his military uniforms as a product at the point, it means he wore military uniform earlir than GI joe. his military uniform 1963 #797 Army & Air force was produced(as a product) by the end of 1963.
In U.S, Ken was released in 1961, GI Joe was released by the U.S toy maker Hasbro in 1964. after few years in Japan, Ken was introduced in 1964 and GI joe was in 1966.
Some of the GI joe outfits made by Japanese student.
another exciting news is also written in the article: 'a Japanese dressmaking school in countryside had a bulk order from a U.S American toy company then their students made various small-sized military uniforms as a SIDE-JOB'.
I have completely no idea what system this side-job is. I had never heard these story before. Is this a famous fact to GI Joe fan? if so, would be great if  somebody would tell me:Did the students work in school? Did their wage become a school fee? Did they get extra wage?
I wasn't even aware that early GI joe product was also produced in Japan. this fact makes me happy.
A similar Ken story would be great, hopefully someday it will be revealed if it exist!
1963年 #797 Army & Air forceのユニフォームの左袖には階級章がプリントされています。ケンの階級はコーポラル(伍長)です。G.IジョーファンのJoefigさんに教えていただきました、またJoefigさんはGIジョーのサイトhttps://joefig.exblog.jp/の作成者です。Joefigさんありがとうございます!
私はヴィンテージケンを集めて調べてきました。今迄にいくつかの情報を得る事ができ、その中にはGIジョーの話が混じることがありました。
ヴィンテージケンはGIジョーよりも先に軍隊の衣装を着た
ヴィンテージケンは1961年に、GIジョーは1964年にアメリカで発売されました。その後、ヴィンテージケンは1964年、GIジョーは1966年に日本で紹介されました。下の画像は1966年の東京玩具商報1月の記事です。この記事は日本にGIジョーを紹介する際の'販売前情報'です。ここに'1964年2月にGIジョーの見本ができ上がったとき'と書いてあります。この記事の通りであれば、この時点でヴィンテージケンはすでに軍隊の衣装を着ていました。GIジョーがまだ見本だった1964年2月に、ヴィンテージケンの軍隊のユニフォームはすでに正式な製品だったからです。ヴィンテージケンはGIジョーよりも先に軍隊の衣装を着た、ということです。
いくつかのGIジョーの衣装は日本の学生によって作られた
またこの記事には驚くことが紹介されています。'日本の洋裁学校の生徒たちが"内職"でGIジョーの衣装を作っていた'という文です。
この、'生徒が学校で内職をする'システムがよく判らないのですが、これはGIジョーをよく知っている方々には有名な話なのでしょうか? 生徒たちは給料を貰えたでしょうか?その給料は学費になったのでしょうか?
初期のGIジョーが日本で生産されていたことすら私は知りませんでしたが、今はこのことをとても嬉しく思っています。
もちろん、私はこれに似たヴィンテージケンの話を探しています。このような話をご存知の方はいるでしょうか?ご存知の方はぜひ教えてください。どうぞよろしくお願いいたします。