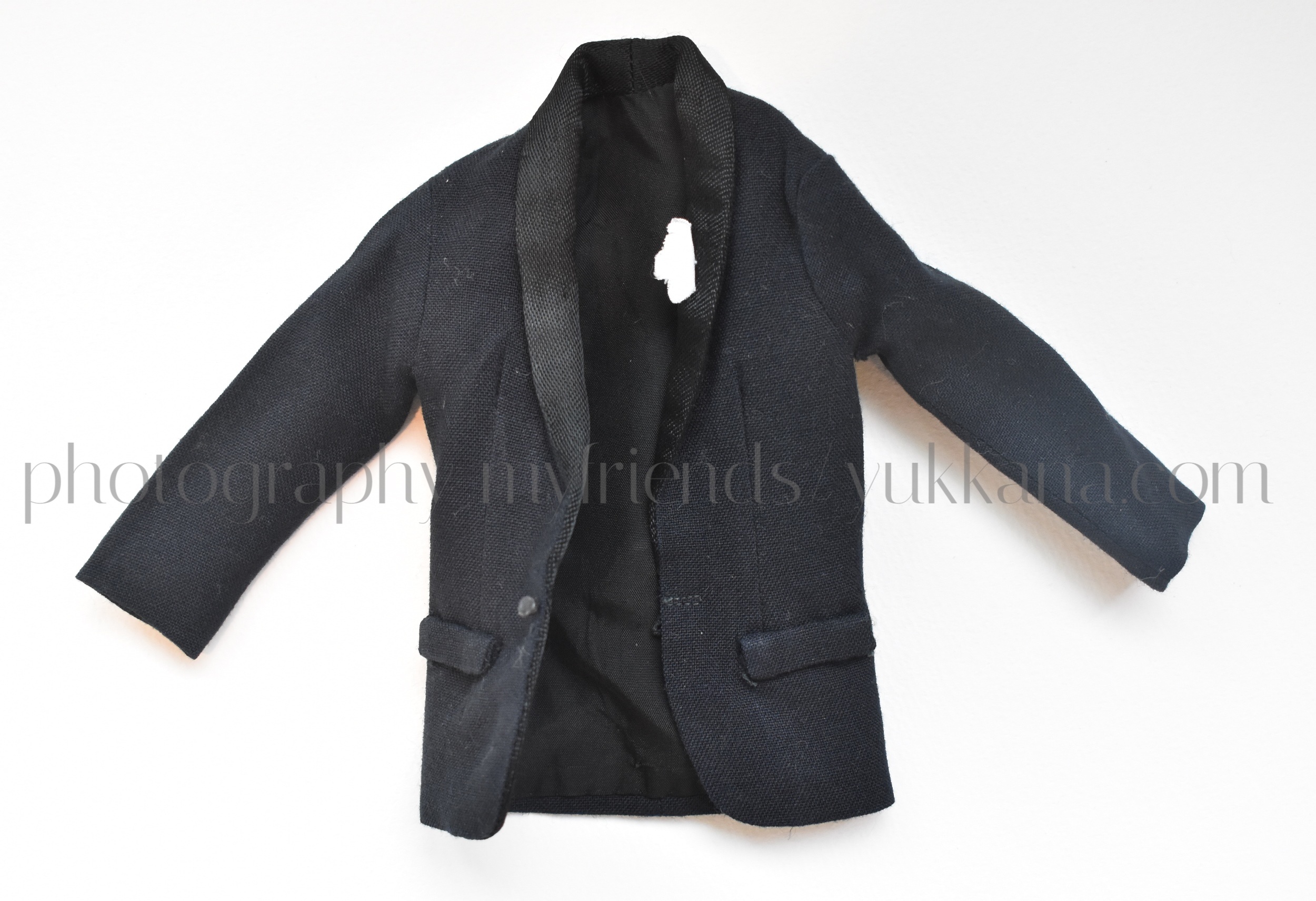 Breaking clothing is always hard to me. because someone worked on them even cheap clothing. however I took apart this jacket. Japanese seamstress about 60 years ago sewed this toy jacket, of course we don't know who they were.
Vintage Ken's sewing pattern is not so different from the actual human thing and the number of sewing patterns is quite large for doll clothing, that sewing is not easy. I think some of vintage Ken's clothing is one of the relatively difficult sewing among the Barbie family product made in Japan. what I can't believe is that there were many people who could sew these things with constant quality in the 60's in Japan.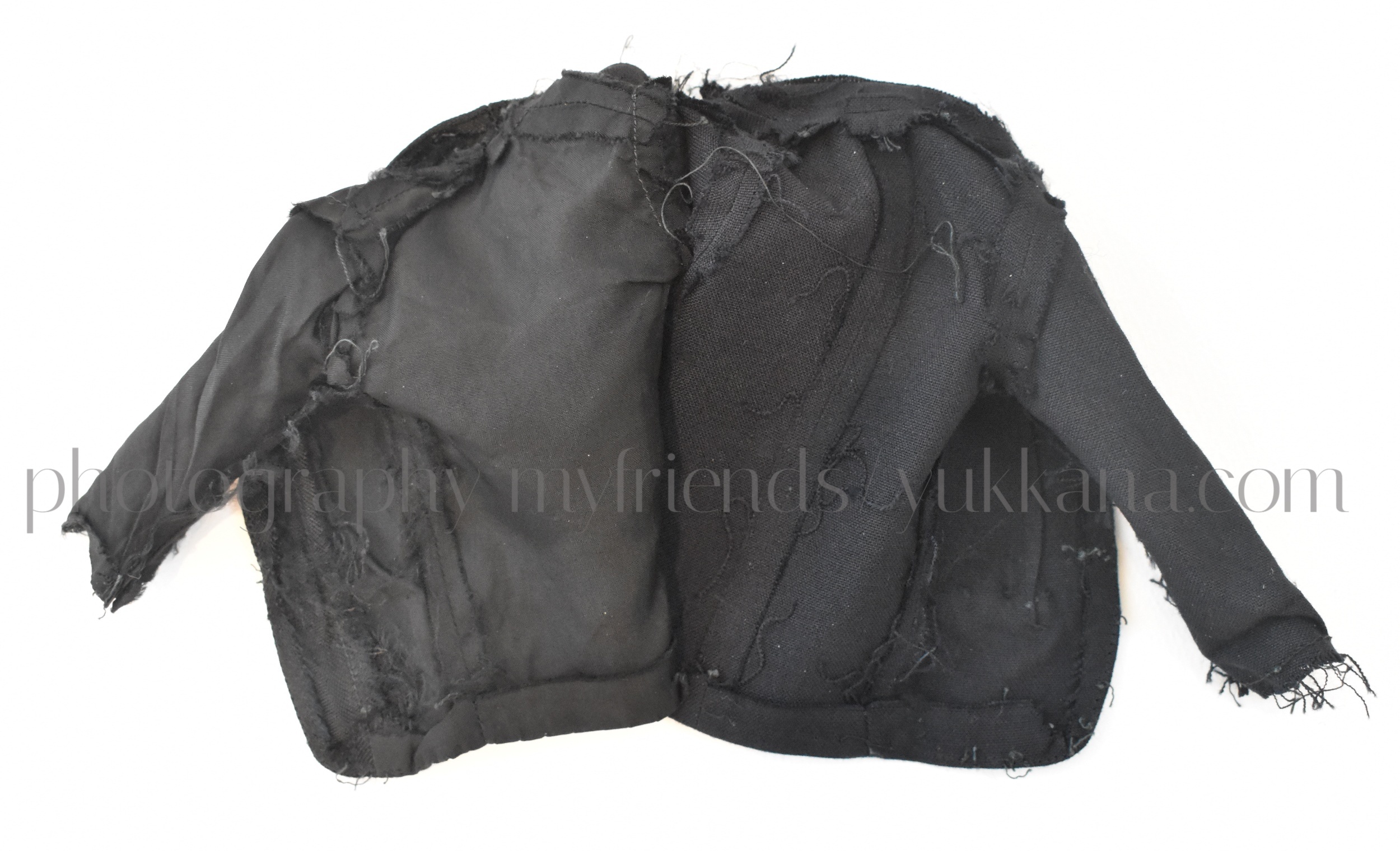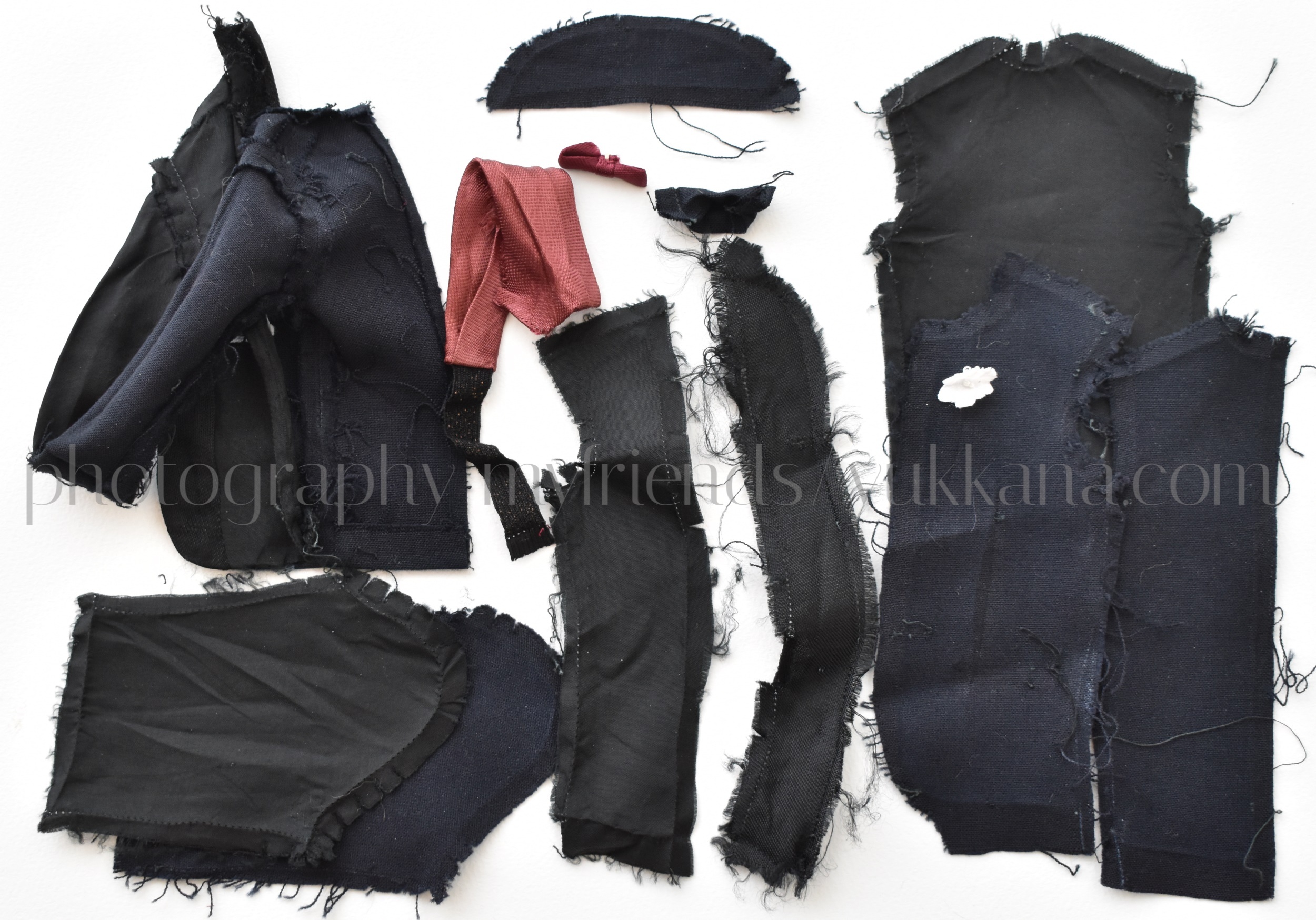 From the jacket I've broken, I made the denim version Tuxedo with white cotton dress shirt, black bow-tie, and cummerbund based on regular vintage Ken Tuxedo(16-parts jacket, 11-parts shirts, 6-parts trousers). also I've made the brocade fabric version Tuxedos with satin dress shirts and accessories based on the Japanese exclusive royal wedding Ken(estimated number is 14-parts jacket,13-parts shirts,6-parts trousers).
About these modern brocade fabrics
Still these brocade type fabric is made by several Japanese makers all over Japan and new design is also created every year depending on user-needs. these fabric is mostly used for traditional things: Buddhist altar, Japanese accessories(such as obi, sandals, bag), Japanese style's tatami room mat, festive doll(hina-doll), and etc. in Japan.
the modern fabric I used for Ken are so similar to vintage brocade fabric Mattel used. the green/gold and white/gold versions are very similar to '#0772The Prince' '#911 Golden Girl' and '#961 Evening Splendour', but the design of the modern fabric is different from vintage(besides the fabric, Golden Girl and Evening Splendour uses the back side of the fabric as the surface. The Prince uses the front-side).
I've asked the shop owner of the brocade fabric I used and they very kindly answered my several questions are: they didn't sell these fabrics to Kokusai Boueki or Mattel in the 1960's. also their experienced textile craftworker answered me that they had never seen before the design of 'The Prince' and 'Evening Splendour(Golden Girl)' , in his view this vintage design seems to be a simple arrangement of Takara-Zukushi which fabric is with woven Japanese- lucky charms.
According to the Japanese Barbie fan book(published in 1990), the former employee of Kokusai boueki testified that the Evening Splendour fabric included Golden Girl and The Prince was custom-order fabric so the above textile craftworker's view would be correct.
服を壊すことはとても辛いことです、たとえ安い服でも。しかしこのジャケットを分解をしました。約60年前の日本人の誰かが作った玩具のジャケットです。もちろん作成者は誰かは判りません。ヴィンテージケンの衣装のパターンは人間用とそれほど変わらず、人形用にしてはパターン数が多いと思います。彼のいくつかの衣装は日本製バービー製品の中でも縫製が難しかったのではないかと思います。1960年代の日本にはこのような仕事を一定の品質で縫える人が沢山いたことが信じられません。とにかく、壊したジャケットを元にしてデニムヴァージョンのタキシードと金らんヴァージョンのタキシードの複製を作りました。デニムヴァージョンは通常のタキシード(ジャケット16パーツ、シャツ11パーツ、スラックス6パーツ)を参考にしています。金らんヴァージョンは日本仕様のロイヤルウェディングケンのタキシードを参考にして(ジャケット14パーツ、シャツ13パーツ、スラックス6パーツ/予想数)で作りました。
これらの金らんの生地について
日本には現在もこれらの金らん生地を作るメーカーが数社あります。これらの金らん生地は仏具、着物のアクセサリ用(帯やバッグなど)、畳、雛人形用などに作られているそうです。
私が使っているこれらの生地は現代の生地ですが、白色/緑色は'#0772The Prince' '#911 Golden Girl' '#961 Evening Splendour'にとても似ています。しかしよく見るとデザインパターンは違います。(また、Golden Girl と Evening Splendour には生地の裏面が表面として使われています)。
この生地の店からとても親切に教えてもらいました。初めに、1960年代に国際貿易社またはマテル社に金らんの生地を販売をしたのはこの店ではないそうです。
また、この店の職人の方にヴィンテージ期の金らんの生地を見てもらいましたがEvening Splendour/Golden Girl/The Princeの生地のデザインは見たことがなかったそうです。職人の方の見方ではこれらはおそらく宝尽くしという文様をシンプルにしたデザインではないかとのことです。
1990年に出版された日本のバービーコレクター本によると、国際貿易社の元社員の方がEvening Splendourの生地は特別注文で作られた生地だったそうです。ですので前出の職人の方の見方は正しいのだろうと思います。