Allan seems to be kid's best friend better than other Barbie family members. sometimes Allan and Skipper couple looks to me a home town drama actors.
1965 #1920 Fun Time:jacket,shell,capris,blouse,shoes,croquet mallet,ball,wickets,stake  $3.00
Jacket(6 fabric parts):blue cotton fabric,2 snaps, 6 buttons,green cord strings,label
Shell(1 fabric part):blue cotton fabric with embroidery,2 snaps, green rick-rack
Capris(2 fabric parts):blue cotton fabric, 1 snap
Brouse(4 fabric parts):plaid cotton fabric,2 buttons, 1snap
The same fabric is used:Skipper fashion 1965 #1920 Fun Time plaid blouse, Ken fashion 1965 #1416 College Student jacket
My Fun Time came from an original card board, 6snaps used in my Fun Time has the same markings G510. also it has 4 paper tags they are "13".
This Fun Time blouse(4 fabric parts) is very similar to Ken's cost-reduction shirts(4 fabric parts). they can be found:1964 #1411 Victory Dance, 1964 #0778 Ken In Mexico, 1966 #1421 Seein' The Sights
1965 #1920 Fun Time:ジャケット、ブラウス、カプリパンツ、シェルブラウス、靴、ボール、杭、木槌、ゲート
ジャケット(生地パーツ6):青色コットン生地、ラベル、ボタン6、スナップ2、グリーン色のコード紐  トグルとポケット部分のコード紐は糊付け
シェルブラウス(生地パーツ1):刺繍入りの青色コットン生地、スナップ1
カプリパンツ(生地パーツ2):青色コットン生地、スナップ1
ブラウス(生地パーツ4):チェック柄のコットン生地、スナップ1、ボタン2
靴:フラットシューズ、青色、底に'JAPAN'のマーク
ボール/木槌/ゲート2/杭:クロケーの道具、木製に着色、ゲートはアイアン製
Fun Timeのブラウスと、ケン衣装 1965年 #1416 College Studentのジャケットは同じ生地
私のFun Timeはオリジナルの台紙から取ったものです、ここで使われたすべてのスナップのマークはG510、さらに4枚の紙のタグが付いていて、すべてのタグが13です。
このブラウス(生地パーツ4)はケンのコスト削減シャツ(生地パーツ4)にとても似ています。ケンの半そでコスト削減シャツがセットされたのは:1964 #1411 Victory Dance, 1964 #0778 Ken In Mexico, 1966 #1421 Seein' The Sights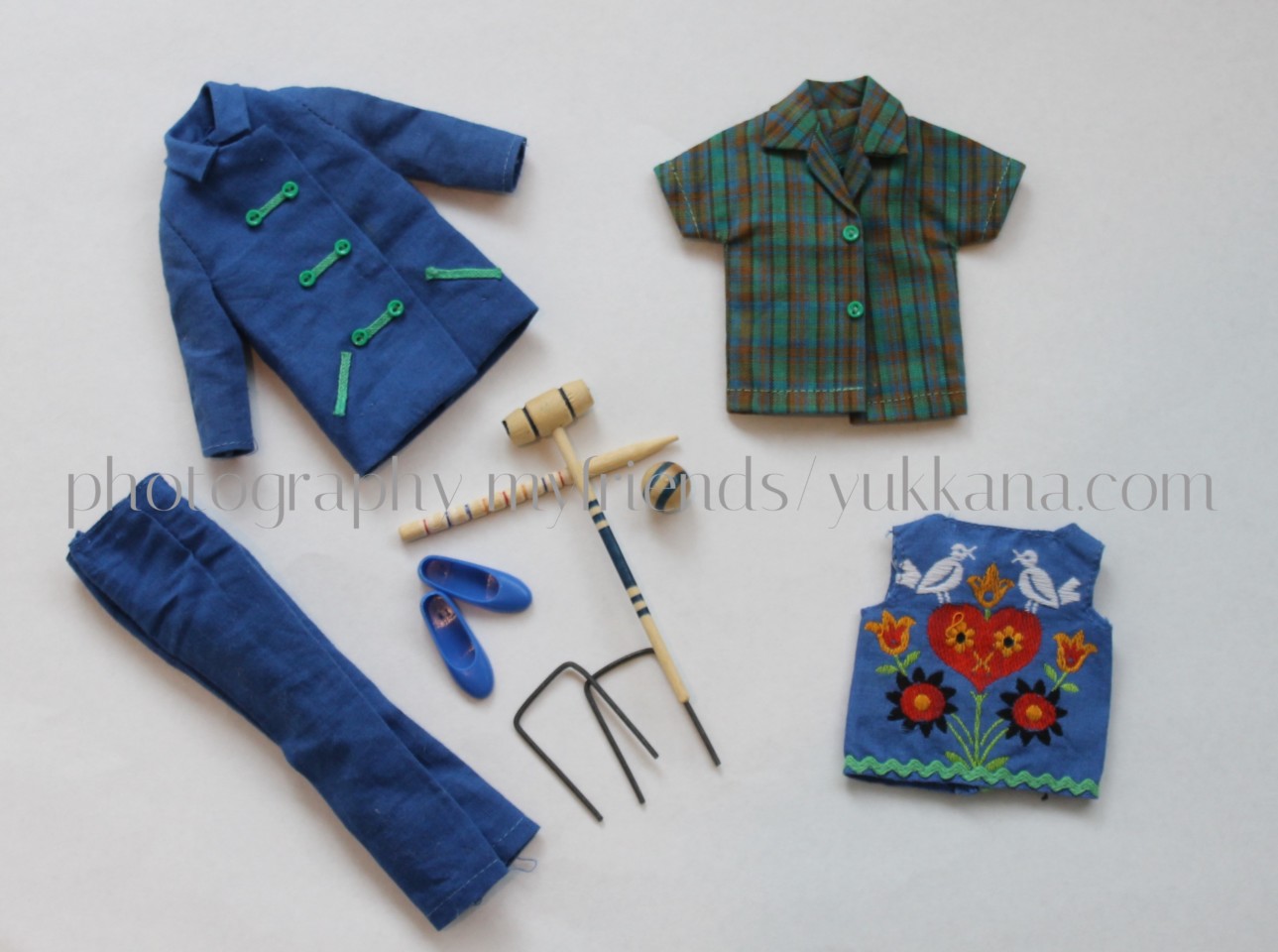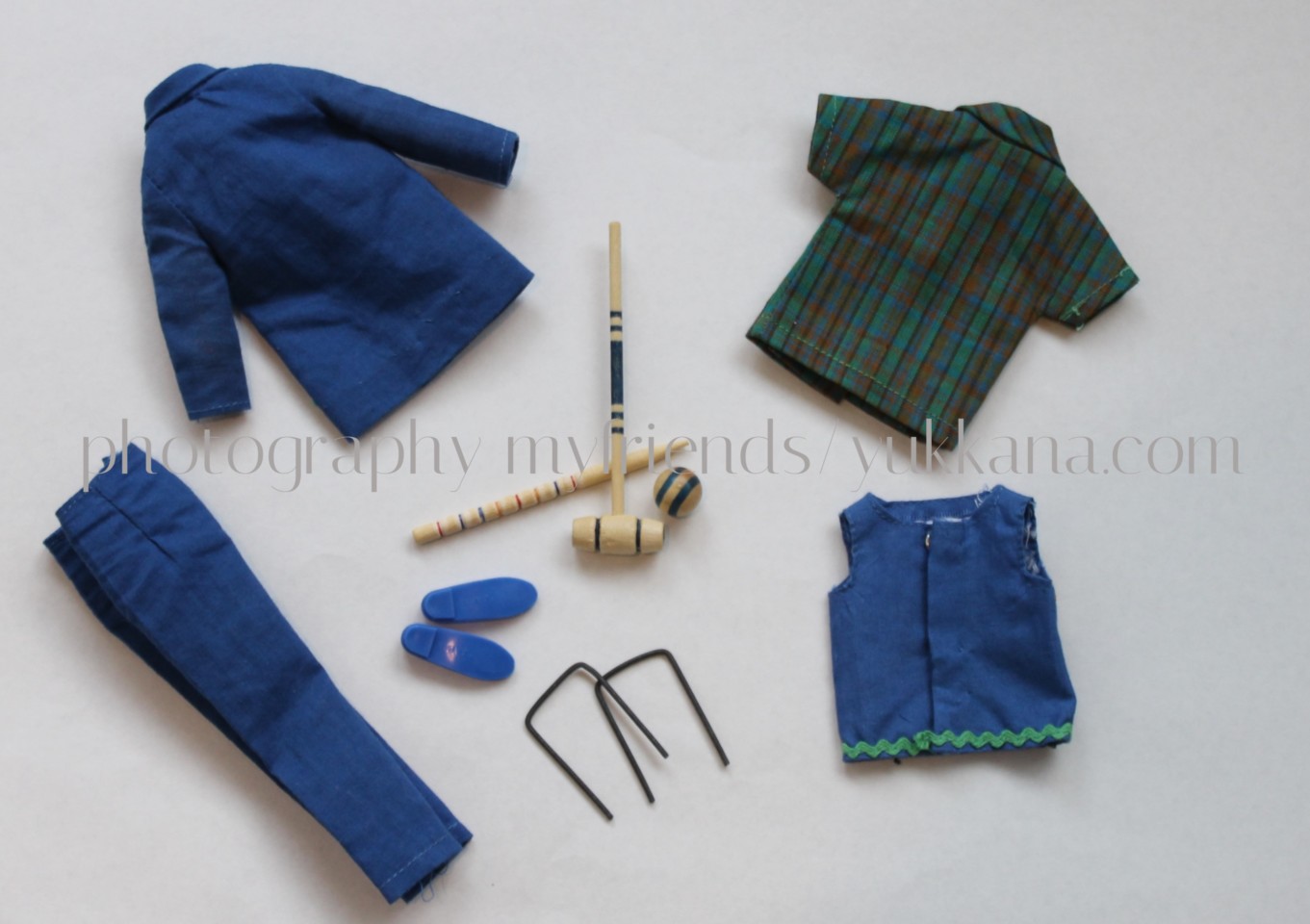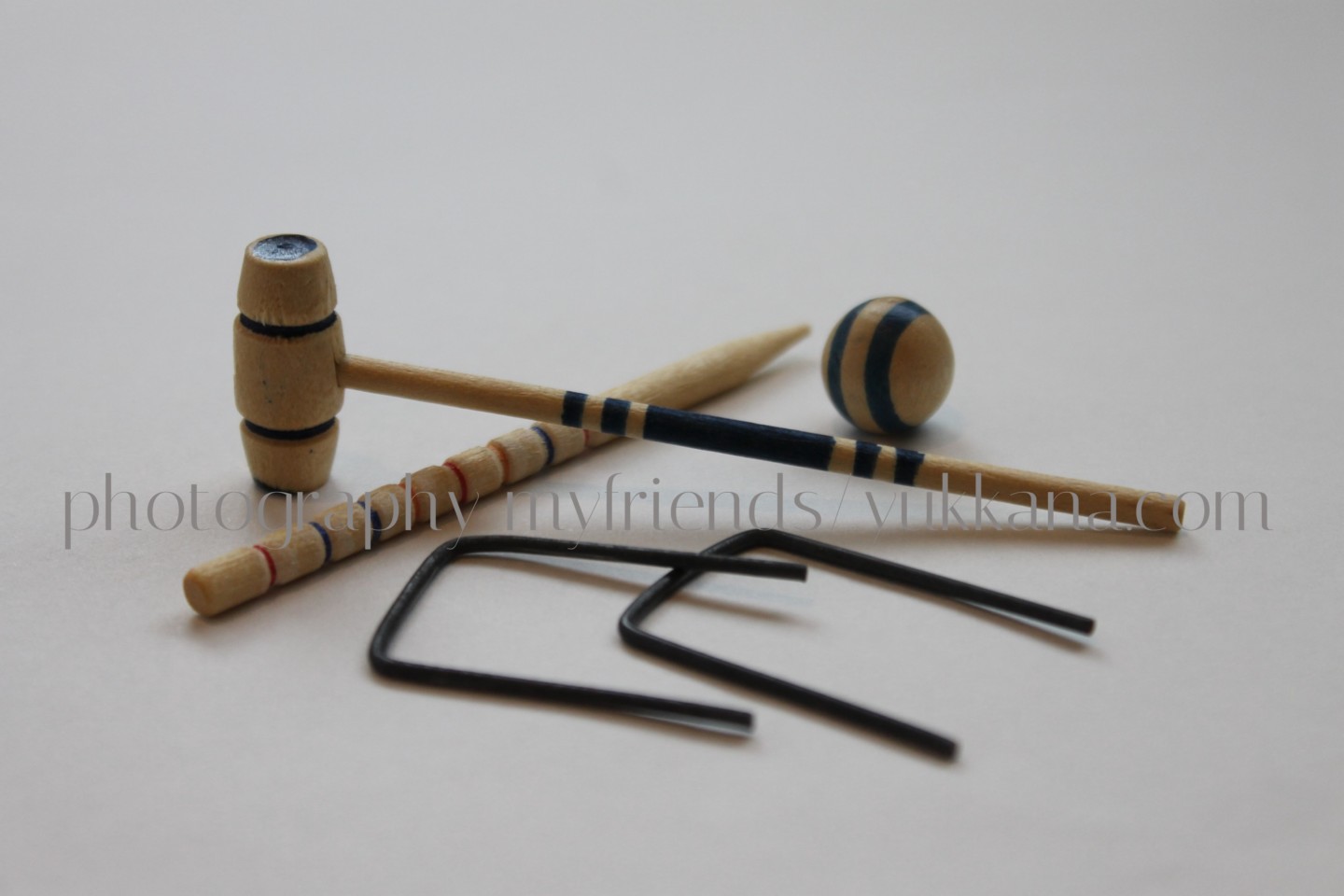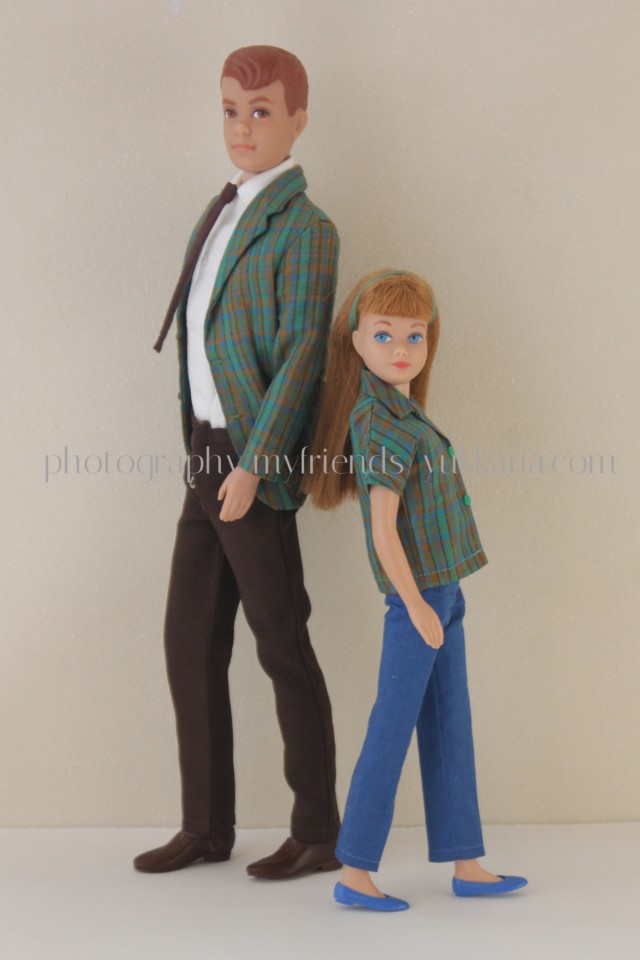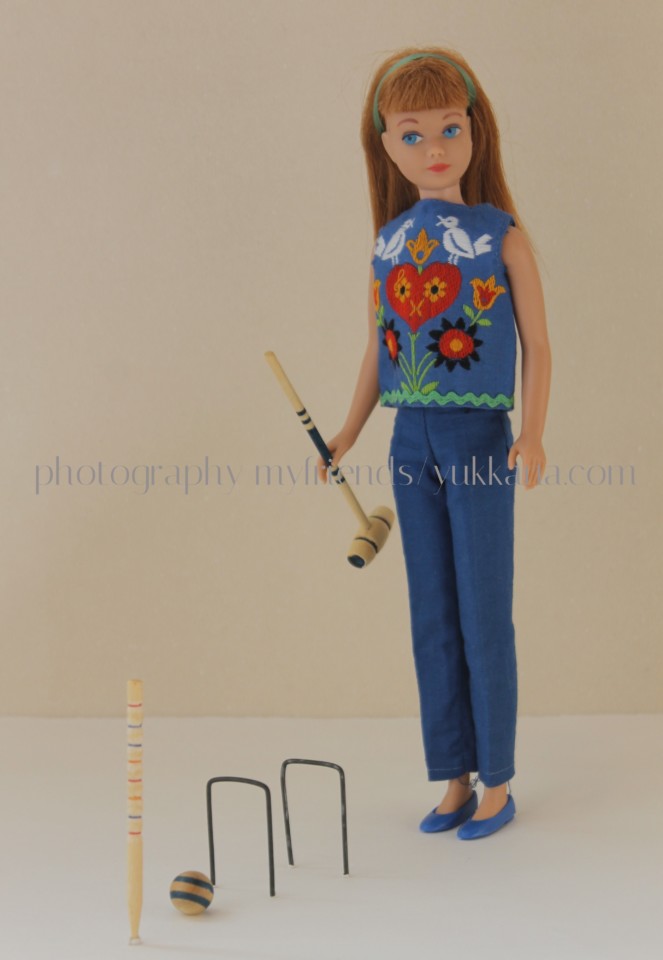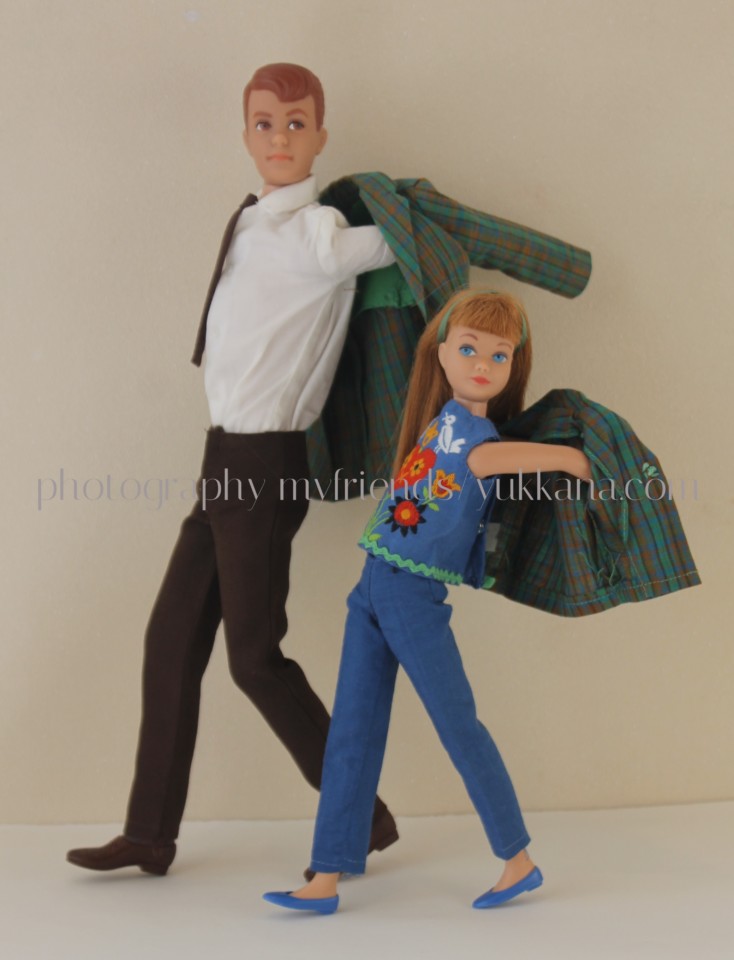 私には、バービーファミリーの他の誰よりもアランが子供と相性が良いように見えます。