Usually the sewing of Japan-made vintage Ken clothing is perfect, but wrong-sewing can be found sometimes.
There are two examples of factory-flaws. these two Tuxedo jackets has exactly the same paper tags '32-1′. I don't know what these number means, but it seems '32-1′ was completely wrong the manufacturing order. please look at the photo showing the insides, you can see the wrong 'stitching' are behind the pockets. normally these stitching should not be visible. if 'full-lining', pocket should be attached at the first sewing stage, but these pockets were obviously sown later.
The corsage as boutonniere jacket(right side) seems to have been sold in Japan, but I am not sure if it was sold in Japan because of the defective product.
I have also attached photos of some regular-products further below.
日本で生産されたヴィンテージ期の衣装は通常はとても綺麗な縫製ですが、時々間違いの物が見つかることがあります。下の画像は間違いがあったのに市場に出たと思われる2つのジャケットです。これらには同じ紙製タグ'32-1'が付いています。これらの数字の意味は判りませんが'32-1'は完全に製造工程を間違っていたと思われます。
このような総裏地のジャケットの場合、ポケットは製造の最初の工程で付けられるべきなのですが、これらのジャケットの内側を見るとポケットが最後に縫われたことが判ります。右側のジャケット(コサジュが襟に縫われている)は日本で販売されたと思われます、しかし不良品だから日本で販売されたのかどうかは判りません。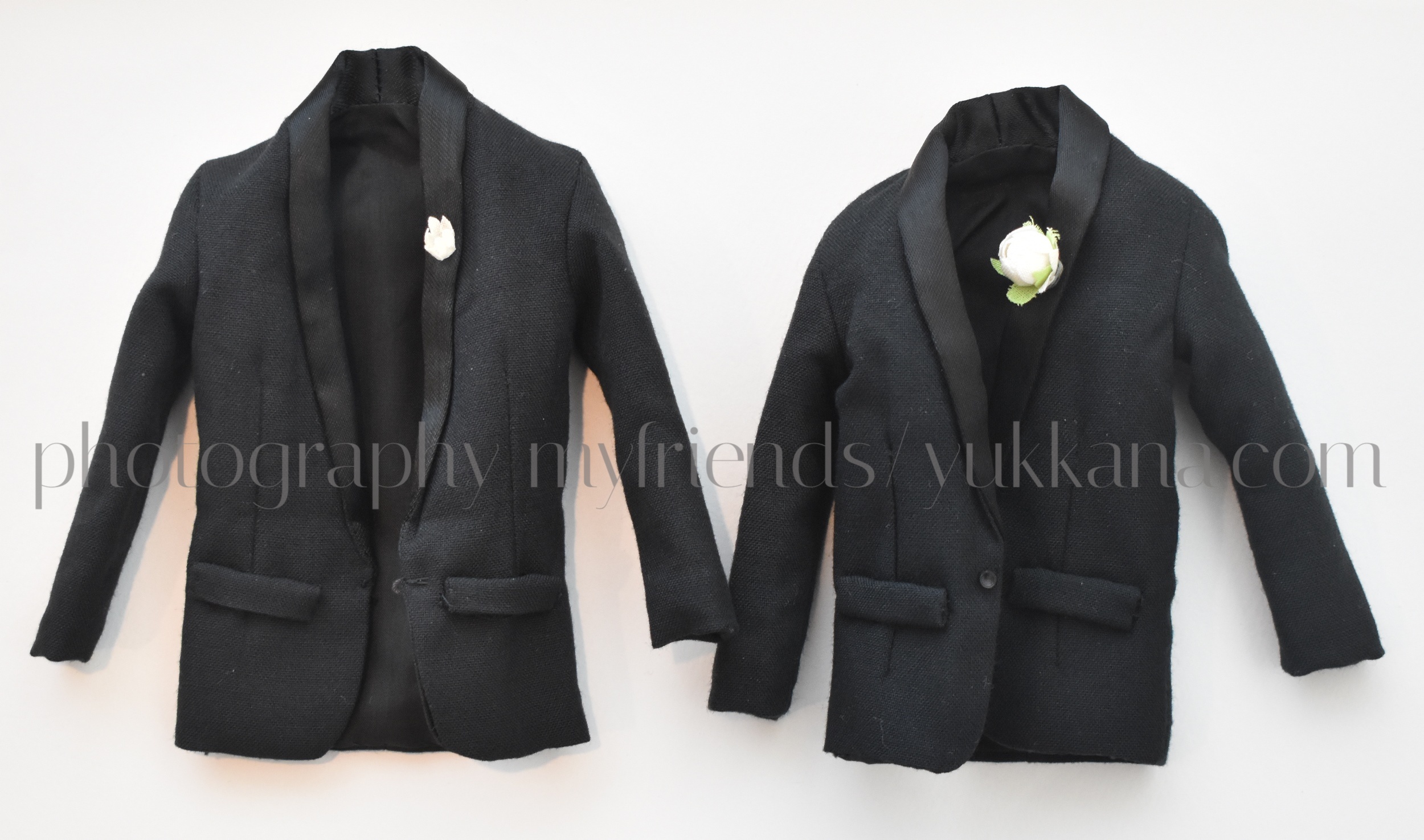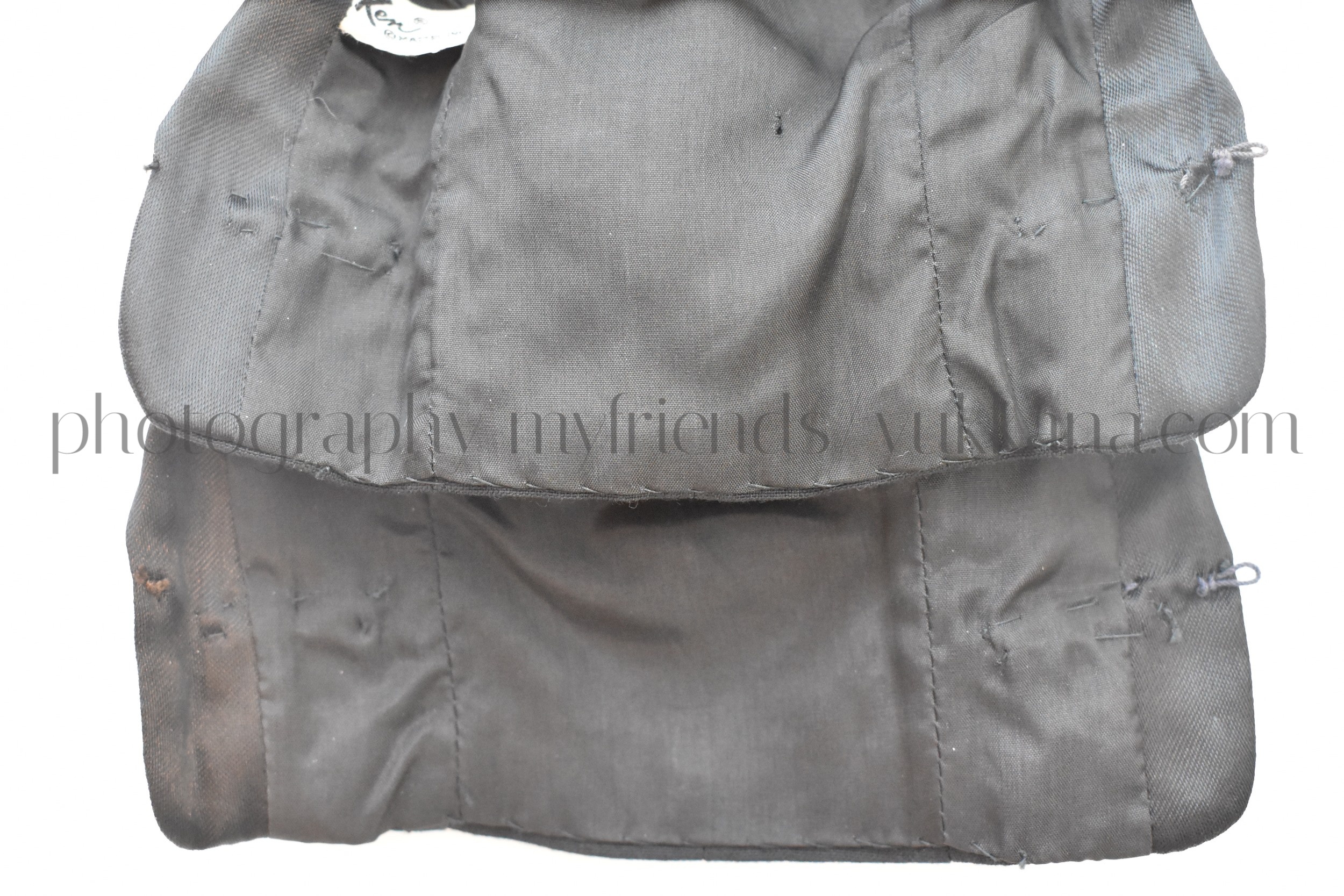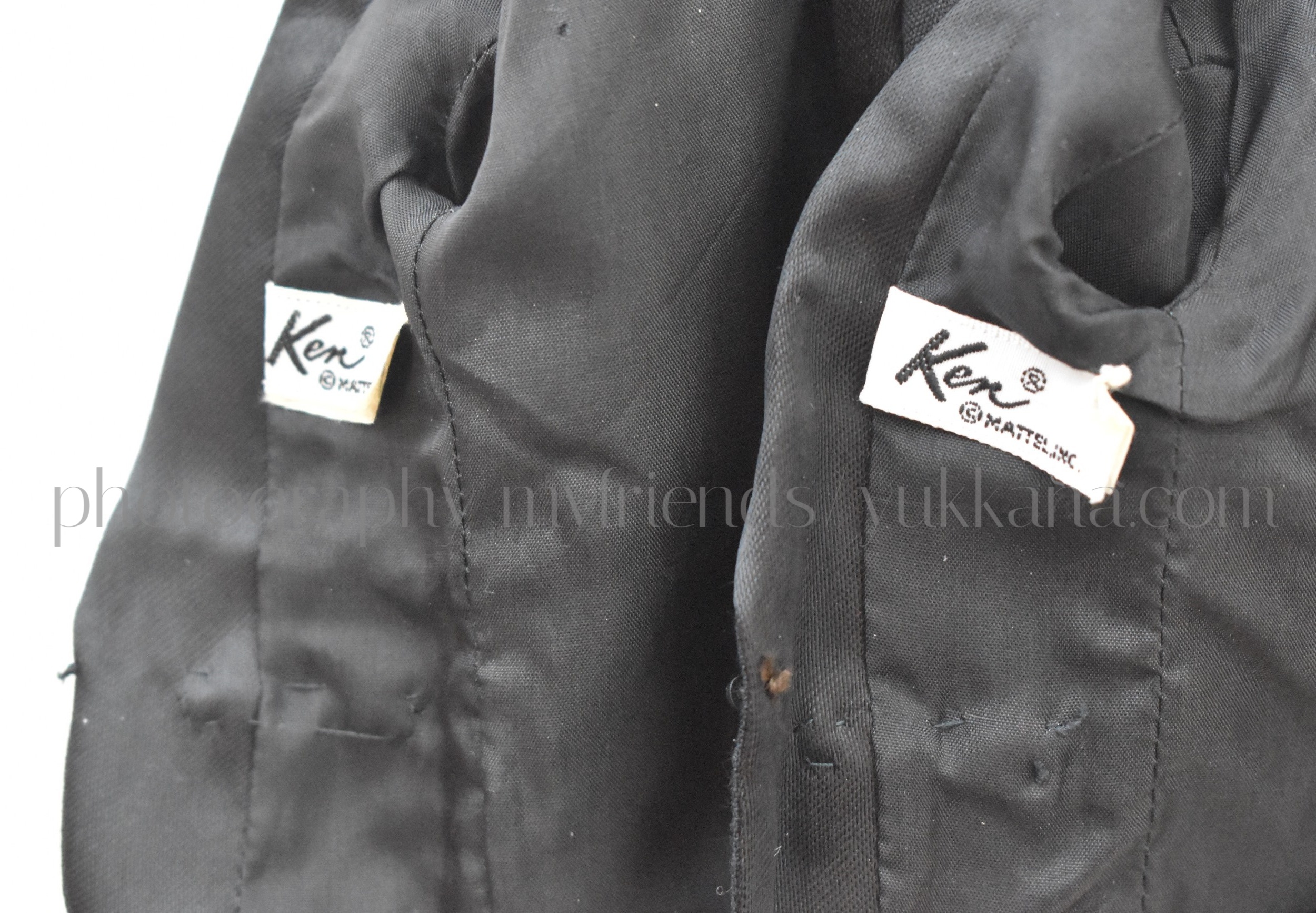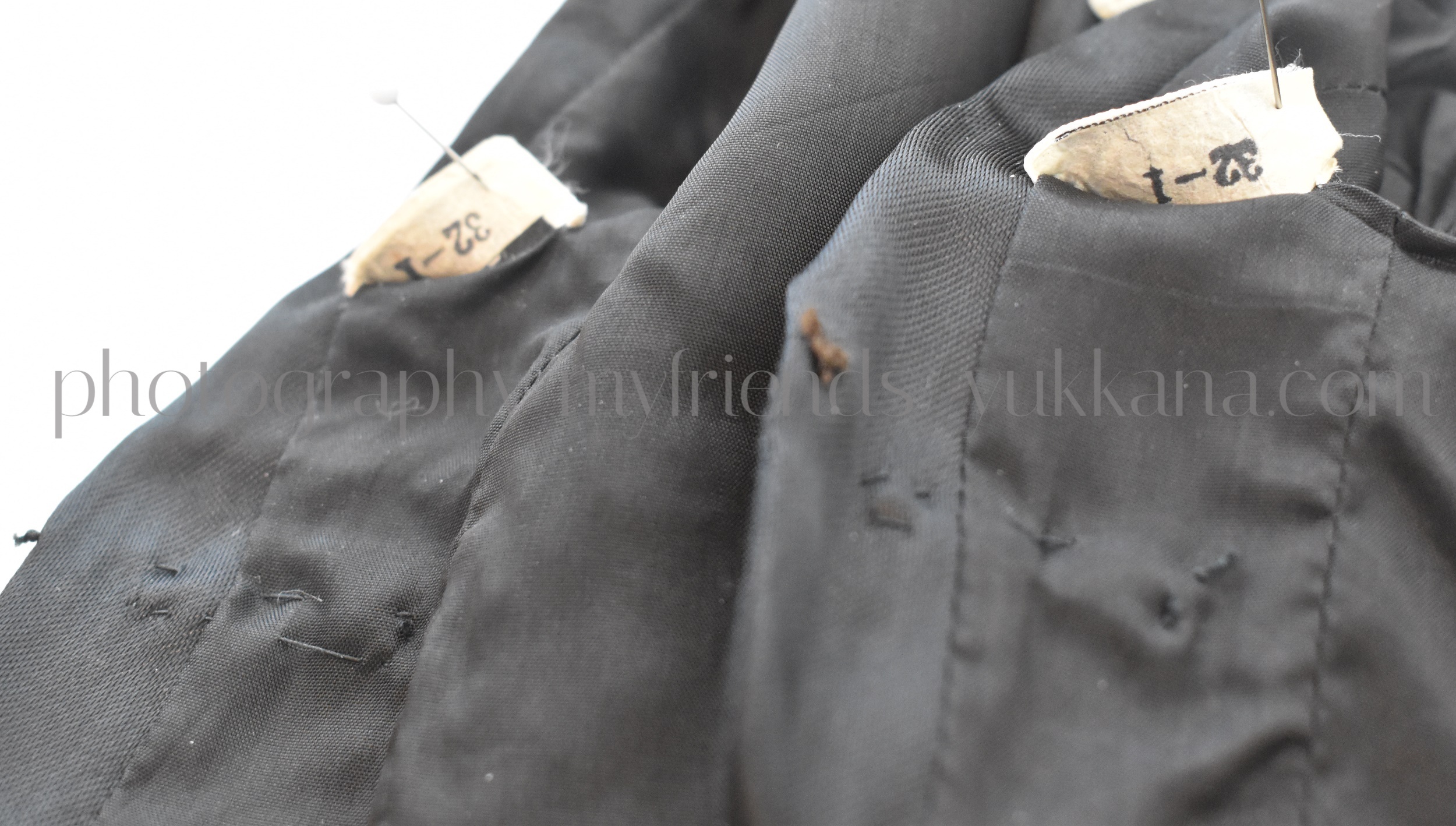 下の画像はいくつかのレギュラー品です。このように、通常は総裏地のジャケットの裏側に糸が見えていることはありません。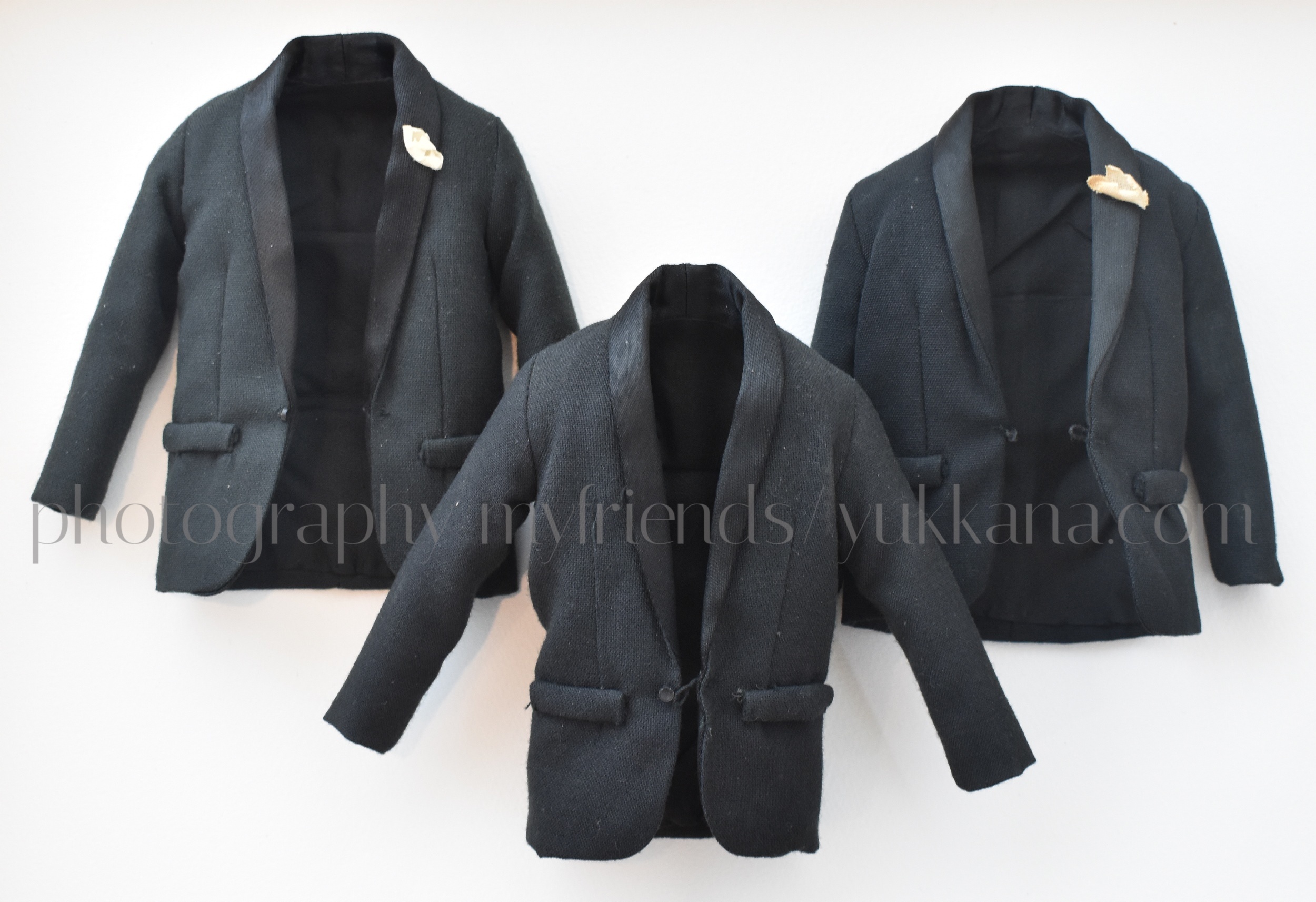 Samples of regular-products. the insides of these are also beautiful. Left: Tuxedo jacket with 'TM' label. Center: 'TM' labelled Tuxedo jacket for gift set 1963 #864 trousseau set. Right:'R' labelled Tuxedo jacket for 1965 style #0787 Tuxedo.