1962 #789 THE YACHT MAN: jacket, t-shirt, trousers, socks, shoes, book $3.00
Many costumes made in Japan for Barbie family product in the 60's has 'paper tag' in addition to the label. I'm not sure about the details of the paper tag though, as far as I can see it's probably from 1962 that the 'paper tag' was added, however not all Japan-made costume since 1962 have the paper tag.
My #789 outfit missing the 'HOW TO SAIL A BOAT' book.
this t-shirt is made the same as 1961 #782 CASUALS t-shirt(but no label).
Jacket(11 fabric parts): blue fabric, navy knit fabric, label, YKK zipper with pull ring, 2 decorative pockets
T-shits(2 fabric parts):white and red knit fabric
Trousers(3 fabric parts):blue fabric, YKK zipper, 1 snap, front pocket stitching,1 back pocket
Socks(1 fabric part/single sock): multistrip knit fabric
1962 #789 THE YACHT MAN:ジャケット、Tシャツ、スラックス、ソックス、靴、本 $3.00
1960年代に日本で生産された多くのバービー製品(衣装)にはラベル以外に紙製タグがついています(しかしすべての衣装に付けられているわけではありません)。詳しいことは判りませんが、私が調べた限りでは紙製タグはおそらく1962年の製品から付けられていると思います。
私の#789THE YACHT MANは本'HOW TO SAIL A BOAT'が欠けています
このTシャツは1961 #782 CASUALS のTシャツと同じです、しかしラベルはついていません。
ジャケット(生地パーツ11):青色の生地、紺色のニット生地、ラベル、リング付のYKKジッパー、飾りポケット2
シャツ(生地パーツ2):赤と白色のニット生地
スラックス(生地パーツ3):青色の生地、スナップ1、YKKジッパー、フロントポケットステッチ、バックポケット1
ソックス(生地パーツ1/片方):白色のニット生地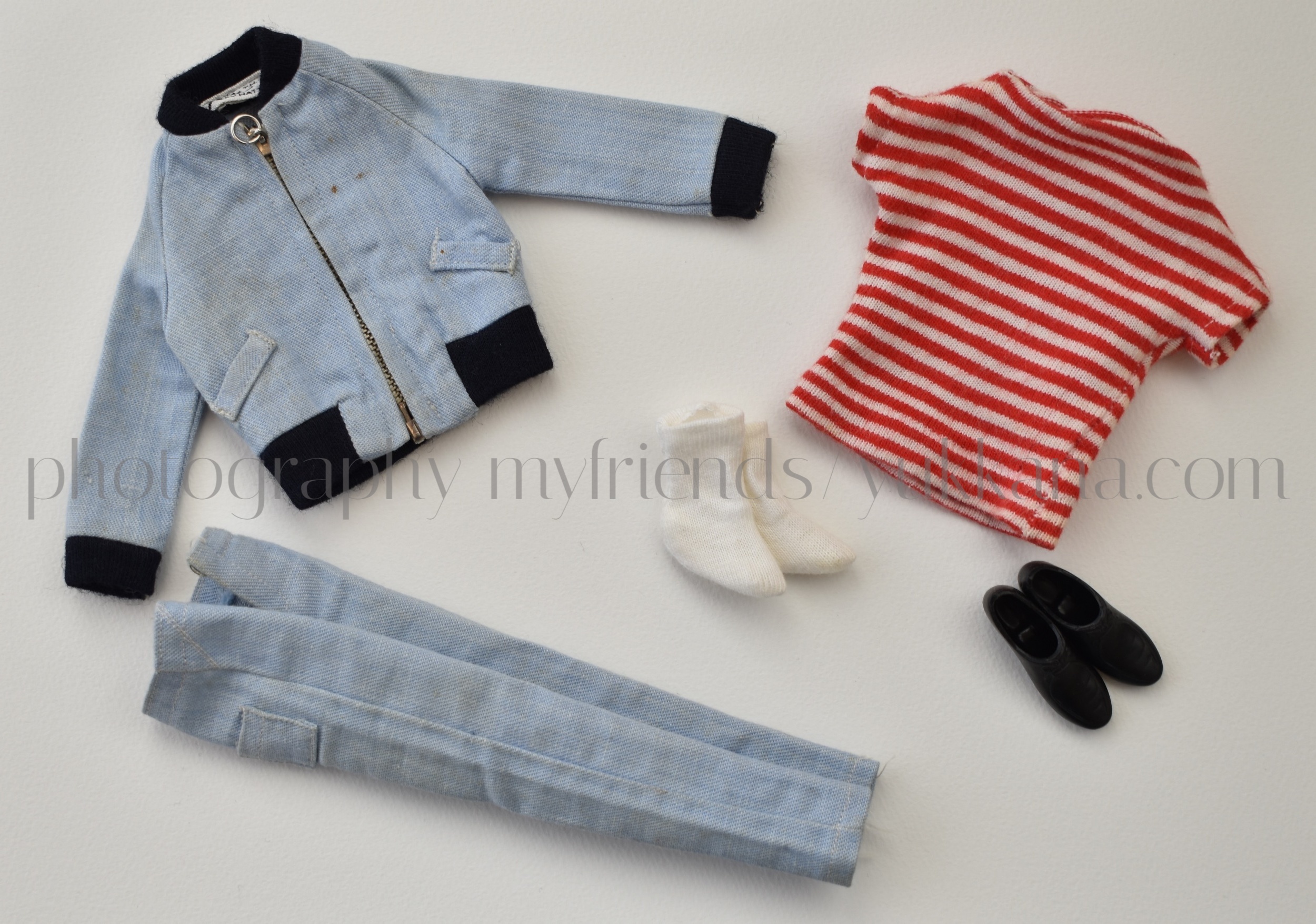 'HOW TO SAIL A BOAT' book missing