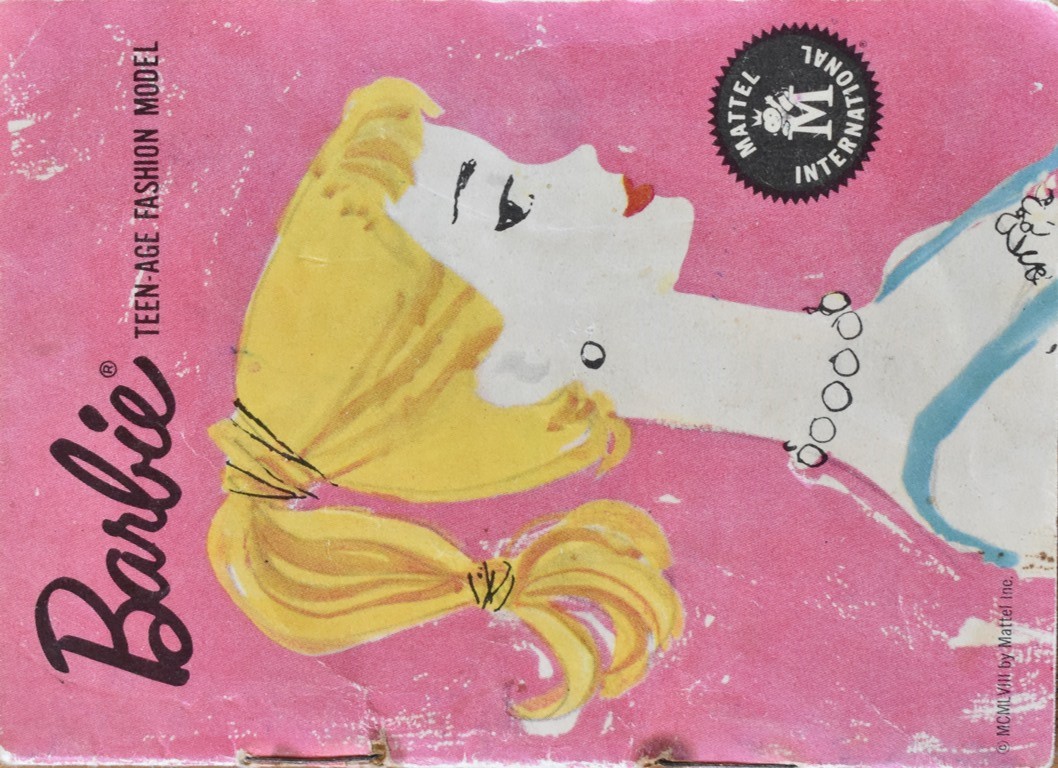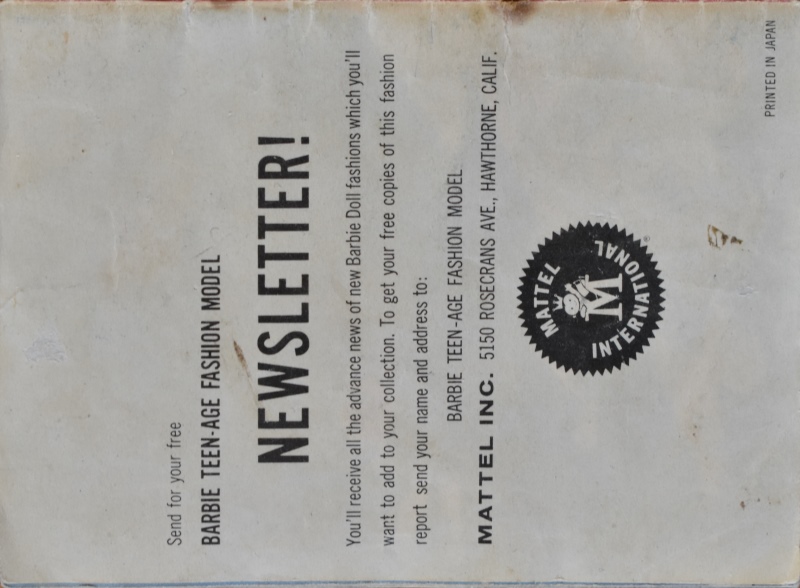 1960-61 Barbie booklet #2 edition introduce Barbie and her 25 fashions
1960 order
Basic Baribe doll fashion model set
1. #911 Golden Girl
2. #912 Cotton Casual
3. #915 'Peachy-Fleecy' Coat
4. #916 Commuter Set
5. #917 Apple Print Sheath
6. #918 Cruise Stripe Dress
7. #919 Fashion Undergarments
8. #921 Floral Petticoat
9. #961 Evening Splendour
10. #962 Barbie-Q Outfit
11. #963 Resort Set
12. #965 Nighty-Negligee Set
13. #966 'Plantation Belle'Dress Set
14. #967 Picnic Set
15. #969 Suburban Shopper
16. #972 Barbie'Wedding Day'set
17. #973 Sweet Dreams'
18. #975 Winter Holiday
19. #976 Sweater Girl
20. #977 Silken Flame
21. #978 Let's Dance
22. #979 Friday Night Date
23. #981 Busy Gal
24. #982 Solo In The Spotlight
25. #983 Enchanted Evening
1960-61 booklet order
Basic Baribe doll fashion model set
#921 Floral Petticoat
#919 Fashion Undergarments
#973 Sweet Dreams'
#965 Nighty-Negligee Set
#962 Barbie-Q Outfit
#979 Friday Night Date
#981 Busy Gal
#912 Cotton Casual
#976 Sweater Girl
#969 Suburban Shopper
#967 Picnic Set
#975 Winter Holiday
#963 Resort Set
#917 Apple Print Sheath
#918 Cruise Stripe Dress
#961 Evening Splendour
#911 Golden Girl
#915 'Peachy-Fleecy' Coat
#978 Let's Dance
#983 Enchanted Evening
#977 Silken Flame
#916 Commuter Set
#982 Solo In The Spotlight
#966 'Plantation Belle'Dress Set
#972 Barbie'Wedding Day'set
These fashion are sewn on card inside the box. instructions were already printed on the card in Japanese, every worker was able to make packages in the same way. Now we can know the packing year roughly from genuine NRFB. all NRFB fashions here are from the internet.
1960年のブックレット(#2 edition)ではバービーと25種類の衣装が紹介されています。
これはNRFBの衣装を集めた資料です、すべてインターネットからの画像です。
これらの衣装は台紙に手で縫われていました、その台紙には衣装やアクセサリの配置が印刷されていたので誰でも同じようにセットすることができました。本物のNRFBパッケージからはそれらが作られた年代もだいたい判ります。
この資料の衣装名はブックレットに忠実にしています。またそれぞれの内容はシンプルに書いています。
書かれている年代はブックレットを表しています。たとえば'#911 GOLDEN GIRL(1959-1962)'の場合は1959年から1962年のブックレットに載っていたという意味です、1962年のブックレットに載っていたものは1962年から1963年のために作られた衣装で、売れ残っていたら1964年でも販売されていたと思います。
また、それぞれの画像の説明ではパッケージされた年代を書いています。'1960-61packaging'の場合は1960年から1961年の販売に向けて作られたパッケージと考えられるという意味です。
#977 SILKEN FLAME(1960-1962)/#0977 SILKEN FLAME(1964)
Party dress, Golden belt, Golden purse, Black open toe shoes   $1.50
#978 LET'S DANCE(1960-1962)
Cotton dress, Pearl pendant, White purse, Black open toe shoes   $2.00
#979 FRIDAY NITE DATE(1960-1963)/#0979 FRIDAY NITE DATE(1964)
Jumper skirt, White cotton dress, Black open toe shoes, 2 tumblers, 2 straws, Tray   $2.50
#981 BUSY GAL(1960-1961)
Two-piece suit, Blouse, Hat, Blue belt, Glasses, Navy open toe shoes, Portfolio, Two fashion drawings   $2.50
#982 SOLO IN THE SPOTLIGHT(1960-1963)/#0982 SOLO IN THE SPOTLIGHT(1964)
Black glitter gown, Long black gloves, Pink scarf, Bead necklace, Black open toe shoes, Microphone   $3.00
#983 ENCHANTED EVENING(1960-1963)
Gown with train, Pearl necklace, Drop earrings, Clear open toe shoes with glitter, Long white gloves, Fur stole   $4.00
Early version has beads on waist. three set of bead and sequins are hand-sewn on the waist. later version changed rose version from beads version. some type of rose flower as white rose corsage of Ken fashion #787 TUXEDO. the rose is attached on waist with stem wire.
初期のドレスはビーズヴァージョンだったことがわかります。ウェストには手縫いでビーズとスパンコールが付けられています。後期は造花ヴァージョンに変わりました、造花はケン衣装#787TUXEDOにセットされたコサジュと同じタイプです。造花は針金(茎)でドレスに付けられています。