1965 #0779 AMERICAN AIRLINES CAPTAIN: jacket, trousers, hat, socks, shoes, flight log, flight bag $4.00
Jacket-10 patterns:dark blue fabric(10), 8 silver cords,1 pilot wings, label, 3 buttons, 1 loop/2 darts, 2 pocket flaps, back center bent, 3 button hole stitches
Trousers-2 patterns:dark blue fabric(2), 1 snap, YKK zipper/ front pocket stitching, back pocket stitching,fly stitching
Hat-2 fabric parts+1vinyl part: dark blue fabric(2), black vinyl coated fabric(1/hat brim),silver cord, 2 clear beads, insignia
Socks-2 patterns:black knit fabric(1/single)
Bag-5 fabric parts: dark blue fabric(5), YKK zipper, 4 studs, white vinyl
1965 #0779 AMERICAN AIRLINES CAPTAIN:ジャケット、スラックス、帽子、ソックス、靴、フライトログ、バッグ  $4.00
袖の4本のラインは最高責任者の印です。#0779 American Airlines Captainは1964年ヴァージョンと1965年ヴァージョンに違いがあります。1965年ヴァージョンはスラックスがすこし太いシルエットになり、バッグが付いて$3.50から$4.00になりました。
ジャケット-パターン10:濃紺色の生地(10)、銀色のコード 8、パイロットウィング1、ラベル、ボタン3/ダーツ2、ポケットフラップ2、ベンツ1、ボタンホールステッチ3、ループ1
スラックス-パターン2:濃紺色の生地(2)、スナップ1、YKKジッパー/フロントポケットステッチ、バックポケットステッチ、フライステッチ
帽子(生地パーツ2+ビニール1):濃紺色の生地(2)、黒色のビニールコーティング生地(帽子のつば)、銀色のコード、透明のビーズ2、記章
ソックス-パターン2:黒色ニット生地(1/片方)
バッグ(生地パーツ5):YKKジッパー、濃紺色の生地(5)、白色のビニル、びょう4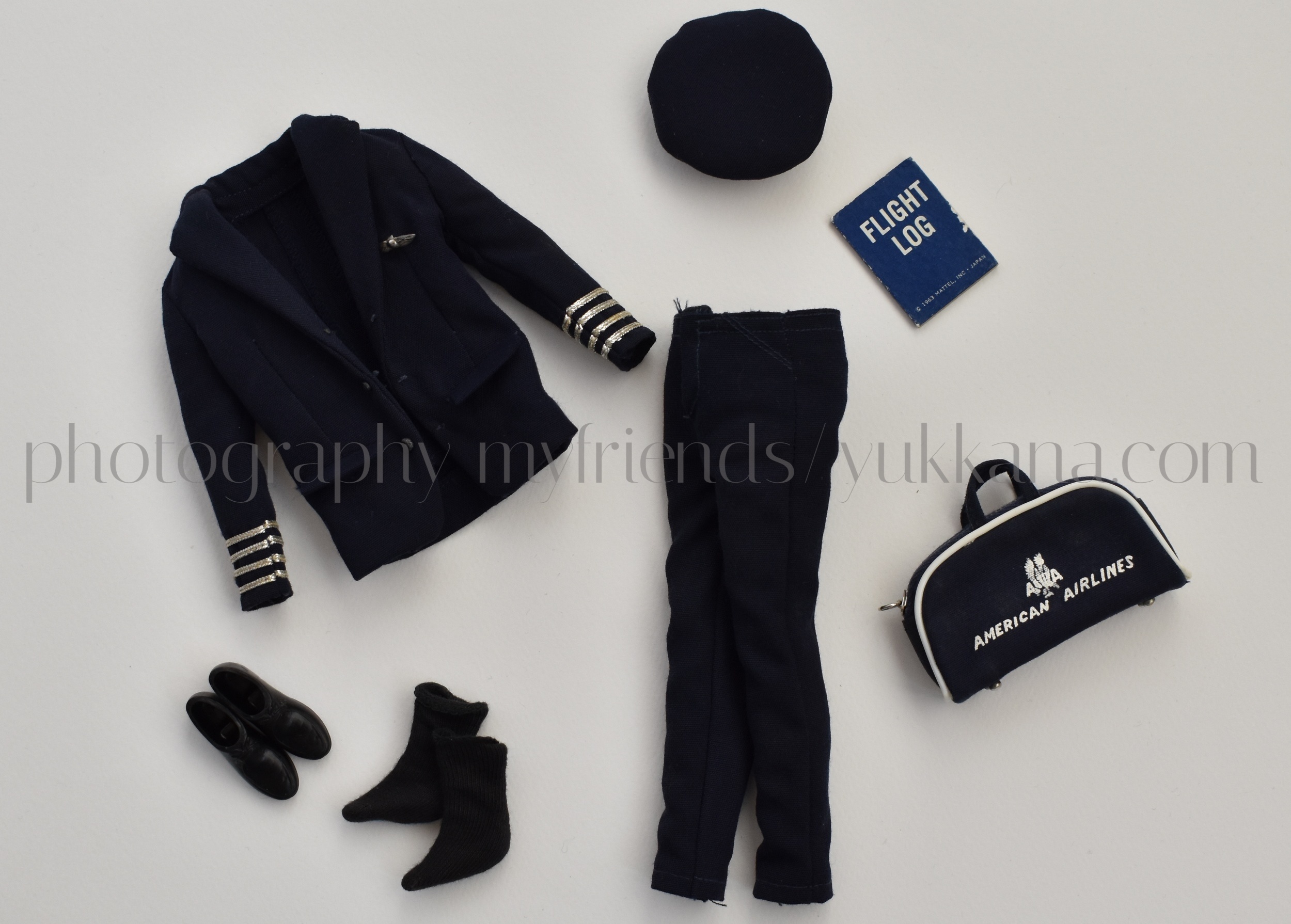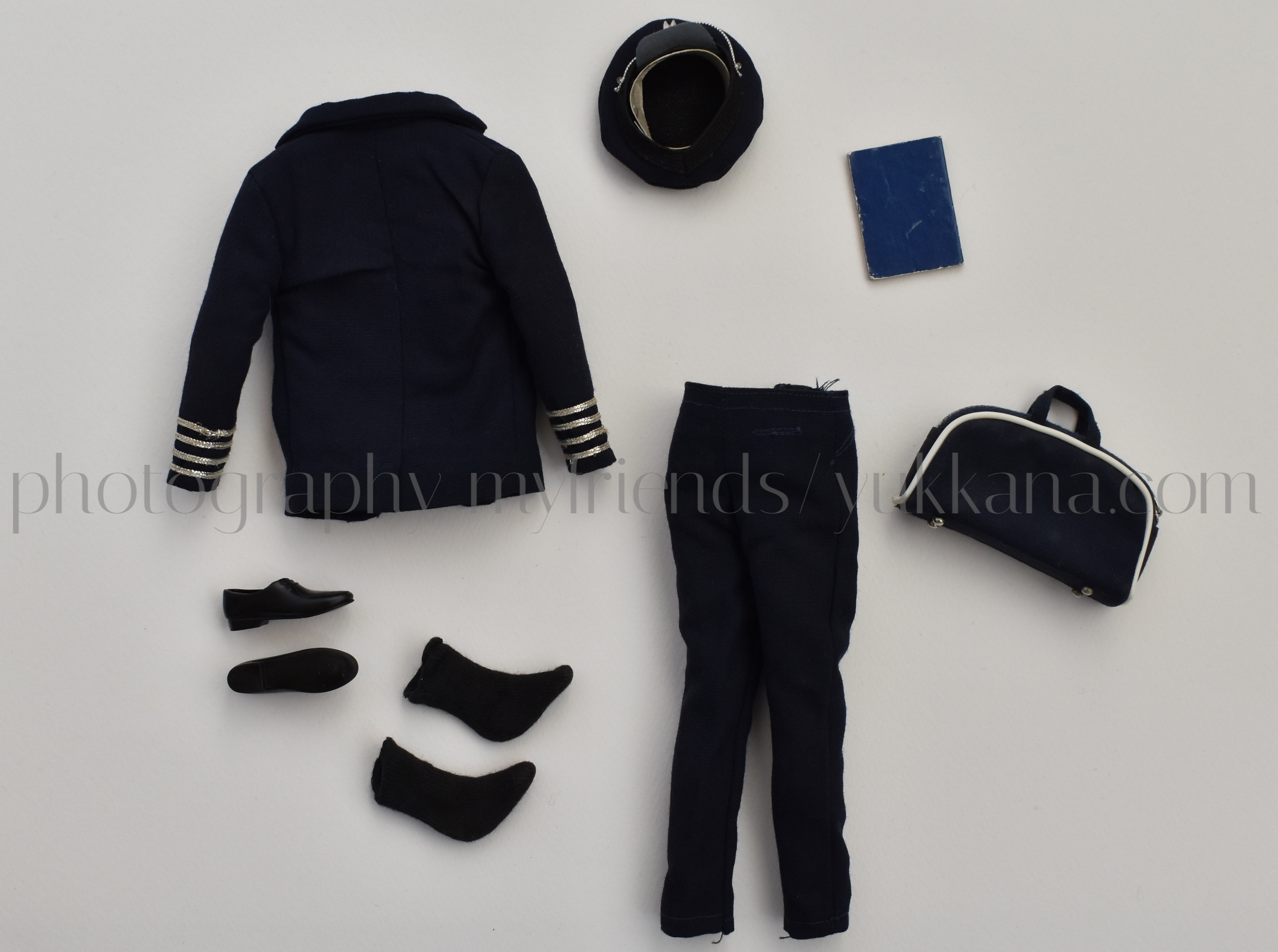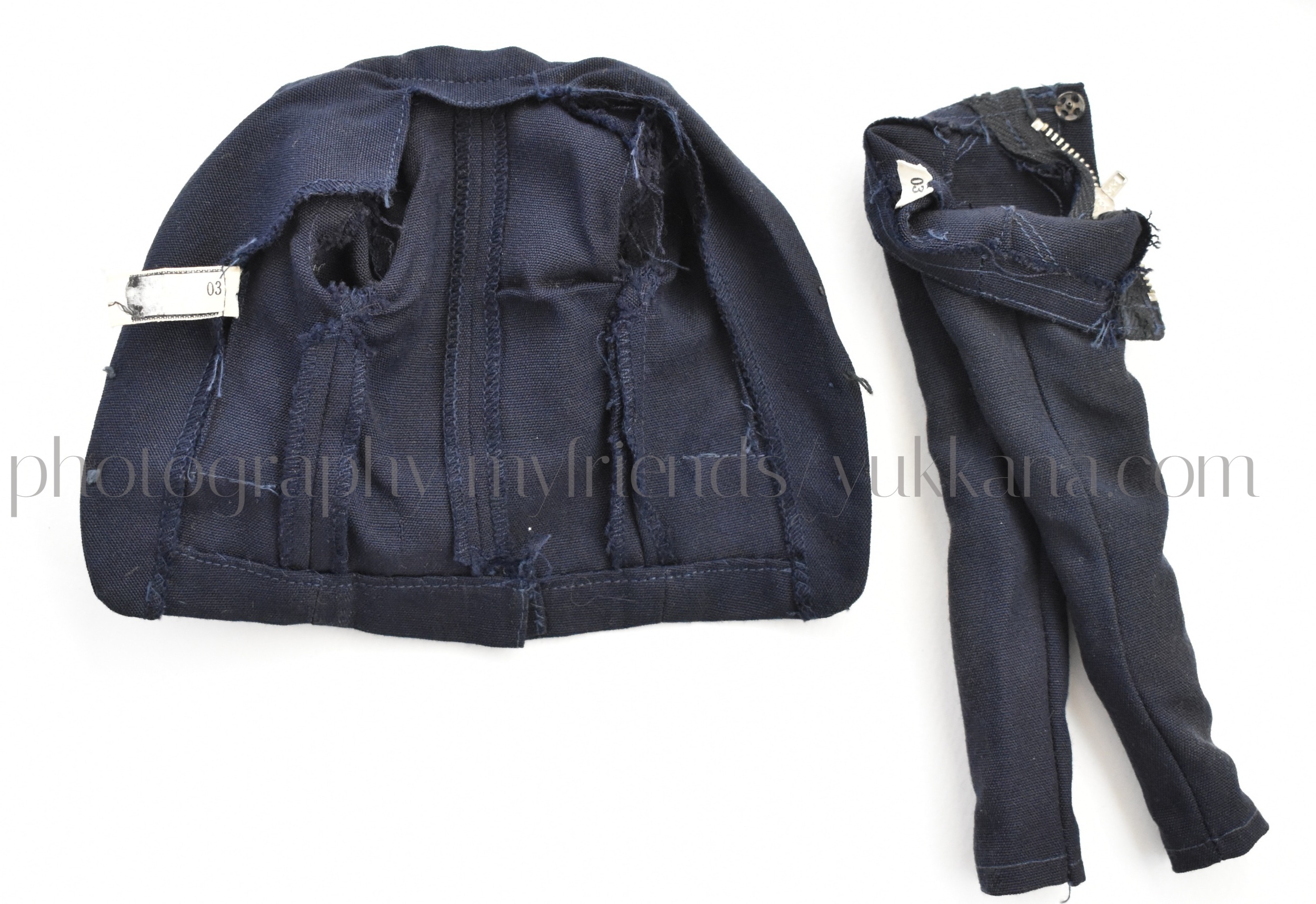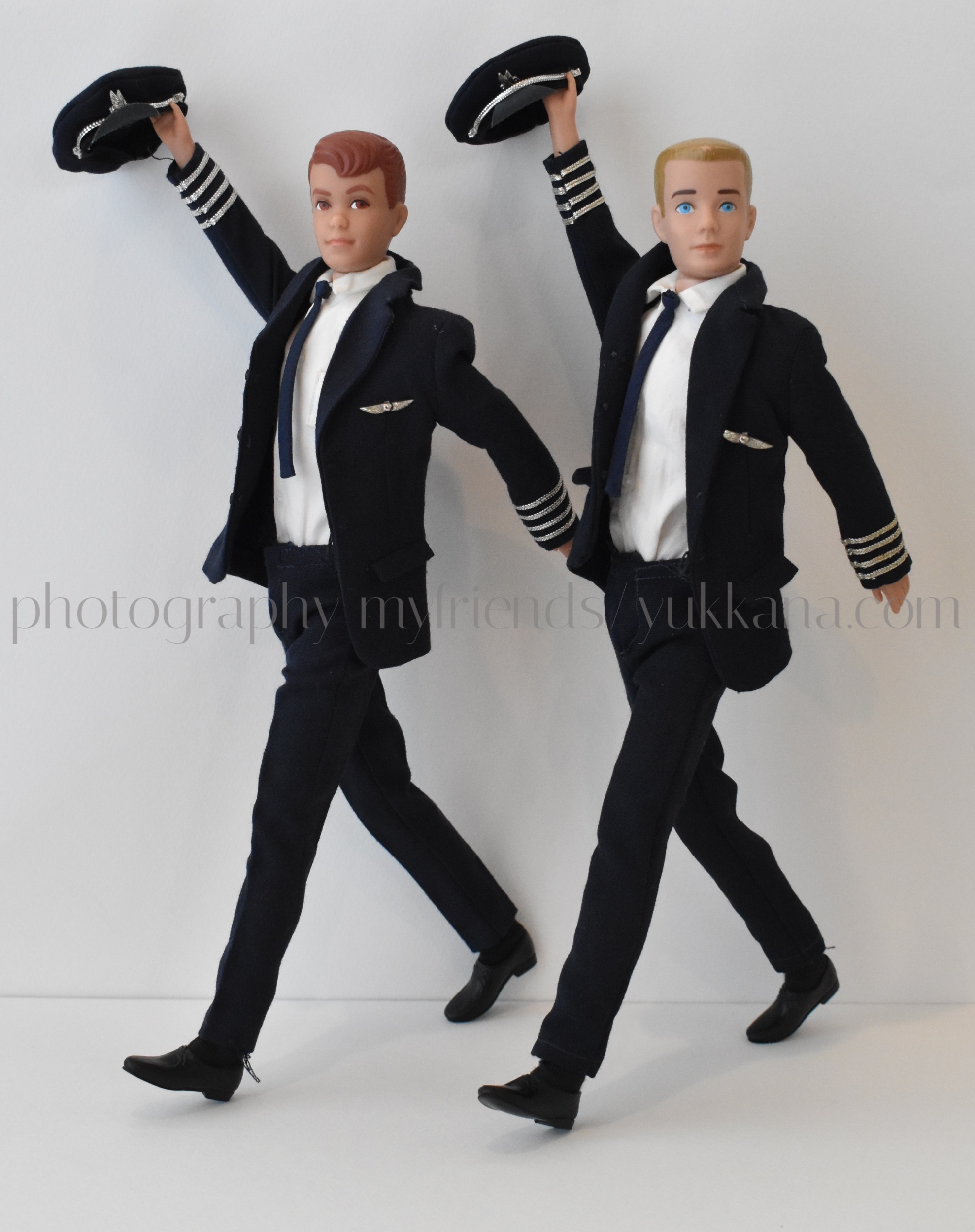 Allan wearing 1961-62 style white long sleeved shirt/Ken wearing 1964 style white short sleeved shirt. the navy ties are 1963 #797 Army & Airforce .
1964/1965 fabrics
1964年と1965年のヴァージョンは生地がまったく違います、帽子とバッグもそれぞれの生地で作られています(1964年ヴァージョンにはバッグがありません)。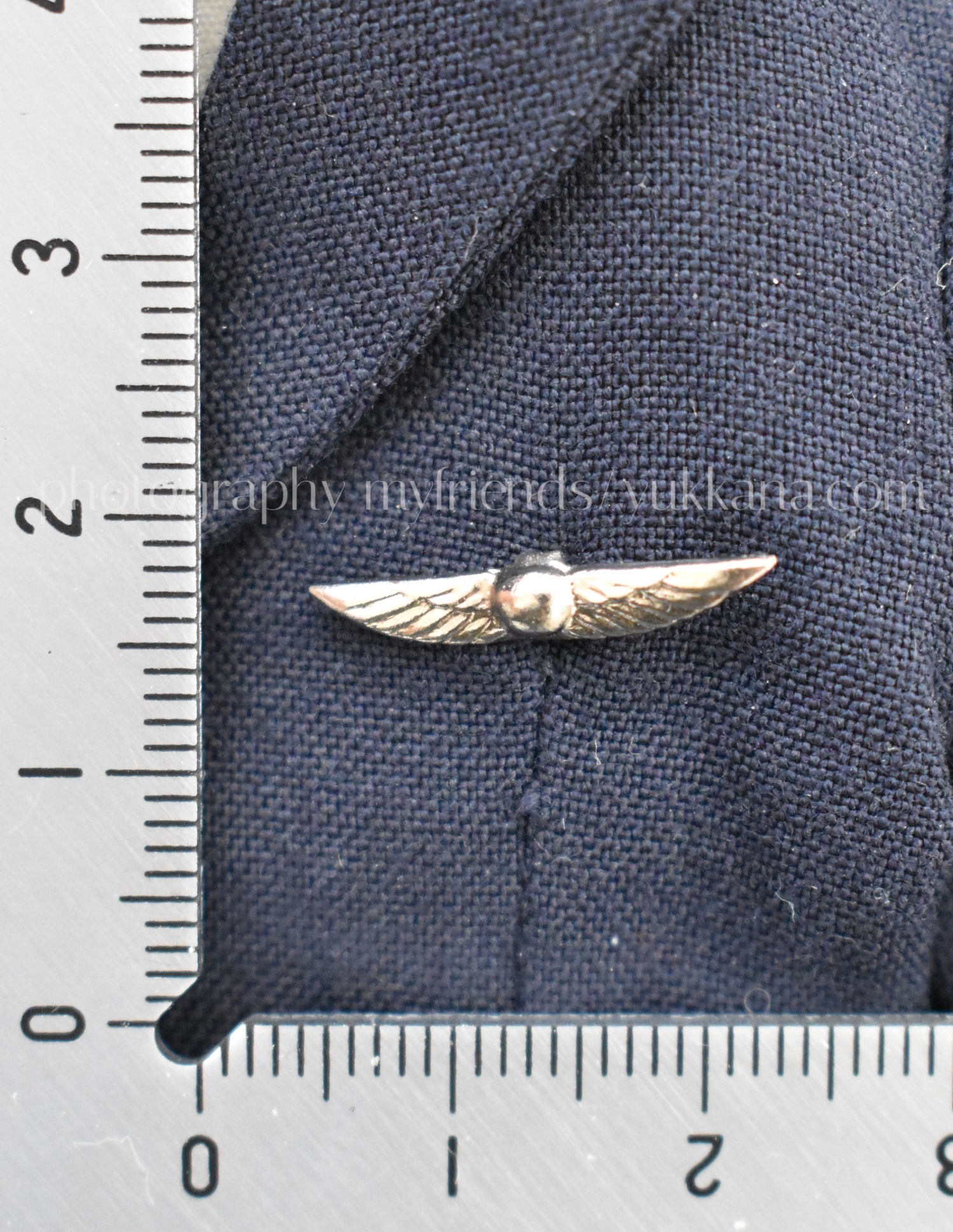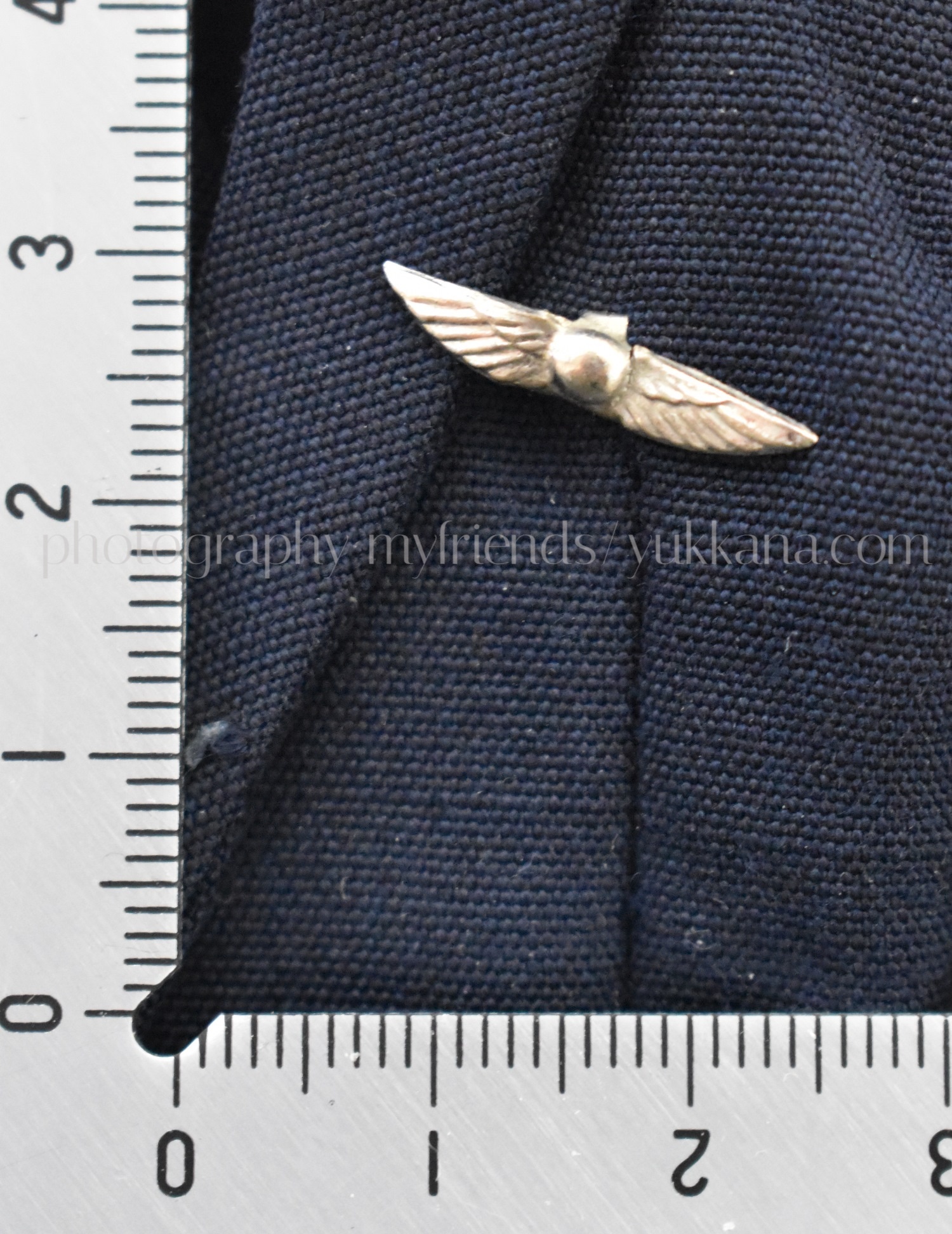 Flight bag
as far as I can the Barbie's flight bag on the internet, there are many Barbie's bags without insole, I can tell it just by looking because they are deformed. also many Barbie's flight bag types with insole can be found. but I'm not sure about Ken's flight bag, there aren't enough Ken's bag to compare on the internet. these stand properly if there is an insole.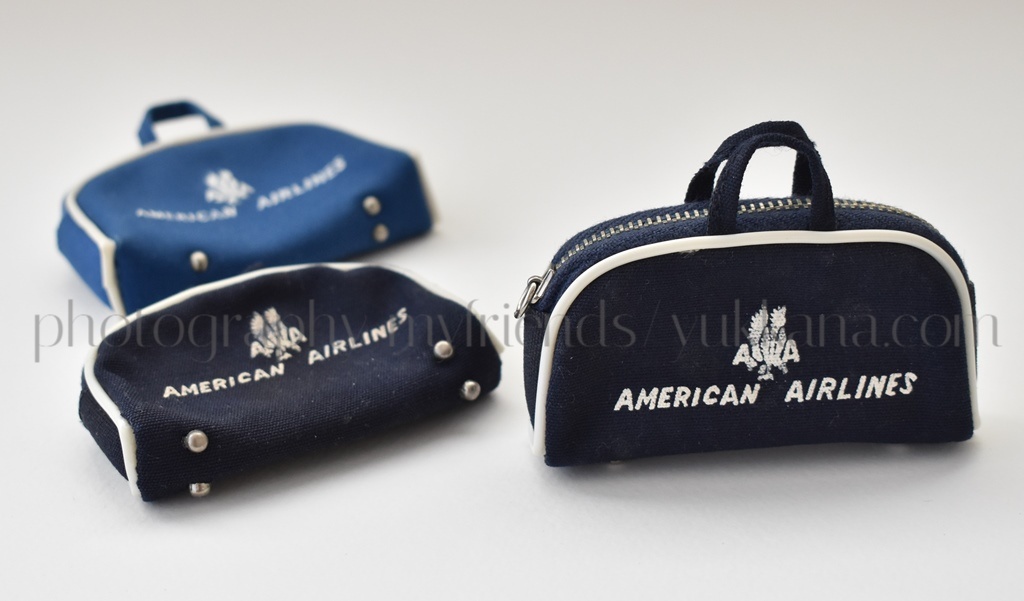 Label