1962 Fashion PAK:white dress shirt, red tie $1.00
Shirt(10 fabric parts):white cotton fabric, label, long sleeves, cuffs,2 snaps, 3 buttons, 1 breast pocket, yoke
Tie(1 fabric part):red cotton fabric,elastic band
this shirt can be found 1961 #786 saturday Date/1962-63 #786 Saturday Date and 1963 #864 Trousseau Set  
this red tie can be found 1962/64 PAK, 1963 #864 Trousseau Set,1964 #1411 Victory Dance, 1964 #1401 Spesial Date
1962 Fashion PAK:白いドレスシャツ、ネクタイ $1.00
シャツ(生地パーツ10):白色コットン生地、ラベル、長袖、カフス、スナップ2、ボタン3、ポケット、ヨーク
この白いシャツは 1961 #786 saturday Date/1962-63 #786 Saturday Date and 1963 #864 Trousseau Set  にもセットされる。
ネクタイ(生地パーツ1):赤色コットン生地、ゴム
赤いネクタイは1962/64 PAK, 1963 #864 Trousseau Set,1964 #1411 Victory Dance, 1964 #1401 Spesial Date にもセットされる
1962-63年のブックレットでは黄色いネクタイとセットで紹介されている。本当にセットされたのは赤いネクタイです。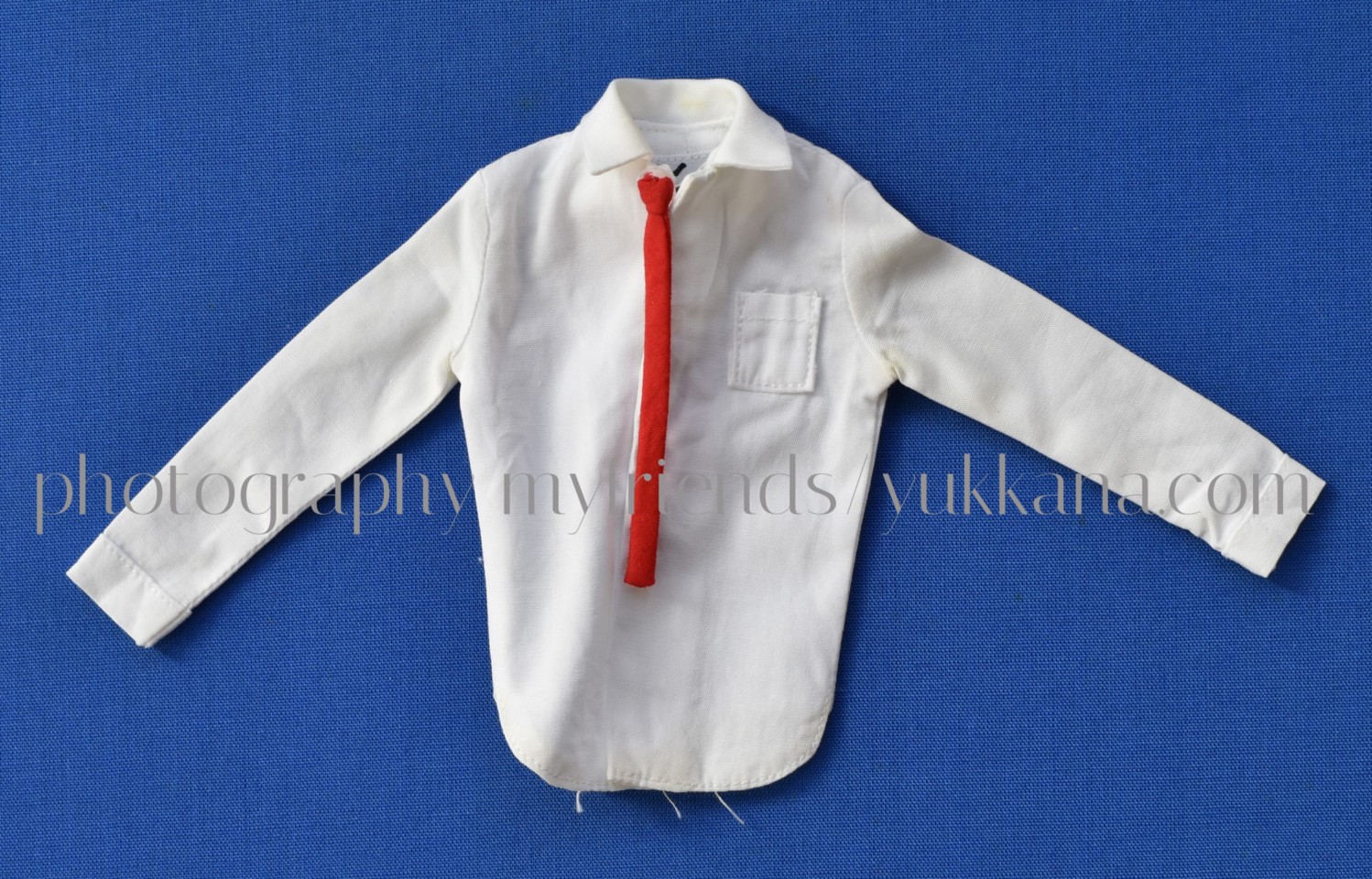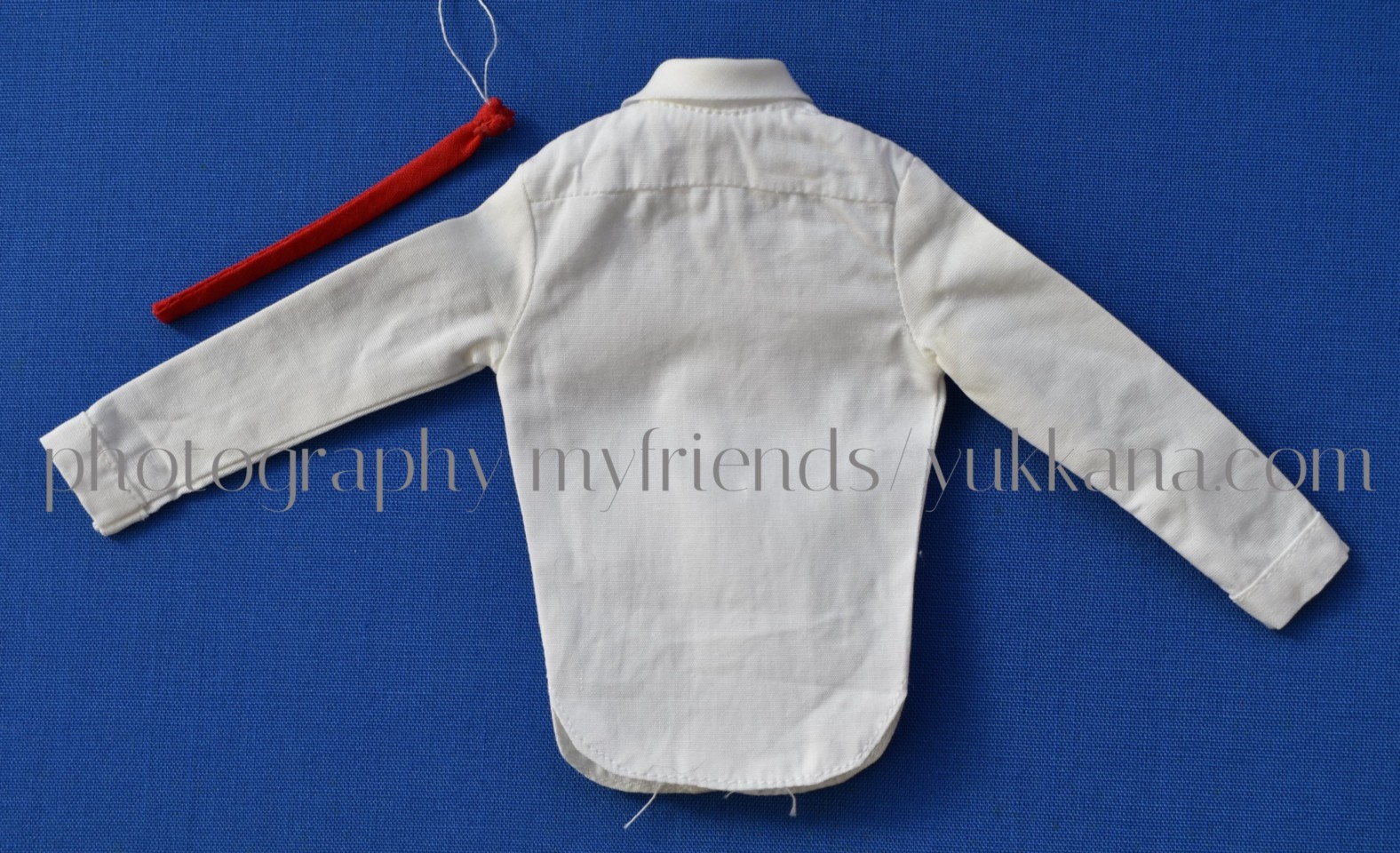 上から 1961 #786 Saturday Date, 1962 fashion PAK, 1963 #864 Trousseau Set, 1962 fashion PAK, 1962-63 version Saturday Date を並べています。シャツはすべて同じ形でTMラベルです。
ここには1964 #1401 Special Dateを含めていません。しかしTMラベルのシャツを持つSpecial Dateはあるのではないかと思います。
I think #1401 Special Date has TM label white long sleeves shirt is exsists but I do not have.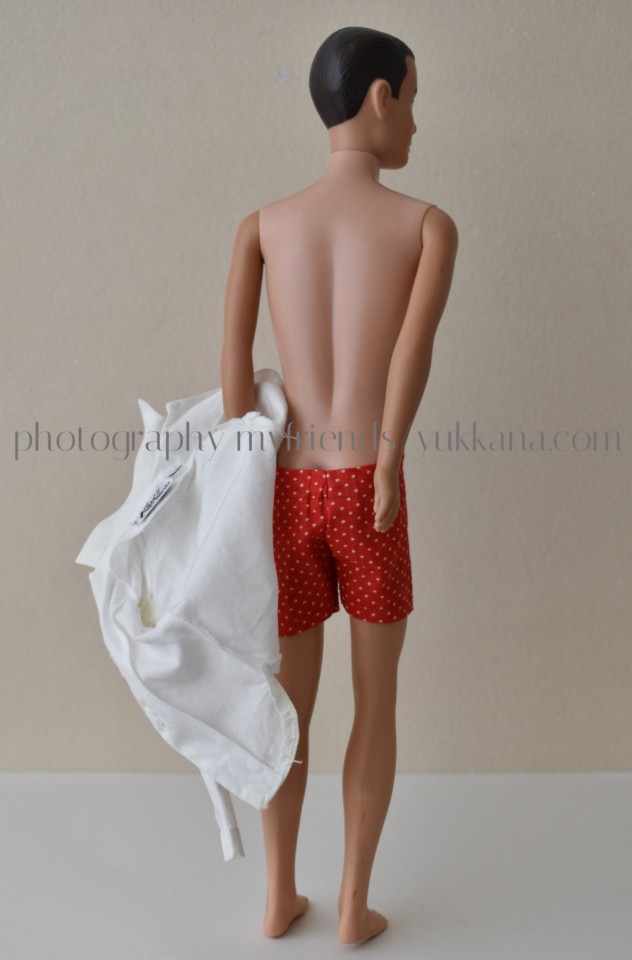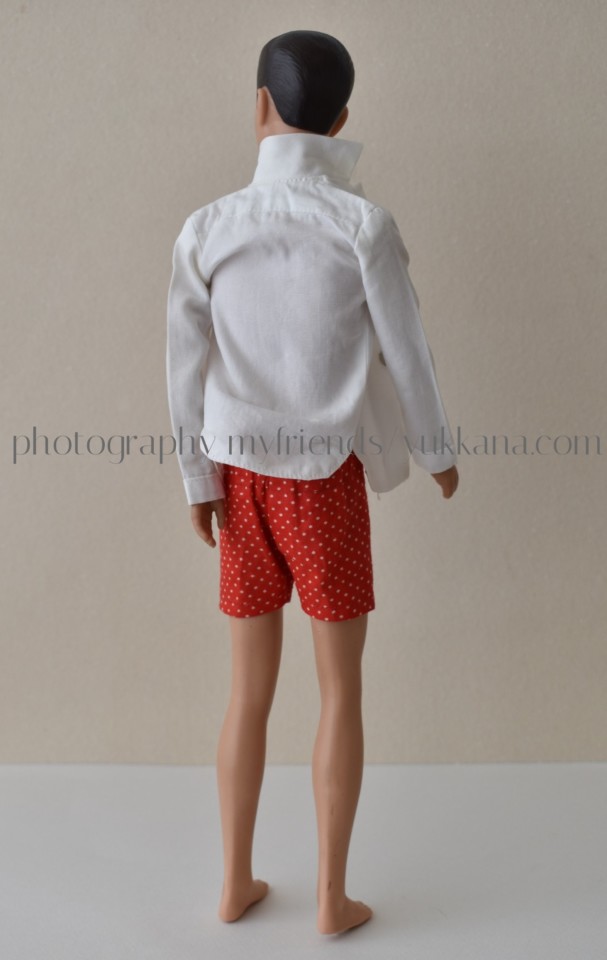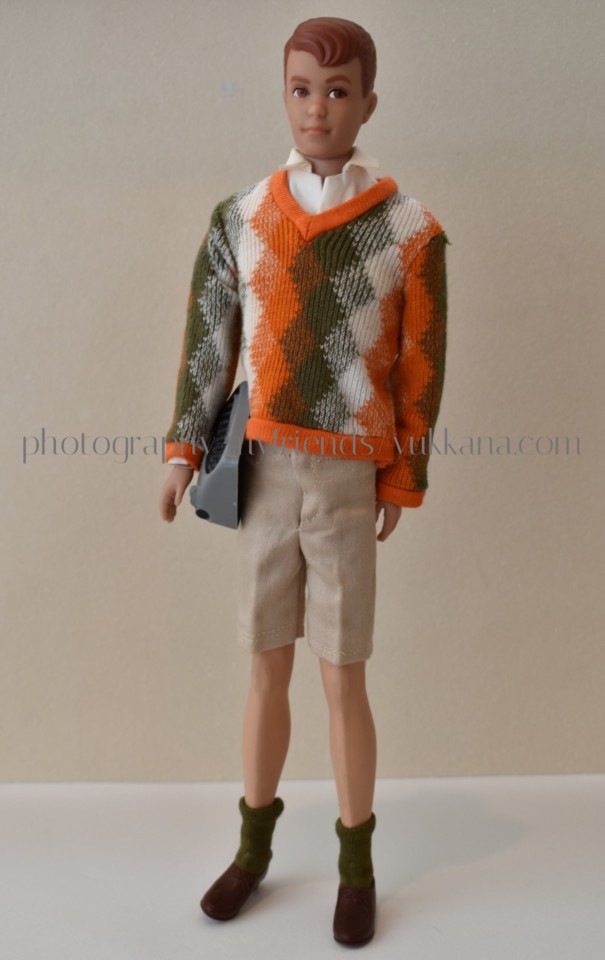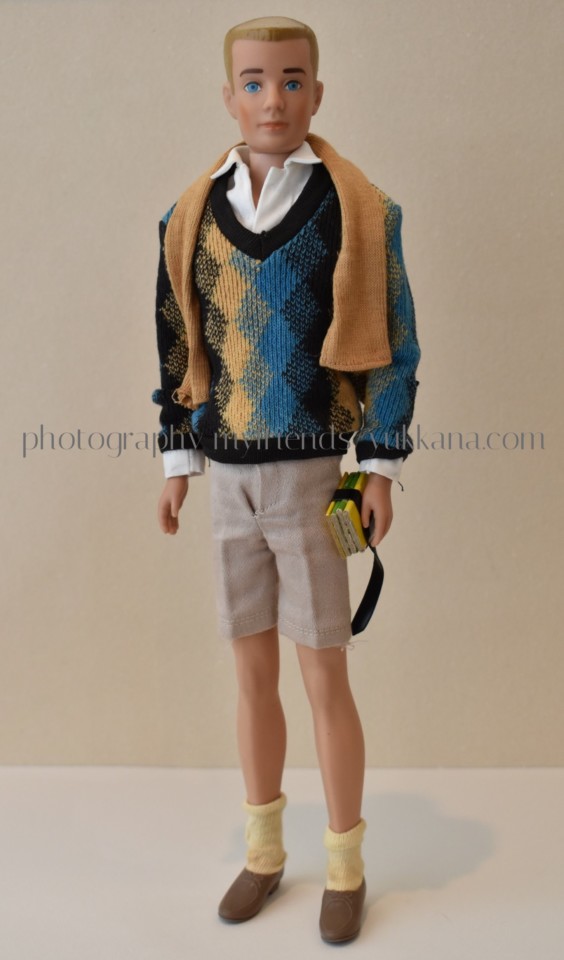 Left:1966 #1020 blushing bendable leg Ken wearing:1962 PAK white shirt, 1963 #791 Fun On Ice/sweater and muffler, 1966 #1427 Mountain Hike/bermuda shorts, 196 accessory PAK Best Foot Forward/yellow socks and light brown shoes. his books and strap from Barbie/Skipper accessories.
Right:1966 #1010 bendable leg Allan wearing:1962 PAK white shirt, 1964 #1405 Roller Skate Date/sweater, 1965 #1412 Hiking Holiday/bermuda shorts, 1965 #1416 College Student/typewriter,1966 #1422 Summer Job/olive socks, and brown shoes.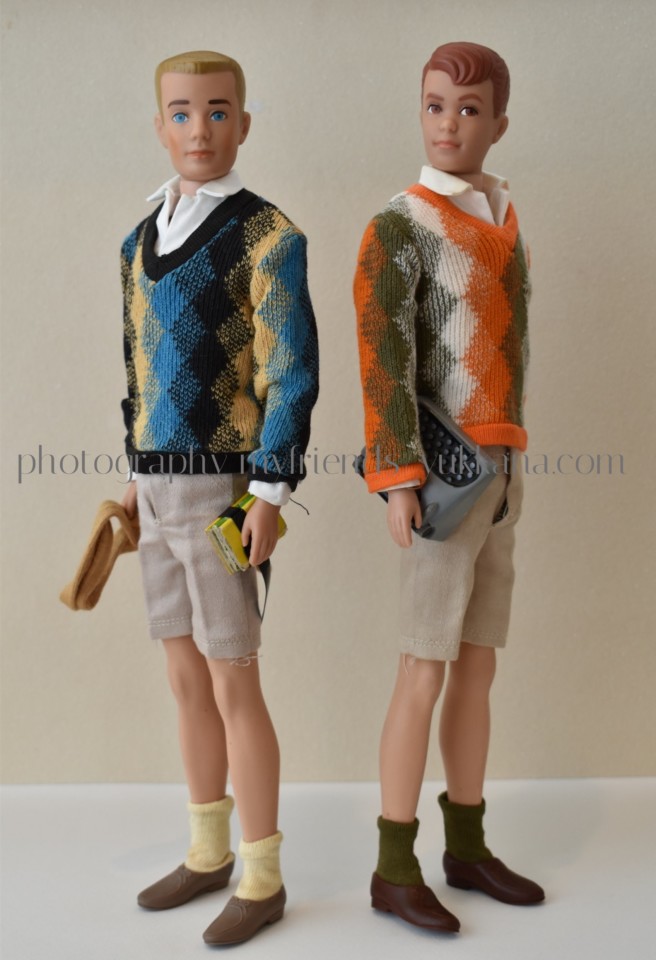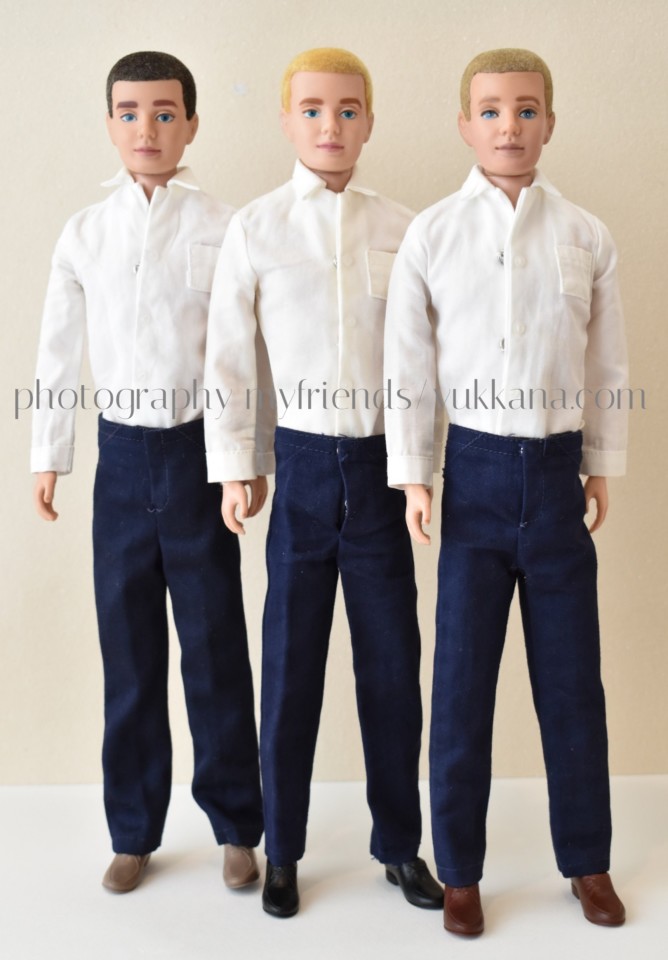 from the left:1962 brunette flocked hair Ken, 1962 blonde flocked hair Ken, 1961 brownette flocked hair Ken. all wearing 1962 PAK white shirts and 1966 #1421 Seein' The Sights navy blue trousers.