This article is about Japanese Ken's trademark rights.
In Japan, one "Ken" trademark right has been registered as of 2nd August 2019. 
application date:15th Apr 1966/registration date:7th Mar 1968
Photo below is a part of a public relations, issued by Japanese patent office. anyone can see this material because it has been published for decades already.
according to this patent office material, we can see that the applicant was Mattel. application date was 15th April 1966. registration date was 7th Mar 1968.
this means there was no Japanese trademark during vintage Ken sales period in Japan from 1964 to Mar 1968.  Was this registration action taken for mods Ken? maybe??
from this information, Japanese "Ken" trademark was not be treated as carefully as Japanese "Barbie" trademark. he was finally registered at the end of "vintage Ken" era. also-just "KEN" letters were registered as his Japanese trademark rights. not his logo.
for your reference, Japanese "Barbie" trademark rights and her logo has been registered in Japan. Japanese "Barbie" application date:5th Sep 1960 / registration date:5th Feb 1962. this was absolutely registered for sales in Japan.
Also in Japan, 42 Japanese "Barbie" trademark rights are registered as of 6th July 2019.
No registration for Midge and Allan in Japan.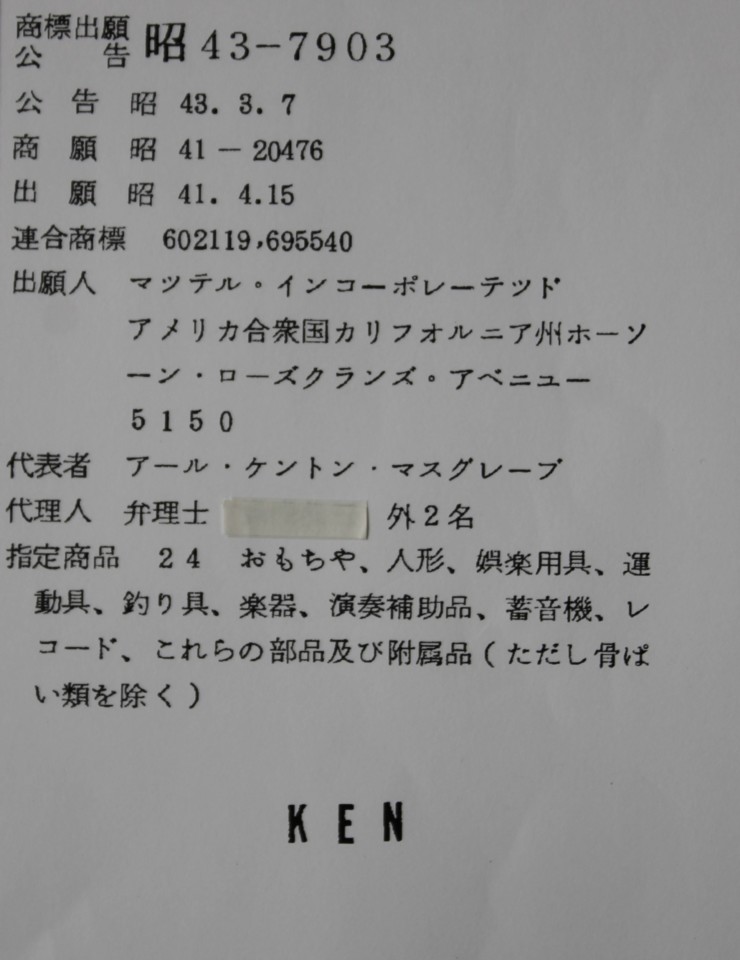 これは日本国内の"KEN"の登録商標の話です。
2019年8月2日現在、日本国内でケンの商標は1件登録されています。
左の画像は特許庁の商報公報の一部です。(これらの資料は何十年も前からすでに公開されている、誰にでも見ることが出来る資料です。)
特許庁の資料によると、日本の"KEN"の商標は1966年の4月15日にマテル社により出願され、1968年の3月7日に権利が認められています。
ヴィンテージケンは1964年から日本で販売されていましたが、この情報からみて日本でのケンはバービーのように丁寧に商標をとられたとは言えないようです。
日本ではケンはヴィンテージ期の最後に商標登録がされました。出願されたのはヴィンテージケンの生産が終了する頃の1966年4月15日、商標が登録されたのはモッズケンの生産を始めていた頃の1968年3月7日です。また、登録されている文字もロゴではなくただの文字です。
参考までに、日本でもバービーとロゴが登録されています。特許庁の資料によると、日本の"Barbie"の商標は1960年の9月5日にマテル社により出願され、1962年の2月5日に権利が認められています。こちらは日本での販売に向けて登録がされたと思います。
また、日本でのミッヂとアランの登録はありません。