Shown here are 1965 Barbie Japanese advertisements and a picture. I have found three advertisements and one sales scene picture until now. not many though, we can find out what notable things happened just by looking at these.
1965年の日本のバービー広告と写真。いまのところ3枚の広告と1枚の写真しか見つけていません。しかしこの4枚から1965年のいくつかの状況が判ります。
Fantastic advertisement from Jan 1965 Japanese toy magazine
How exciting! the Ken wearing a KIMONO!! Ken was always photographed wearing the same Tuxedo in Japanese advertisement though this time he looks great!
1965年1月の東京玩具商報の広告。
この日本の広告で彼は着物を着ています!
ヴィンテージケンが日本の広告に登場したのは1964-66年。期間が短いだけでなく彼は新作の衣装を着たバービーの横でいつも同じ衣装でした。日本の広告のハイライトはこの着物姿のケンだと思います。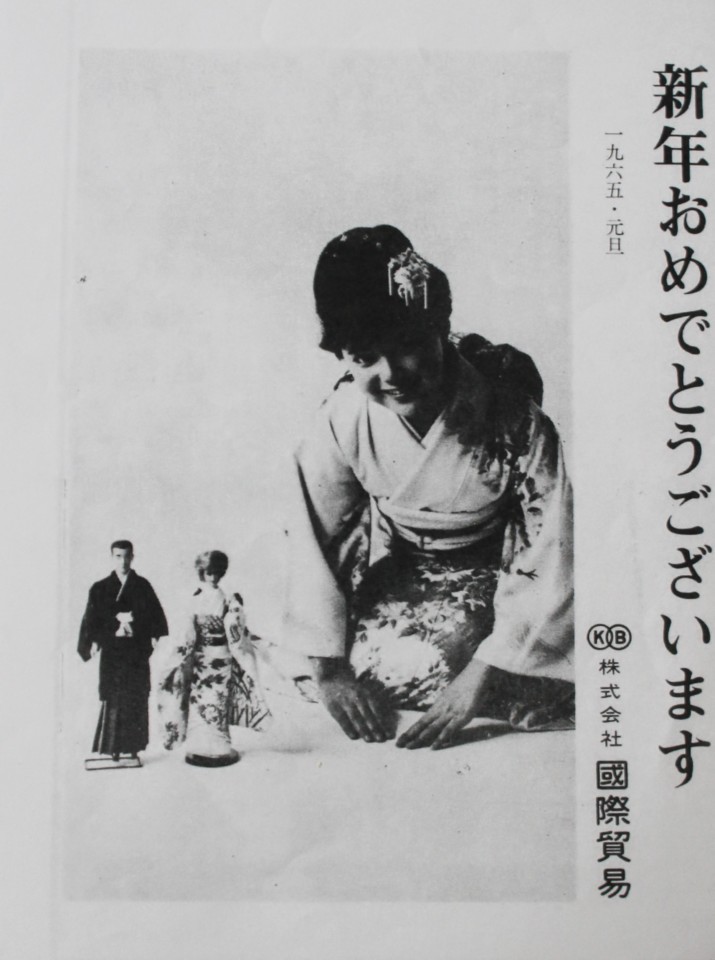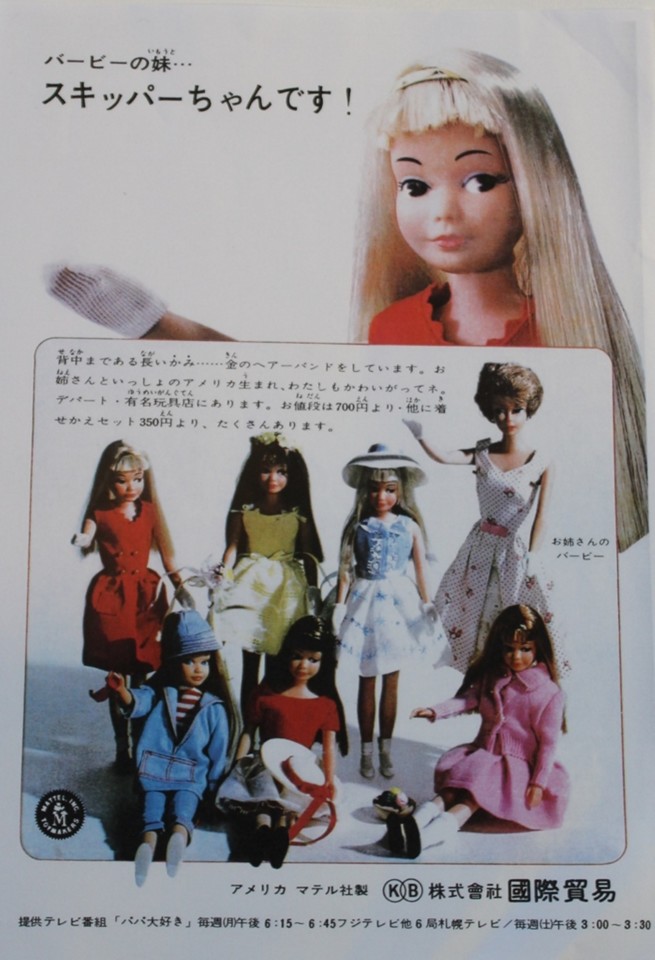 Mar 1965 Weekly girls magazine MARGARET.
In Japan, Skipper was introduced in Nov 1964. Although there were no any Japanese advertisemets which specialised in Ken/Midge, Skipper had the opportunity to be promoted.
1965年3月 週刊マーガレット。
1964年の11月に紹介されたスキッパーの広告。ケンやミッヂがこのように広告になることはなかったです。
Dec 1965 Japnese Toy magazine.
In Japan, "Midge" was introduced in Apr 1964 as Barbie's best friend but stopped advertising her in 1965. instead of her, "NEW MIDGE" was produced in later 1965 as Japanese exclusive. poor Midge!
Also-in Japanese advertisement, they were named and called "Barbie's Family" during 1965-1966. at this time:Barbie/Barbie bendable/Ken/New Midge/Skipper
1965年12月 東京玩具商報
日本では1964年4月に紹介されたミッヂですが、彼女は1965年の終わりにはニュウミッヂに変えられました。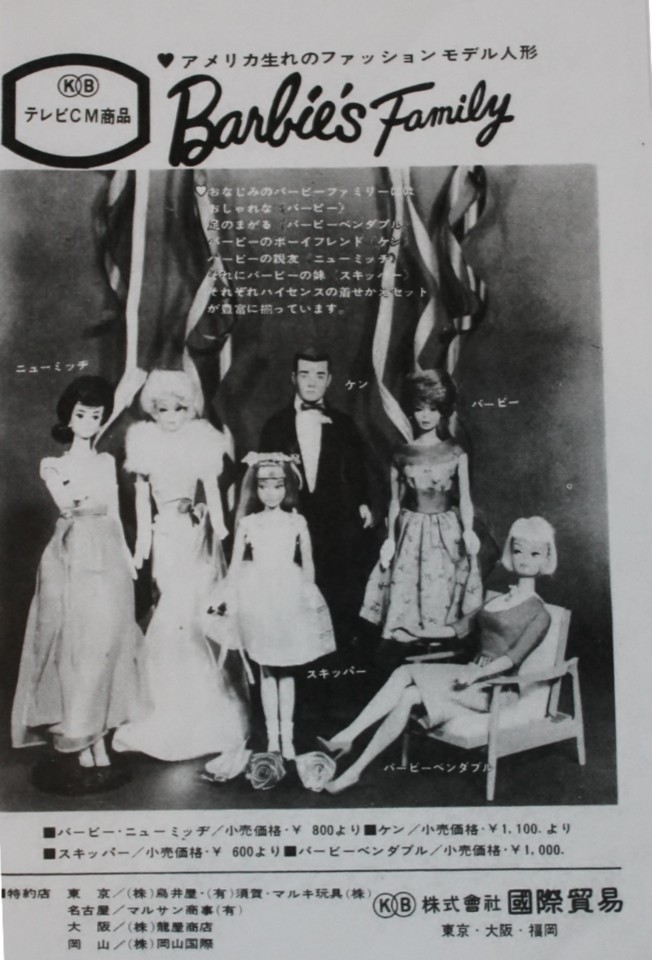 ここで彼等は"Barbie's Family(バービーファミリー)"という名前で呼ばれています。メンバーはこの時点でバービー/バービーベンダブル/ケン/ニュウミッヂ/スキッパー。このグループ名が使われたのは1965-1966年。
Lovely sales scene was photographed in 1965 in Tokyo. shame that this book made a mistake writing the discription and the store name was not written though, this photograph is still interesting. we can see boxed Barbie outfits in the background, some of them looks unusual.
there are no boxed Ken outfits. only Ken thing we can notice is "pennant" on the wall.
この写真は広告ではなく「日本のこども」という写真集からです。バービーが"タミーちゃんとペパーちゃん"と紹介されていること、撮影された場所が書かれていないのが残念。それでも当時のことが判る楽しい写真です。
背景に写っている箱入りのバービーの衣装はよく見えませんが、いくつかは通常のセットではなさそうです。ケンの物はペナントしか写っていません。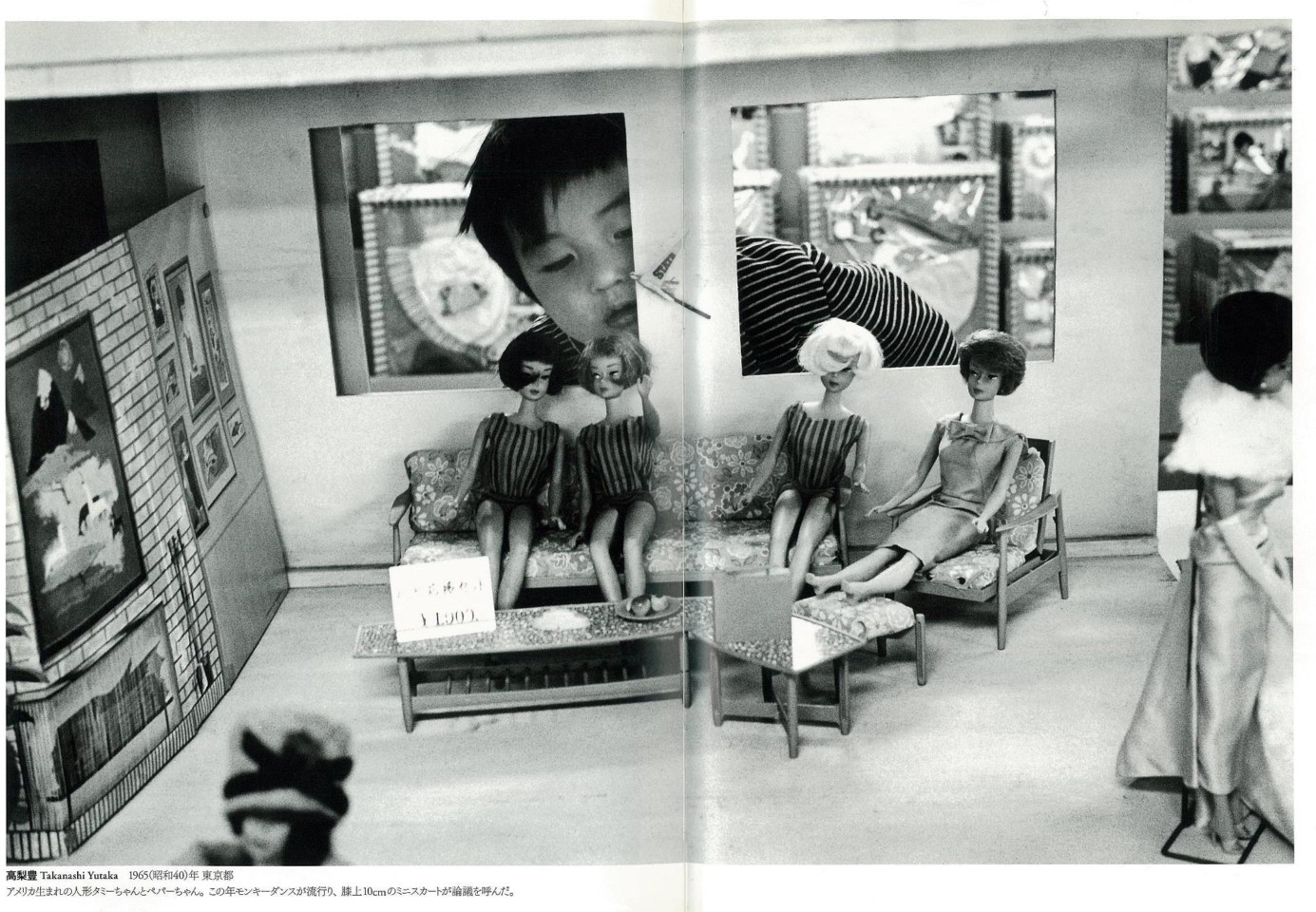 ほかに1965年の広告/写真を見つけたらこの記事に載せていきます。
If I ever find any other 1965 Japanese Barbie advertisement, I add them on this article. keep this site up to date please!