1961 #785 DREAM BOAT: hat, Jacket, Printed short-sleeved shirt, Trousers, Socks, Shoes $4.00
This outfit is one of four outfits with 'full-lining jacket'(#785 Dream Boat/#786 Saturday Date/#787 Tuxedo/#1401 Special Date).
The printed shirt is made of the same sewing pattern as the sport shirt of #783 Sport Shorts.
Also I've shown my hybrid type trousers of Dream Boat below. the trousers are mixed type 1962-63 front stitching and 1961 turn-ups.
Jacket-18 patterns:khaki green fabric(13), yellow-green liner fabric(5), label, 2 buttons/full lining, 2 darts, 1 breast patch pocket, 2 patch pockets, 2 button hole stitches, 1 button loop(thread), center bent on back
shirt-10 patterns: printed cotton fabric(10), label, 2 snaps, 3 buttons/short sleeves, 1 pocket, yoke
Trousers-2 patterns: green fabric(2), YKK zipper/turns, front pocket stitching, back pocket stitching, fly stitching
Socks-2 patterns: pale yellow knit fabric(1/single)
1961 #785 DREAM BOAT:帽子、ジャケット、プリント半そでシャツ、スラックス、ソックス、靴  $4.00
帽子に赤いベルト、スラックスにターン、スラックスにスナップが付かない
この衣装は総裏地のジャケットを持っている4つの衣装の1つです(#785 Dream Boat/#786 Saturday Date/#787 Tuxedo/#1401 Special Date)。
シャツは#783 Sport Shortsのシャツと同じパターンで作られています。
ジャケット-パターン18:グリーン色の生地(13)、黄/グリーン色の裏地(5)、ラベル、ボタン2/総裏地、ダーツ2、胸ポケット1、パッチポケット2、ボタンループ1、ボタンホールステッチ2、ベンツ1
シャツ-パターン10:プリントコットン生地(10)、ラベル、スナップ2、ボタン3/半そで、ポケット、ヨーク
スラックス-パターン2:グリーン色の生地(2)、YKKジッパー/裾ターン、フロントポケットステッチ、バックポケットステッチ、フライステッチ
ソックス-パターン2:薄い黄色ニット生地(1/片方)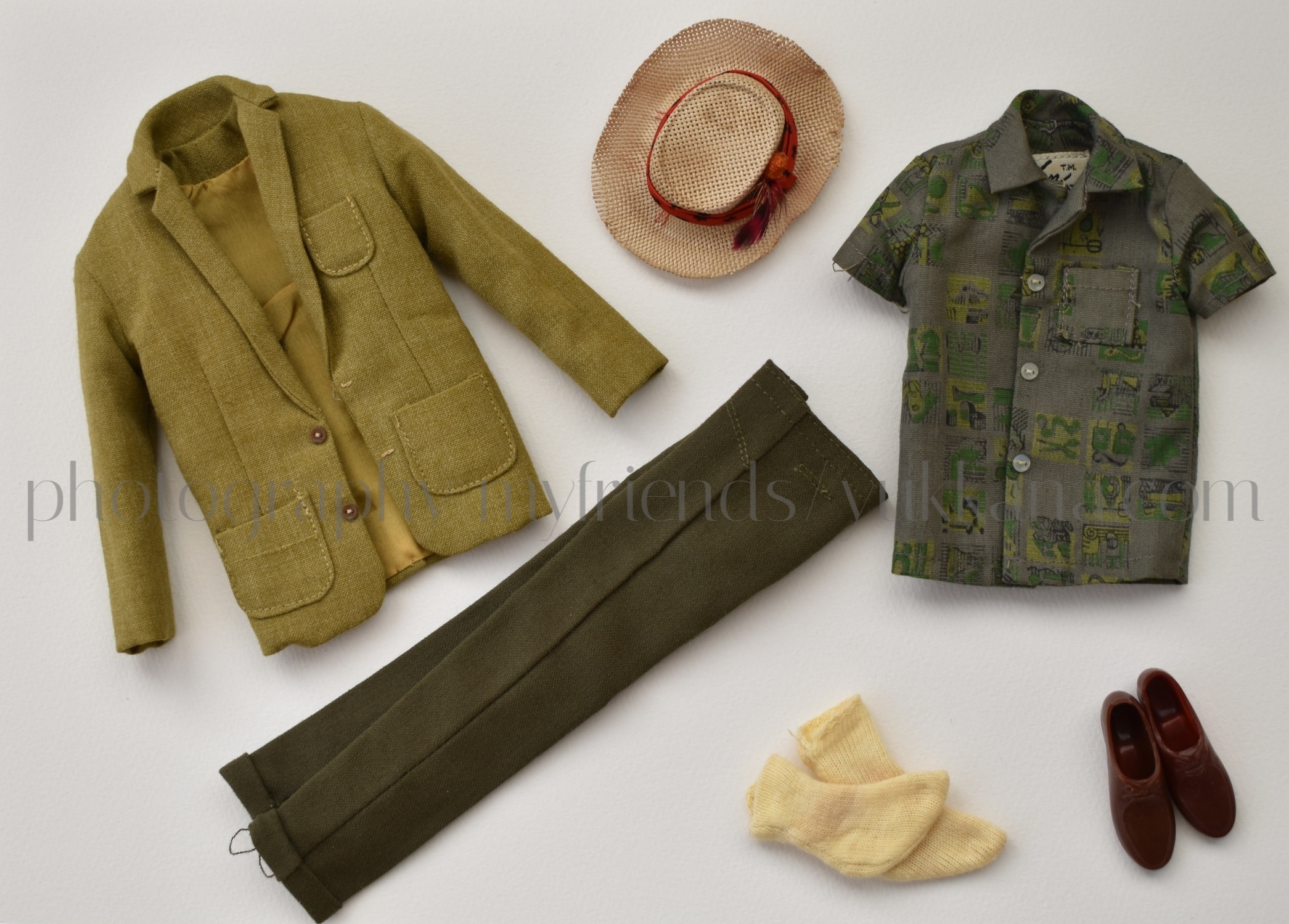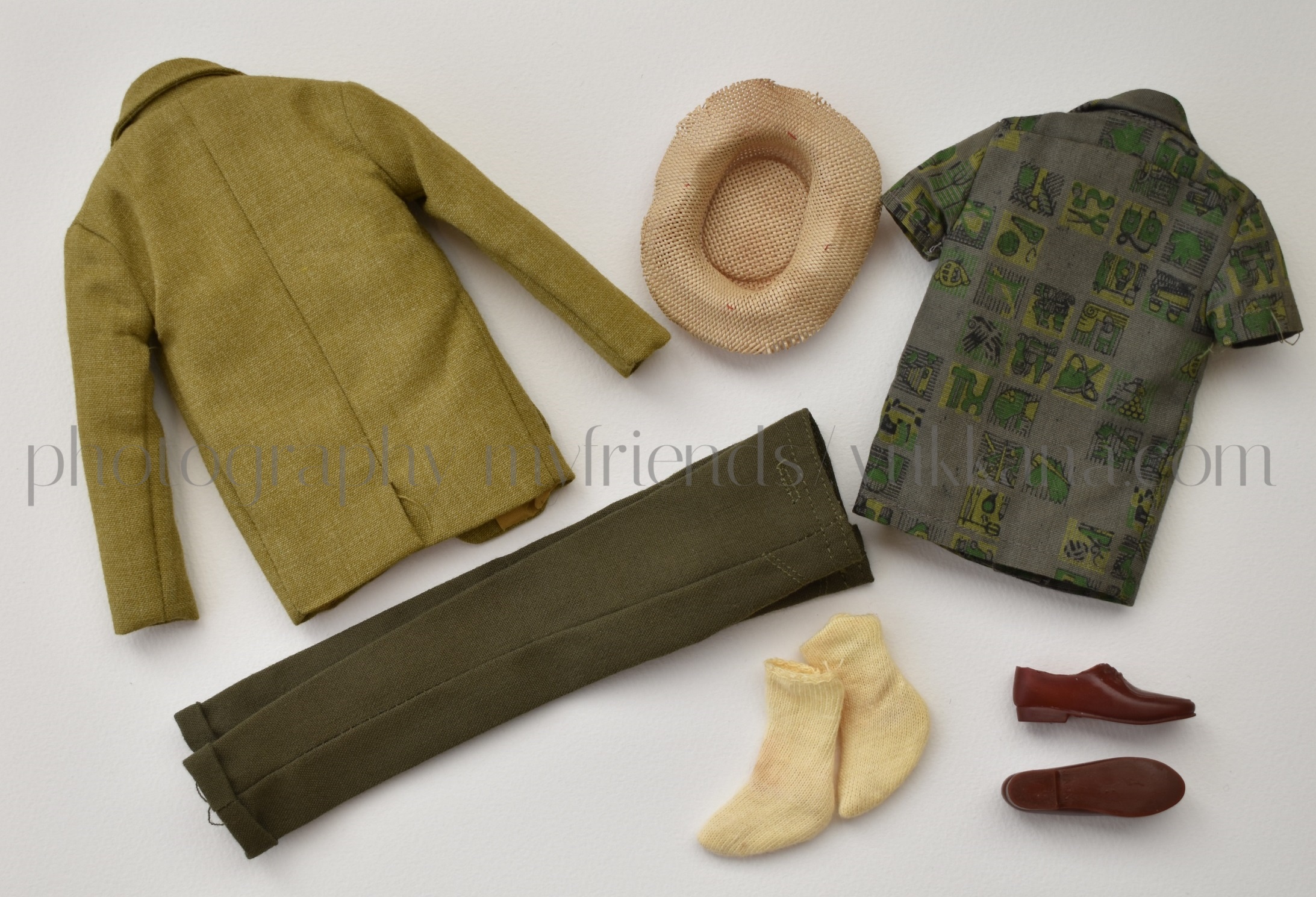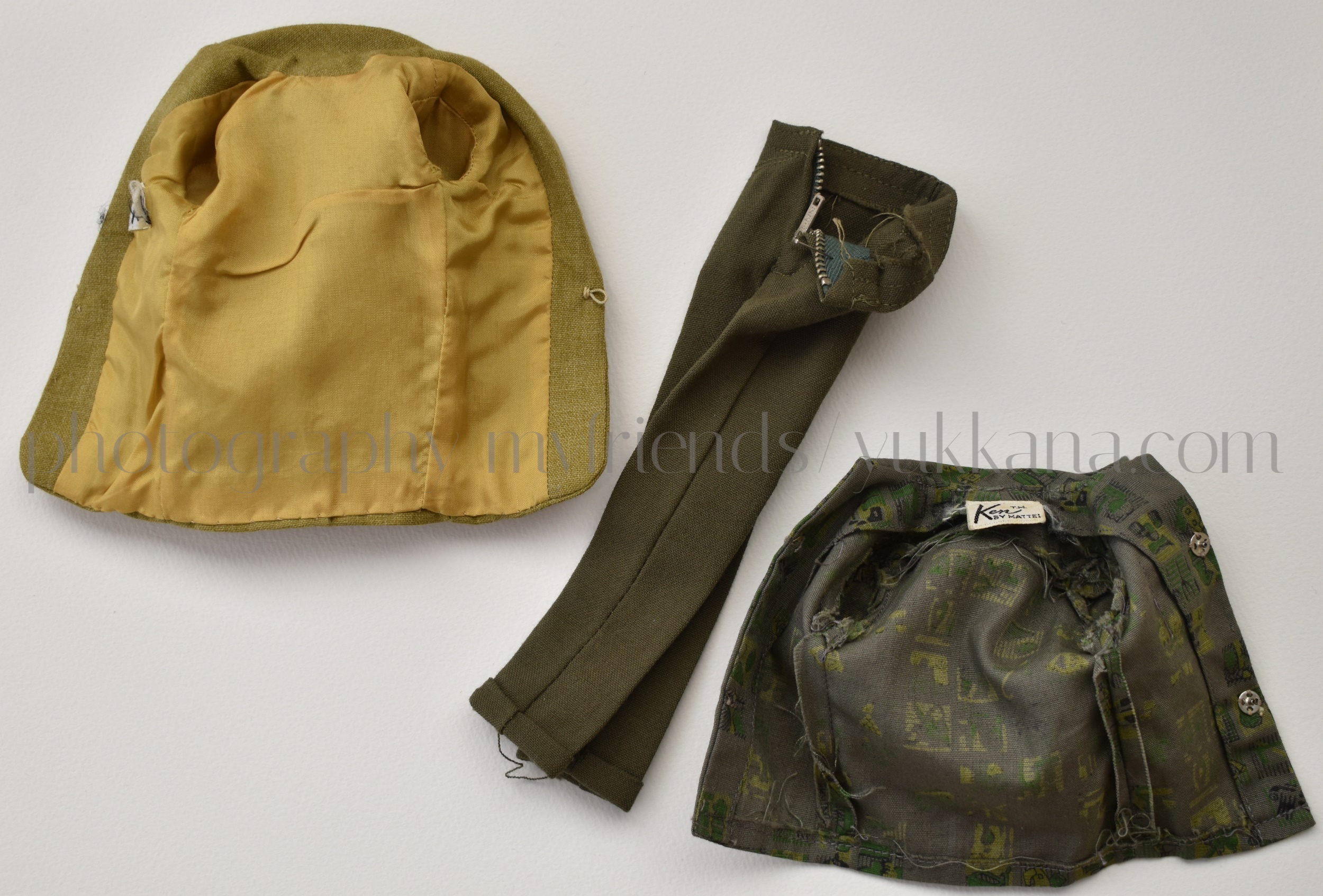 左から3番目は、1961年ヴァージョンの裾折り返しと、1962-63年ヴァージョンのフロントポケットステッチが混合しているヴァージョンのスラックスです。
左から1961年ヴァージョン、1961年ヴァージョン、混合ヴァージョン、1962-63年ヴァージョン