1961 #786:SATURDAY DATE: jacket, long-sleeved shirt, trousers, tie, socks, shoes $4.00
This outfit is one of four outfits with 'full-lining jacket'(#785 Dream Boat/#786 Saturday Date/#787 Tuxedo/#1401 Special Date).
1964 #1401 Special Date jacket is made of the same sewing pattern as #786 Saturday Date. also this jacket has the largest numbers of sewing patterns(19 parts! many processes) among vintage Ken clothing.
Jacket-19 patterns:grey fabric(14), light grey liner fabric(5), white cotton fabric(pocket chief),label, 3 buttons/full lining,  2 darts, 3 button hole stitching, 2 button loop(thread), 1 breast pocket, 2 decorative pockets,1 bent
Long sleeved white shirt-10 patterns:white cotton fabric(10), label,2 snaps, 3 buttons/sewn collar, 1 pocket, cuffs, yoke
Trousers-2 patterns :grey fabric(2), YKK zipper/turns, fly stitching
Tie-1 pattern:stripes fabric(1), elastic band
Socks-2 patterns: black nylon fabric(1/single)
1961 #786 SATURDAY DATE:ジャケット、スラックス、長そでシャツ、ネクタイ、ソックス、靴 $4.00
スラックスの裾にターン(折り返し)、スラックスにスナップが付かない
この衣装は総裏地のジャケットを持っている4つの衣装の1つです(#785 Dream Boat/#786 Saturday Date/#787 Tuxedo/#1401 Special Date)。
1964年#1401 Special Dateのジャケットも同じパターンで作られています。またこのジャケットはパターン数19パーツです、ヴィンテージケンの衣装の中でパーツ数が最も多いジャケットです。
ジャケット-パターン19:グレイ色の生地(14)、グレイ色の裏地(5)、白色コットン生地(ポケットチーフ)、ラベル、ボタン3/総裏地、ダーツ2、ボタンホールステッチ3、ボタンループ2、胸ポケット1、飾りポケット2、ベンツ1
スラックス-パターン2:グレイ色の生地(2)、YKKジッパー/裾ターン、フライステッチ
長そで白色シャツ-パターン10:白いコットン生地(10)、ラベル、スナップ2、ボタン3/縫製された襟、ポケット、ヨーク、カフス
ネクタイ-パターン1:ストライプの生地(1)、ゴム
ソックス-パターン2:黒色、ナイロン生地(1/片方)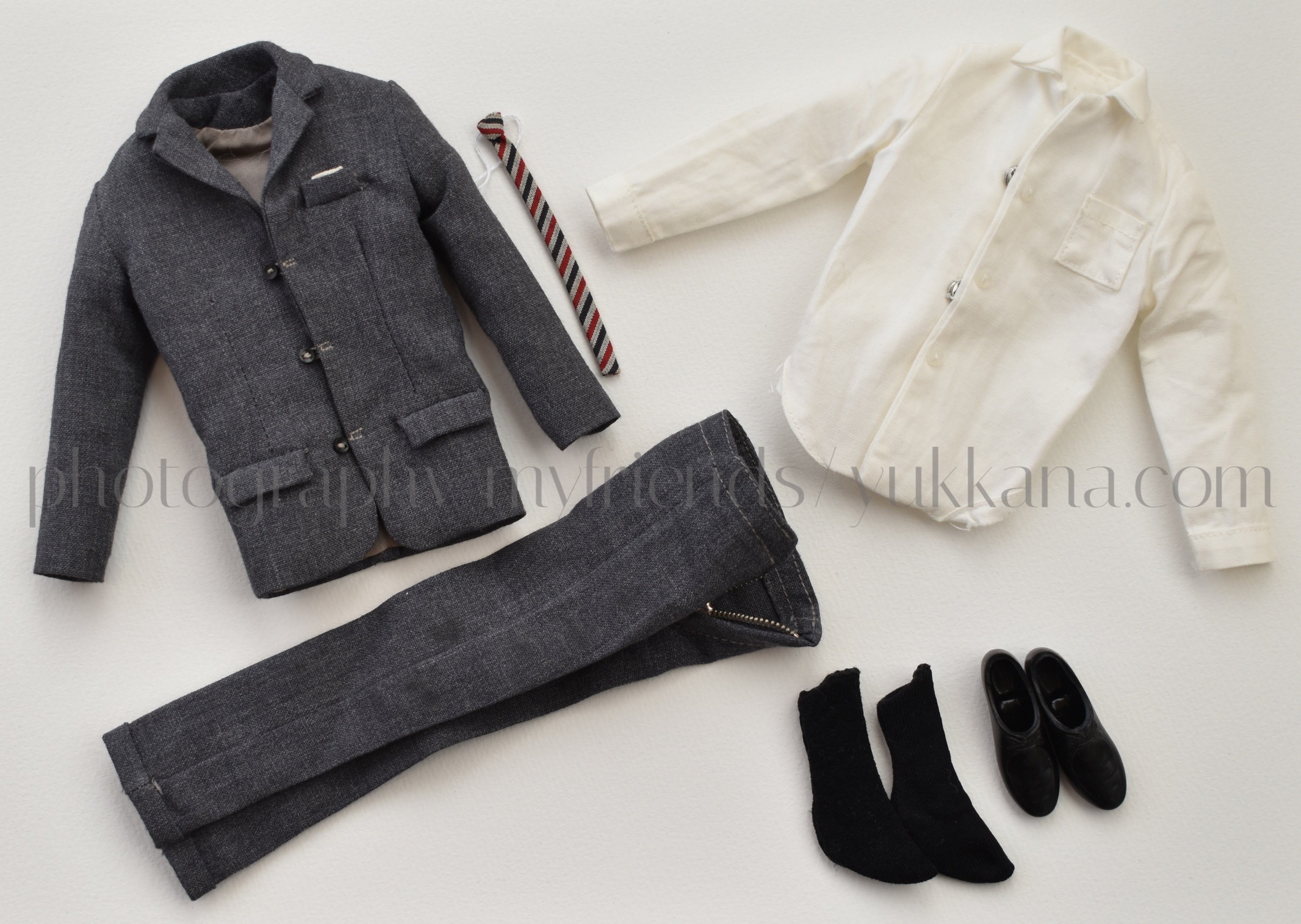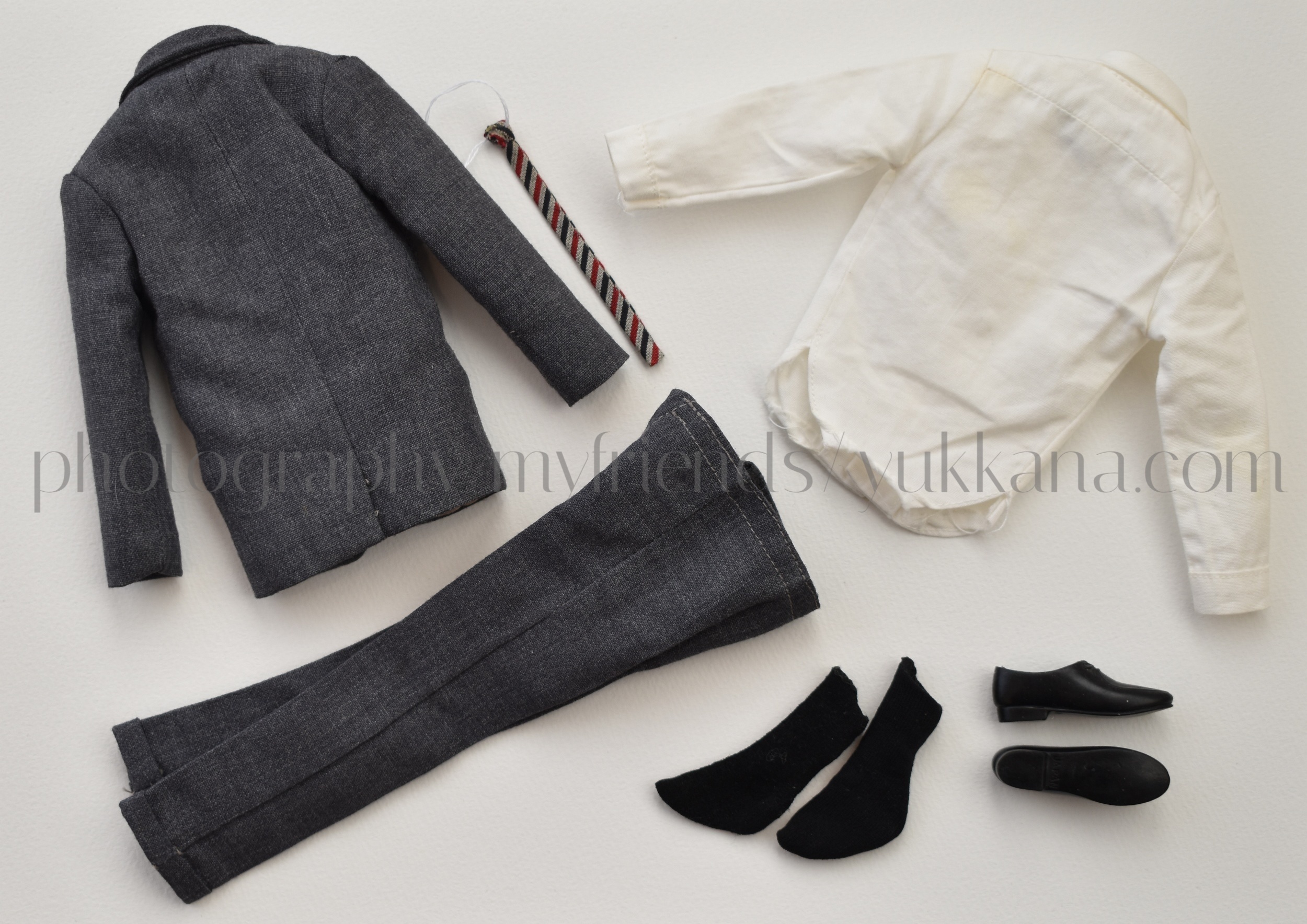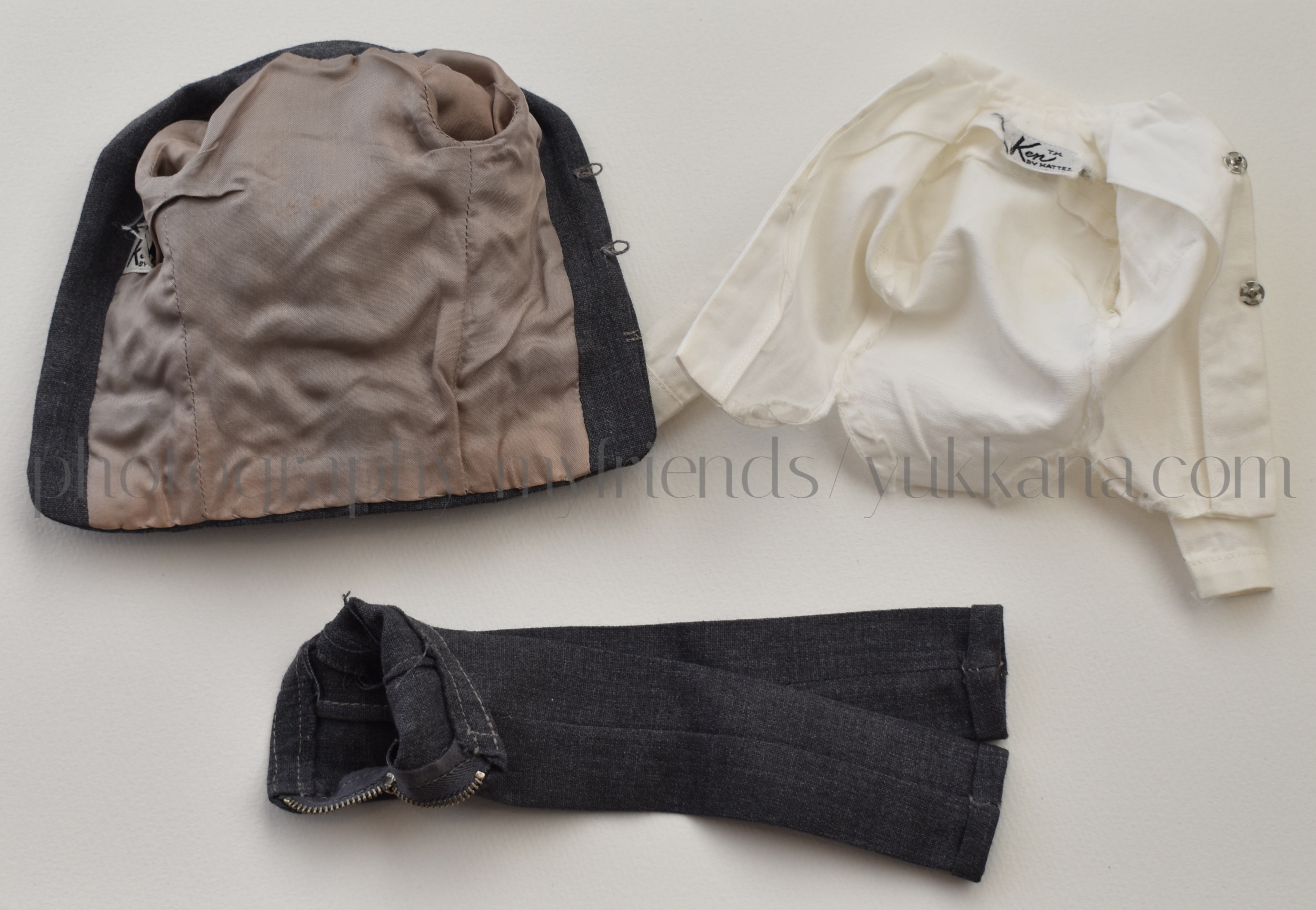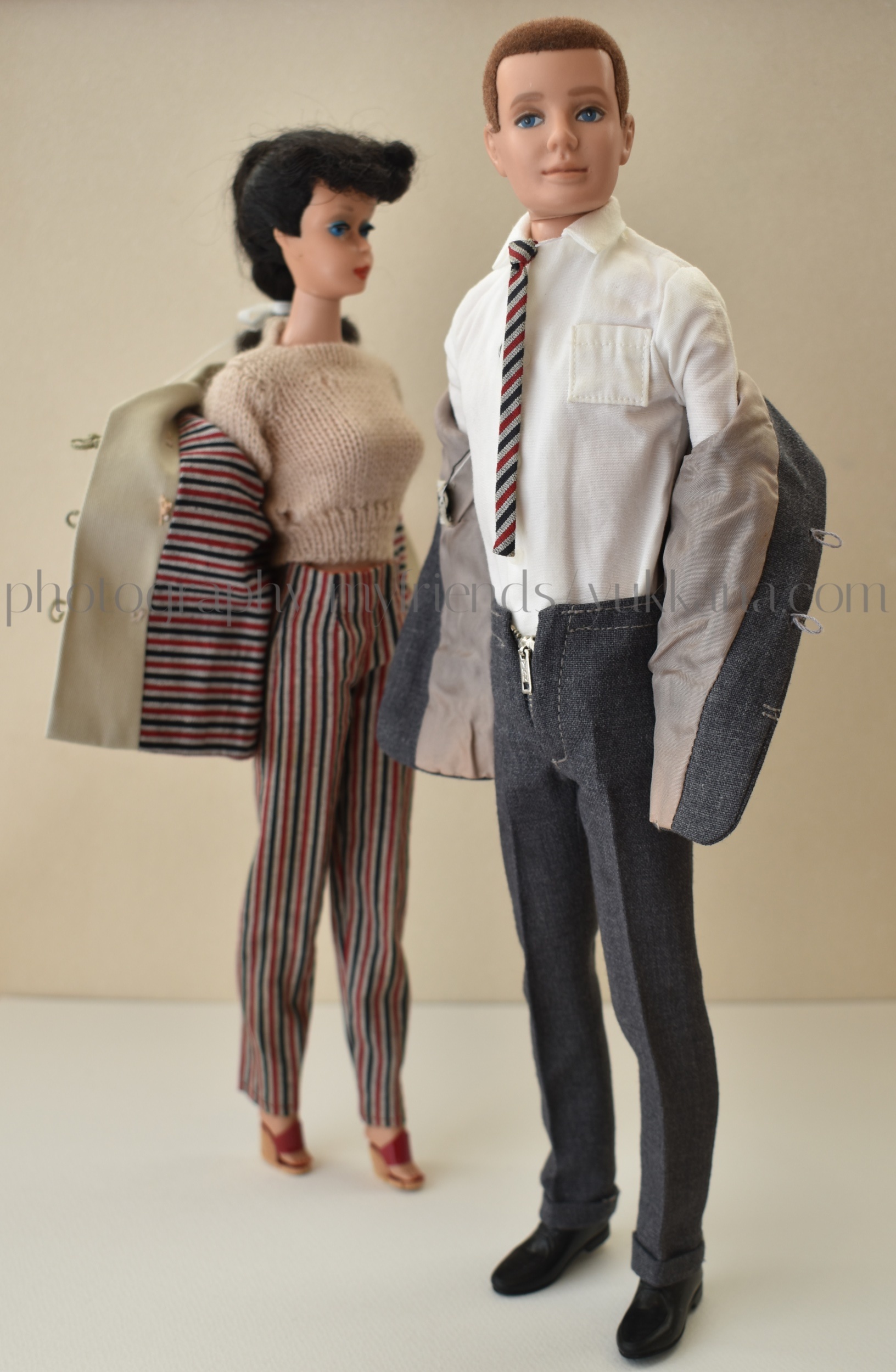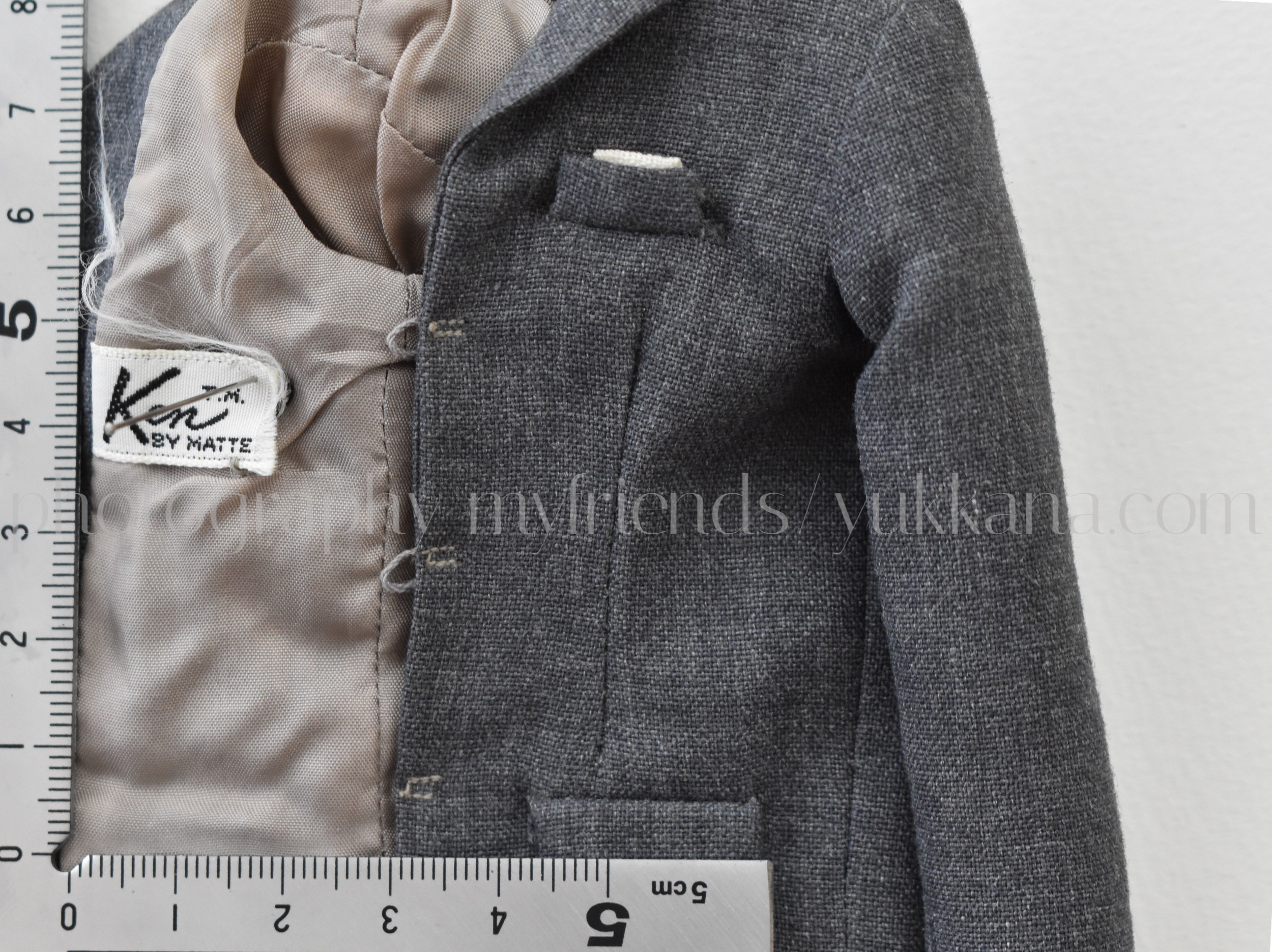 The stripe fabric was used for some fashions