1961 #787 TUXEDO: jacket, trousers, dress shirt, bow tie, cummerbund, socks, shoes, corsage, case $5.00
This outfit is one of four outfits with 'full-lining jacket'(#785 Dream Boat/#786 Saturday Date/#787 Tuxedo/#1401 Special Date).
Tuxedo trousers has more sewing steps than other normal trousers.
Jacket(16 fabric parts):black fabric, black lining fabric(full-lining), black satin fabric(collar/facing),boutonierre,label,2 darts,1button,1 decorative button hole,1 button loop,2 decorative pockets
Trousers(4 fabric parts+2 piping parts):black fabric, side-stripes, YKK zipper
Dress shirt(11 fabric parts):white cotton fabric, panel fabric,label,3 pearls,2 snaps, cuffs, york
Cummerbund(1 fabric part+elastic):burgundy satin fabric, black elastic band
Bow-tie(2 fabric parts+elastic):burgundy satin fabric, elastic band
Socks(1 fabric part/a sock):black nylon fabric
The average of hourly wage at 1961 was $1.25, this outfit was expensive at the time.
Also-the variation Tuxedo is shown below. the panel of the shirt use the nylon fabric which were used for 1961-64 #984 American Airlines Stewardess's blouse instead of normal fabric (this nylon fabric was also used for 1965 #1414 Holiday).
The jacket of the tuxedo is a little broken and some moth-holes on the collar though the sewing is very good like early Barbie product. the bow-tie is sewn early thick rubber band and the smallest YKK zipper(zipper size 0) has been sewn on the trousers(Thank you Anthony for finding the smallest zipper on my early Ken trousers. the smallest zipper seems to be sewn on some of the really early Barbie clothes).
1961 #787 TUXEDO:ジャケット、スラックス、ドレスシャツ、蝶ネクタイ、カマバンド、ソックス、靴、コサジュ、ケース $5.00
スラックスにスナップが付かない
この衣装は総裏地のジャケットを持っている4つの衣装の1つです(#785 Dream Boat/#786 Saturday Date/#787 Tuxedo/#1401 Special Date)。
Tuxedoのスラックスは通常のスラックスよりもパターン/工程数が多いです。
ジャケット(生地パーツ16):黒色の生地、黒色の裏地(総裏地)、黒色のサテン生地(襟と見返し)、ブートニア、ラベル、ダーツ2、ボタン1、ボタンホール1、ボタンループ1、ポケット2
スラックス(生地パーツ4+パイピングパーツ2):黒色の生地、YKKジッパー、側章
ドレスシャツ(生地パーツ11):白色のコットン生地、長袖、カフス、ラベル、パールボタン3、スナップ2
蝶ネクタイ(生地パーツ2):ワイン色のサテン生地、ゴム
カマバンド(生地パーツ1):ワイン色のサテン生地、黒いゴム
ソックス(生地パーツ1/片方):黒色、ナイロン生地
1961年当時の平均的な時給は1.25ドルでしたので、この衣装は高価でした。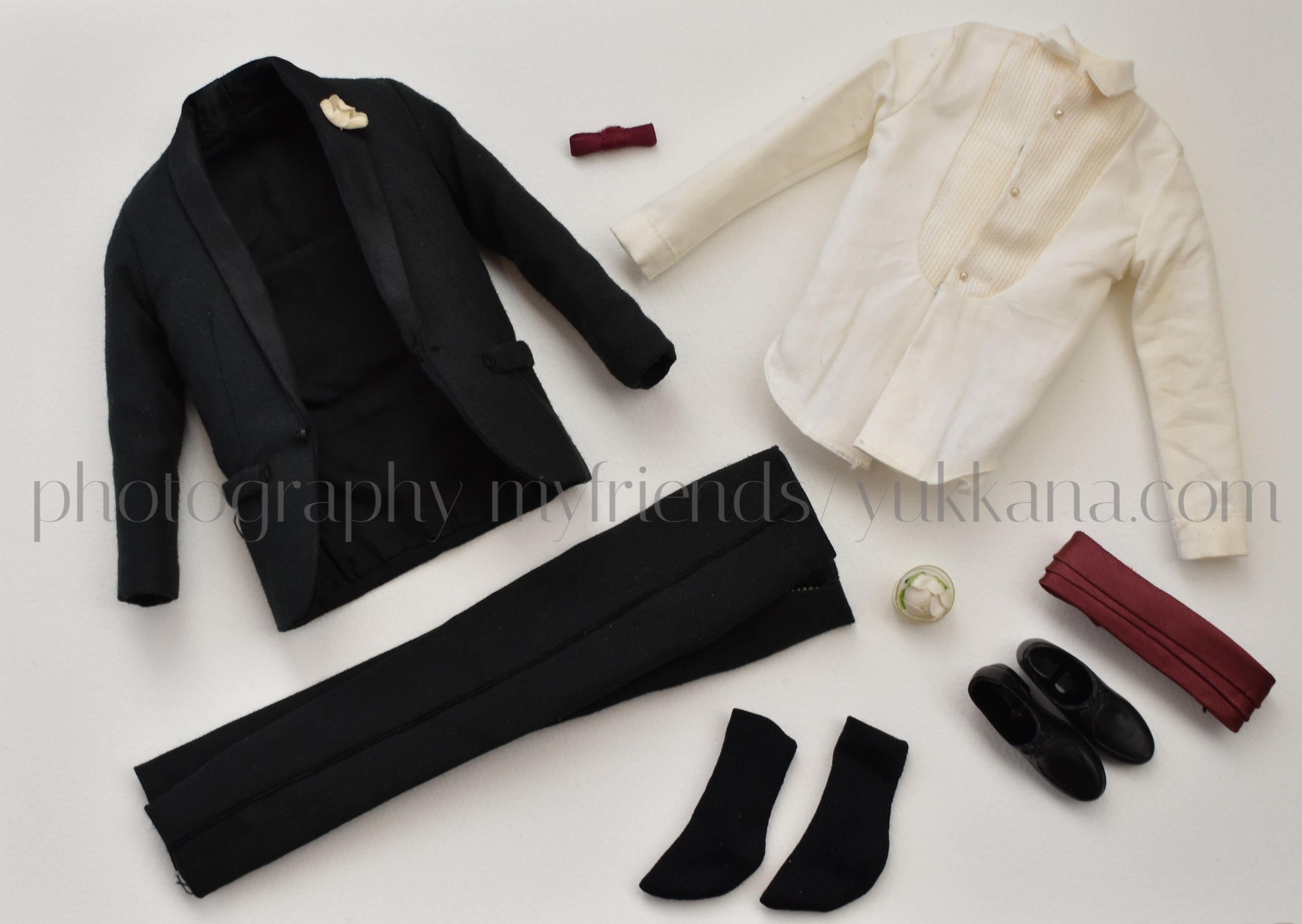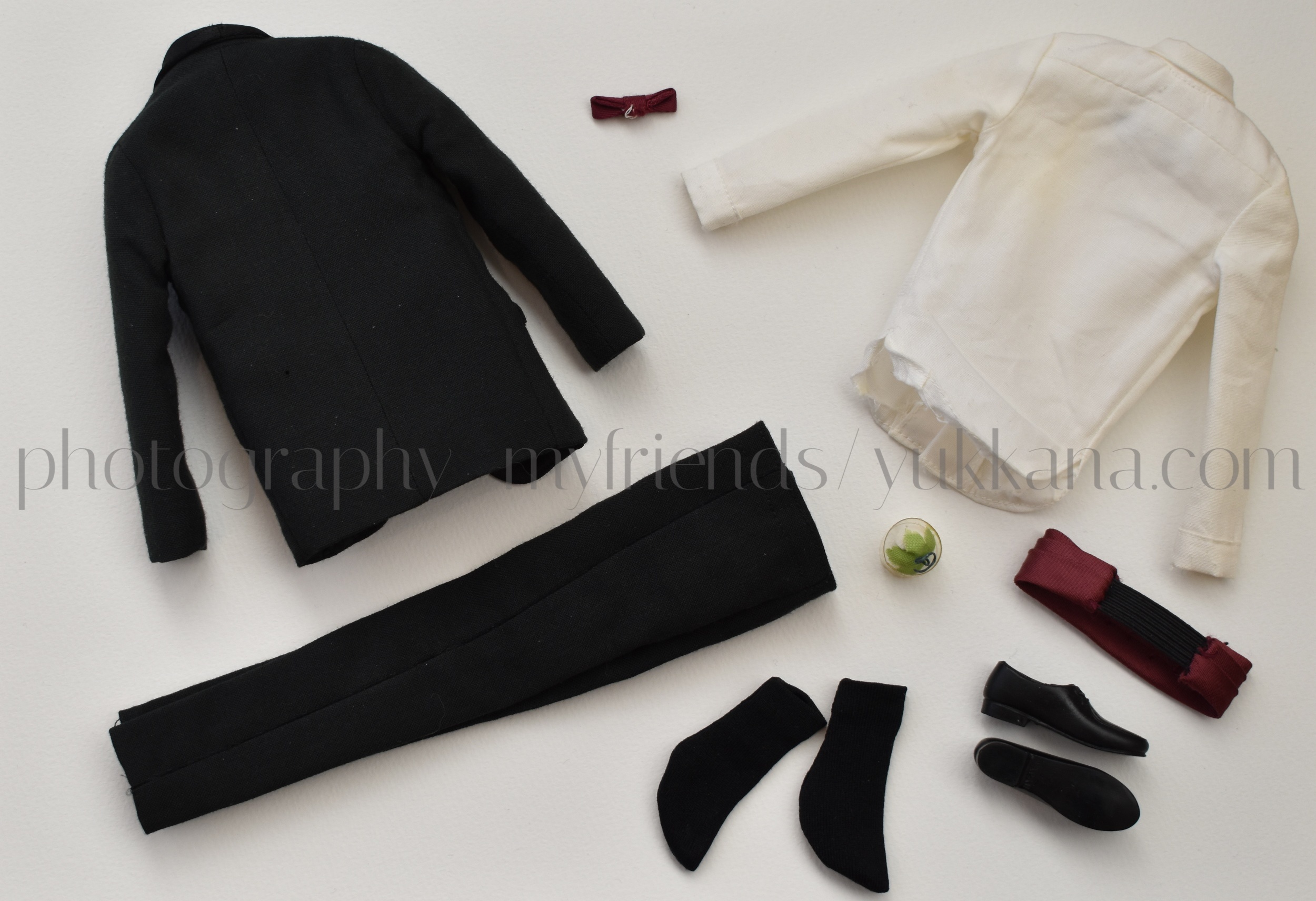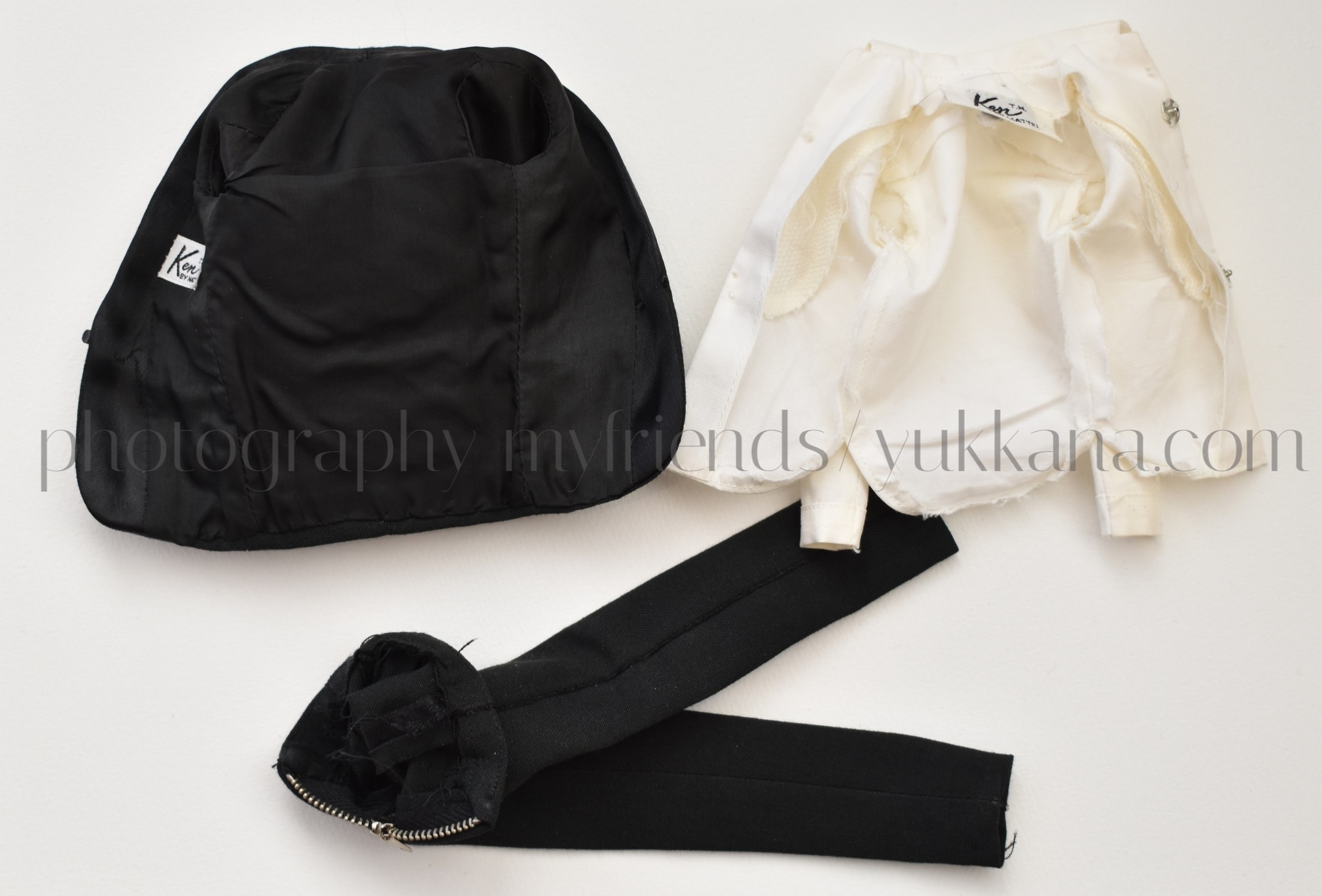 VARIATION TUXEDO(complete)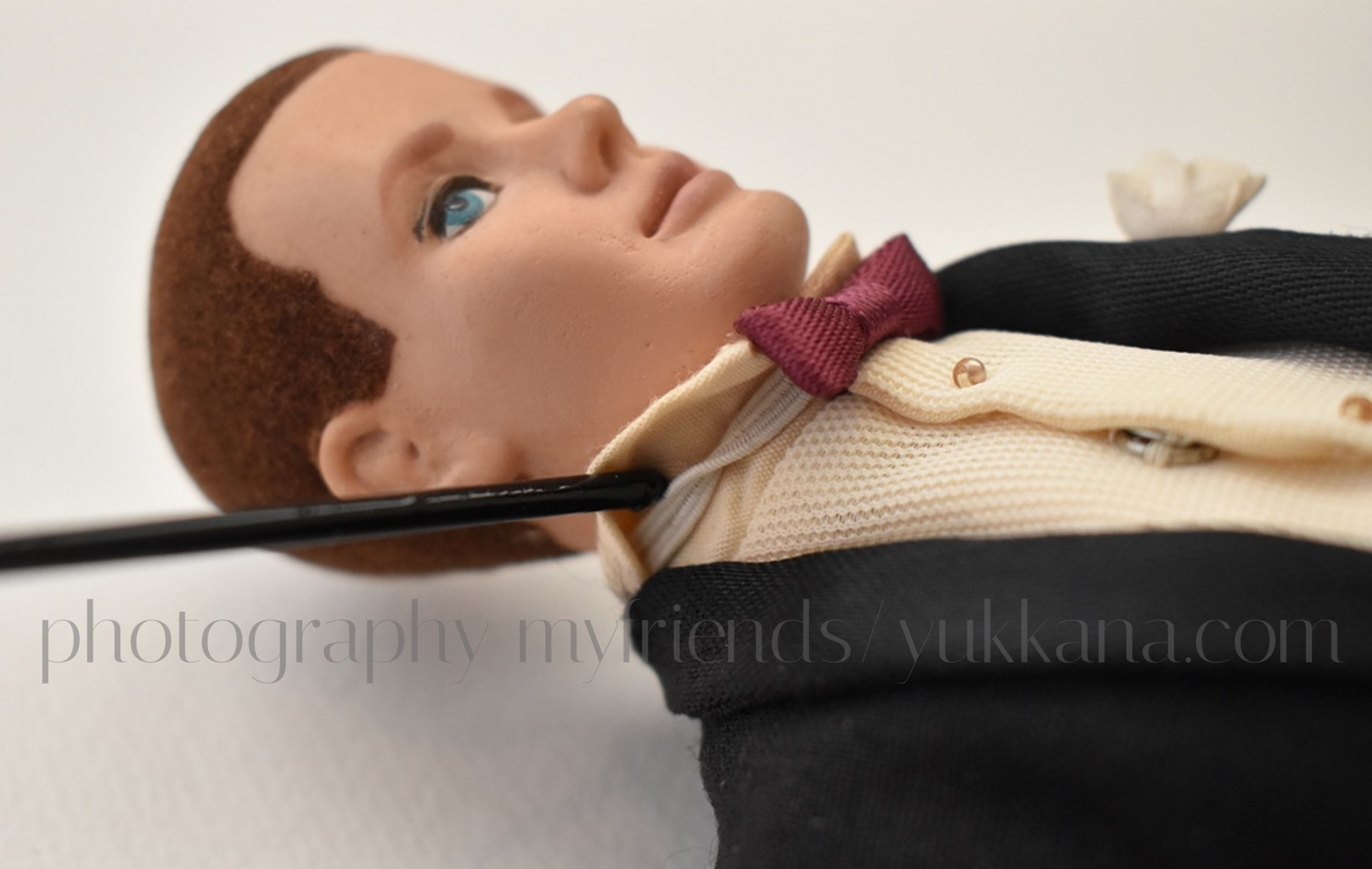 画像左の、左側のケンのタキシードはヴァリエーションです。シャツのパネルに通常の生地ではなく1961-64 #984 American Airlines Stewardessのブラウスと同じナイロンの生地が使われています(このナイロンの生地は1965 #1414 Holidayにも使われました)。
このタキシードのジャケットは襟が壊れているのですが(虫食いの穴がある)繊細な縫製で作られています。蝶ネクタイにはオリジナルのゴム(初期の太いタイプ)がついてます。また、スラックスにはYKKジッパーのサイズ0が使われています。通常はYKKジッパーのサイズ1が使われますが、サイズ0は最も初期のバービー製品の1部に使われていたようです。