This story is about Ken's trademark registration of Japan. In Japan, as of 2nd Augest 2019, one "Ken" trademark rights are registrated.
これは日本国内のKenの話です。
2019年8月2日現在、日本国内でケンの商標は1件登録されています。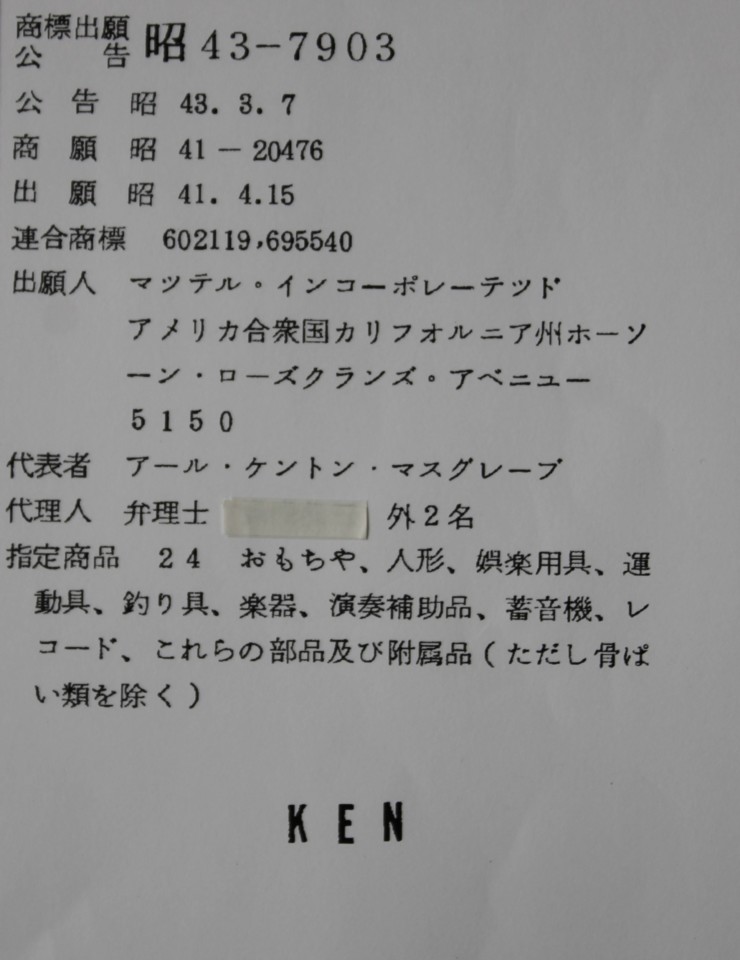 左の画像は特許庁の商報公報(これは日本国内の話です)。私がこのサイトで紹介をしているこれらの資料は調べようとすれば誰でも見ることが出来る資料です。ケンの商標は1966年の4月15日にマテル社により出願され、1968年の3月7日に権利が認められています。
Shown left is a Japanese trademark right of "Ken", a part of a public relations issued by Japanese patent office. the appricant was Mattel, requested for registaration on 15th April 1966 and registrated on 7th Mar 1968.
If you try, anyone can see these materials which I am introducing on my site because they has been published for a long time.
日本ではケンに関して、バービーのように丁寧に商標を取られたとはいえないようです。ヴィンテージ期のケンは日本では商標登録をされていません。出願されたのはヴィンテージケンの生産が終了する頃の1966年4月15日、商標が登録されたのはモッズケンの生産を始めていた頃の1968年3月7日です。
また、登録されている文字もロゴではなくただの文字です。
"Ken " trademark rights registration in Japan.
application date:15th 1Apr 1966/registration date:7th 7Mar 1968
It seems like Ken was not treated carefully like Barbie in Japan. he was not registered during the time he was "vintage Ken".
Also-his Japanese trade mark registration is just letters/characters, not a logo.