This research is still in progress so future discoveries may change my way of thinking and perspective. 
These are all #0750 Kens(no box, booklet) seems to be after 1965. these dolls cannot be judged how many years these are made because they've lost their original booklet. I'm hoping to find a way to tell the age without booklet somehow, even if he is not in perfect condition, but for now I haven't found any more clues.
These Ken's eyes here has the characteristics since 1965-'stenciled or printed pupil'.
His blue iris and pupil may be 'one-print' after 1965, also his eye liners seems to have changed to stencil or print.
In 1965, vintage Ken's face seems to be almost complete. this makes hard to tell #0750 after 1965. However the hand-painting work(very thin line surrounding his blue iris was drawn to the end by hand) remains in each dolls produced in Japan. it's a great for me to be able to see these incredible work by Japanese craftsman in the 60's even now.
この研究は今も途中の段階です。ですので今後の発見により考え方や見方が変わる可能性があります。
これらはすべて1965年以降と思われる#0750ペインテッドヘアケンですが、それ以上の判断が出来ません。彼等のようにオリジナルのブックレットを失っている状態でも年代が判る方法を見つけたいと願っています。しかし今のところ手がかりを見つけていません。
これらのケンの目は1965年以降の瞳孔を持っています、また1965年以降に現れるプリントのようなアイラインです。
ヴィンテージケンの顔は1965年にほとんど完成したと思います、そのために1965年以降の#0750を区別することはとても難しいです。それでも最後まで手描きの線が1体1体に残りました(青色の瞳のまわりの細い線が最後まで手描きで描かれました)。1960年代の日本の職人によるこれらの素晴らしい仕事を今も見ることができます、これは私にとても嬉しいことです。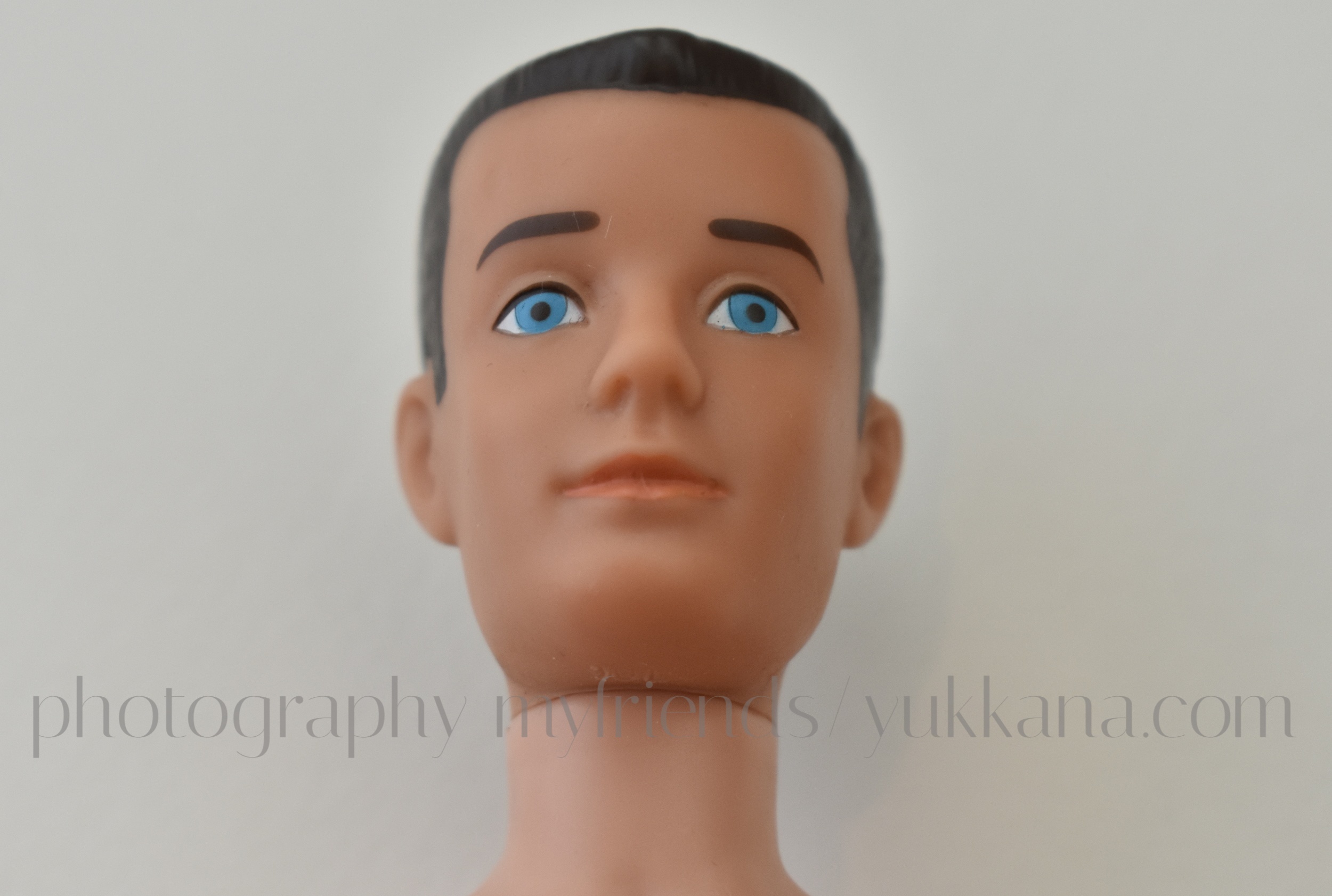 #0750 brunette painted hair Ken after 1965.
Below is also an unknown year #0750 Ken(after 1965). his lip print seems to be slightly off or slightly titled. it makes him look a little smiling!
下のケンも年代が判らない1965年以降の#0750です。彼の唇のプリントは少し欠けている、またはすこしずれています。そのために彼はすこし微笑んでいるようです。