バービーはアメリカのマテル社の製品。60年の歴史の中で、"ヴィンテージ""モッズ"といわれる初期のバービー達は日本が製造を請け負い、驚くほど高品質な大量生産品として輸出/国内販売されていました。
販売されていたのはアメリカ/日本/ヨーロッパ/オーストラリア。販売時期や種類は国によって違います。製造販売をしながら在庫処分もしていた日本の市場はミステリーが多く、カタログと実際の販売はどれだけリンクしていたのか?何が実際に販売されたのか?フレンドドール達はいつ消えていったのか?今のところ説明できません。
これは確かに昔の話ですが大昔の話ではなく、製品自体/カタログ/広告は残っています。資料を探し、共有するのもこのサイトの目的のひとつです。今回はこれまでに集めてきた1967年の日本の広告を紹介します、今後も1967年の広告が見つかったらこの記事に足していきます。
As very well known, Japan was a country that was contracted to manufacture Barbie product under the US toy makers company Mattle. our country DID manufacture/export/domestic sales of Barbie product in the 1960s. yes, very proud hystory we have! vintage Barbie's surprisingly fine-quality which all the world loves, was made by old-time Japanese.
but,  Japan market was unique. many exceptions and unregular packaging were sold. because Japan market was also stock-disposal market. as a result of this, investigation of Japan market is very difficult. even Japanese collector do not know;products which are on Japanese catalogues were all actually sold in toy stores? what was actually sold? where and when, were friend dolls fading away finally?
it is certainly an old story but not so ancient story, it was only 50-60 years ago! also products-itselfs,catalogues and advertisements still remains and they come to our resque purely and tells things truly. therefore sharing is one of my aim. this time I would like to show 1967 Japanese advertisements which I have collected.
On this site, I have many asked for help about vintage Ken/Barbie product in 60's in Japan. when I find any Japanese information/advertisement, I will take them definitely to suitable place.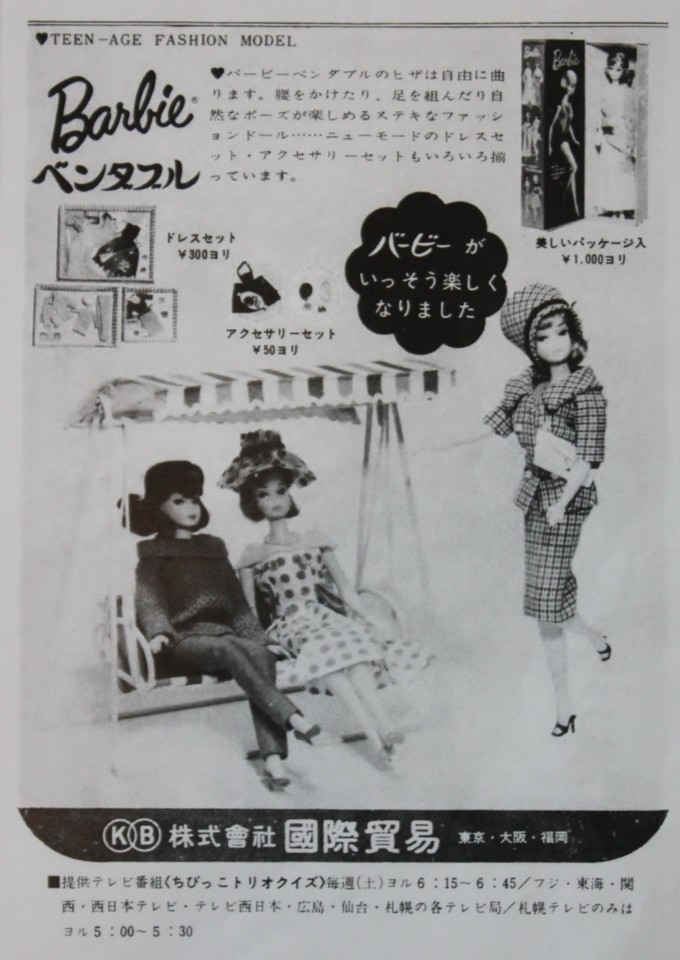 左の画像は1967年4月の"東京玩具商報"。この本は玩具店用の専門誌です。
ここでヴィンテージ期最後のバービー達が"バービーベンダブル"という日本の商品名で紹介されています。もし日本でもベンダブルレッグのケンが販売されていれば商品名は"ケンベンダブル"だったでしょう!
Japanese advertisement shown above is from Japanese Toy Magazine Apr 1967. Advertiser is Kokusai Boueki who was Barbie product's manufacturer and sales maker, their name is written in ⓀⒷmark and Kanji, with the white writting on the black base on the bottom.
it is interesting to see that #1150 Barbie with "life like"bendable legs dolls are introduced as "Barbie Bendable" which name is Japan's own brand name. if #1020 Ken with bendable legs was also sold in Japan, he would have been named"Ken Bendable" !
下の画像は月間トイジャーナル8月。"東京玩具商報"は1967年7月から名前が"Toy Journal"になります。
トィストターンのウェストとベンダブルレッグを持った新しいバービーの日本の商品名は"ツイストバービー"。登場時期はアメリカとほとんど変わらなかったのではないかと思います。
Shown below is Aug 1967 Japanese Toy Journal.
#1160 Barbie doll with "new Twist'n turn waist and bendable legs" is advertised as "Twist Barbie now on sale!!". "Twist Barbie" is also Japan's brand name.
In this product, probably there was not much difference in the sales start time between US and Japan.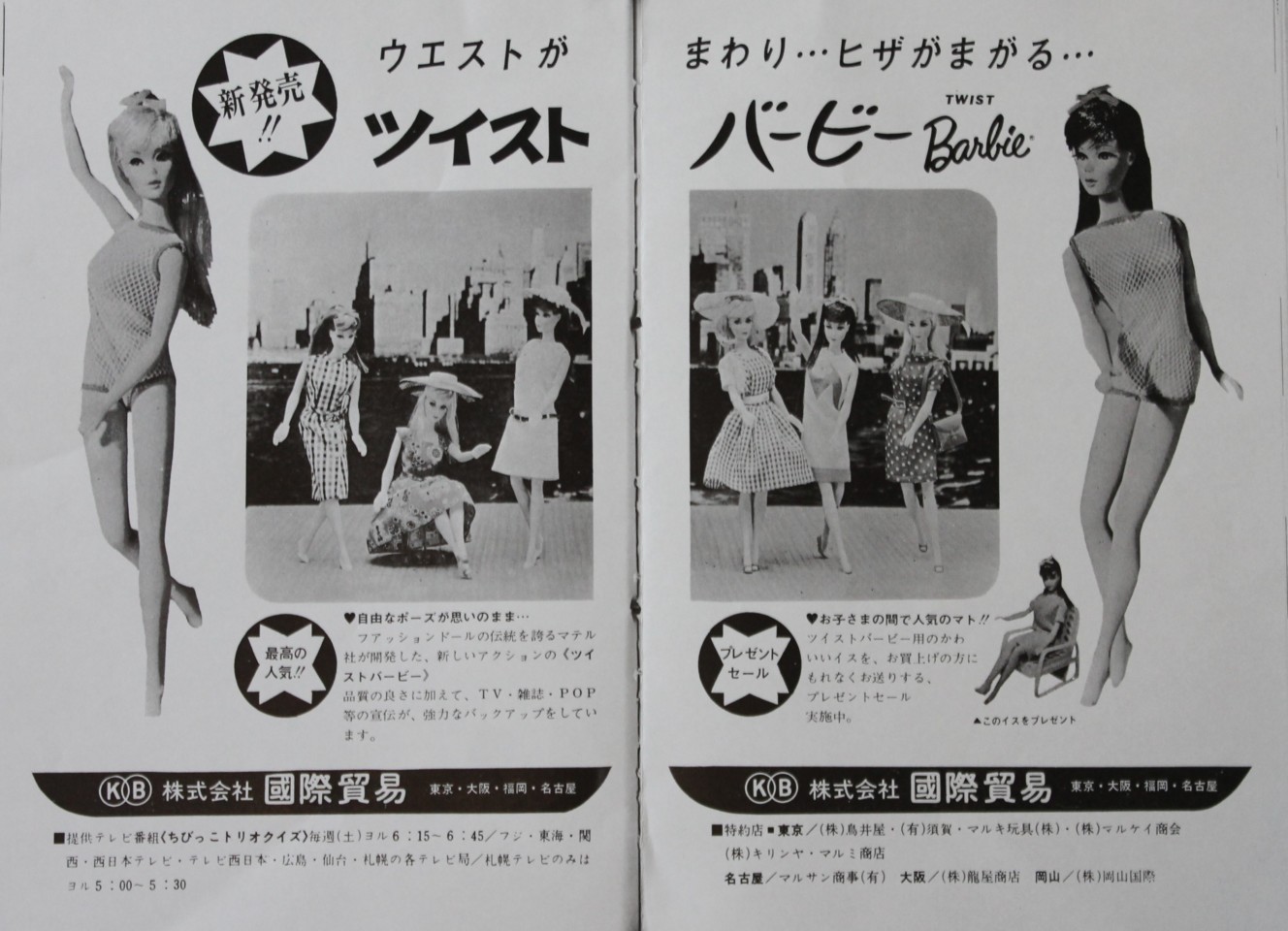 下の画像、左側のカラー広告は1967年9月19日の週刊少女フレンド。右側は1967年9月の月刊トイジャーナル。
Colour advertisement below left is 19 Sep 1967 Japanese weekly girls magazine "Friend". the right ad is from Sep 1967 Japanese Toy Journal.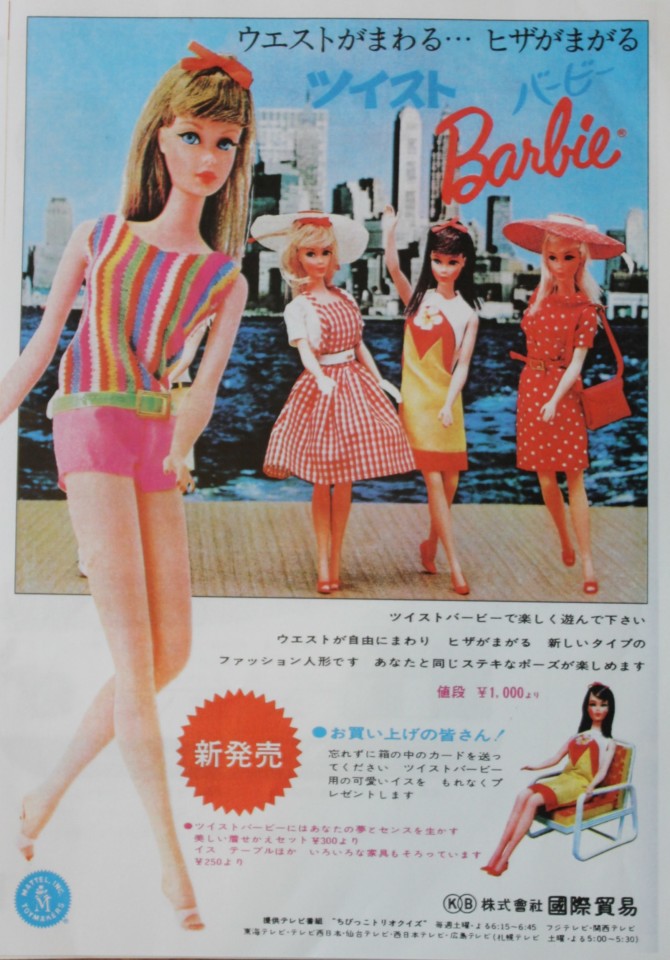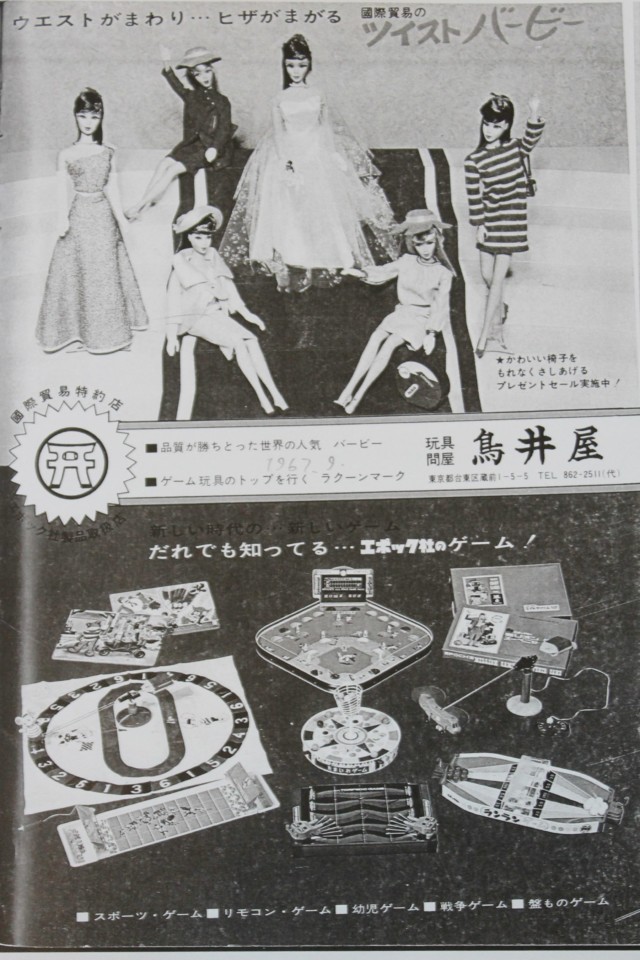 下の画像は1967年10月の月刊トイジャーナル。
Picture below is from Oct 1967 Japanese Toy Journal.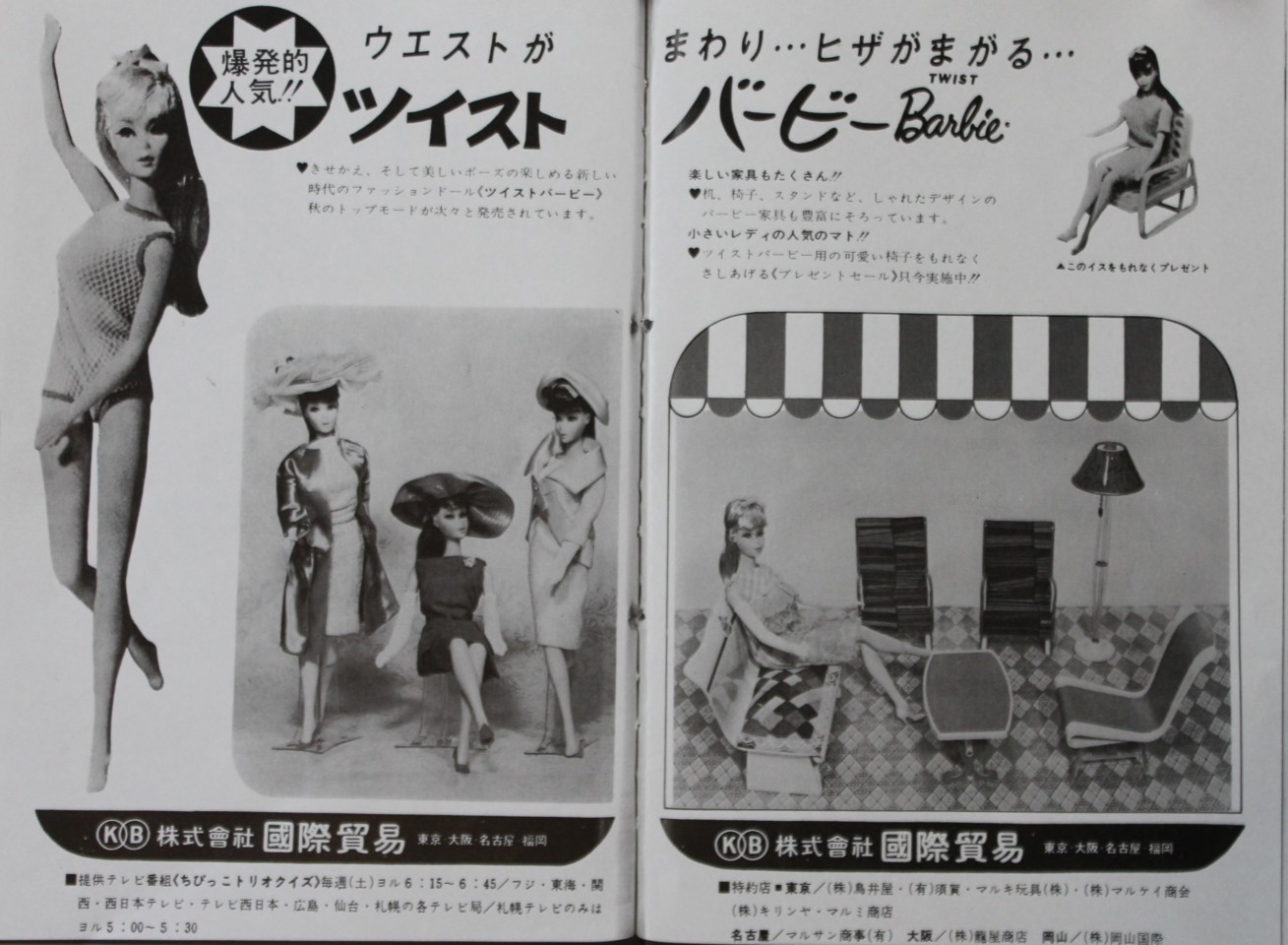 実は1年前には"バービーファミリー"というブランド名でバービー/ケン/ニュウミッヂ/スキッパー/バービーベンダブル/アラン/スクーター/リッキーが宣伝されていました。ブランド名もフレンドドール達も1967年には広告から姿を消したのです。しかし彼等の販売は続いていたと思われます。
私はバービー製品の(モッズ期/日本仕様衣装)はよく知りません、ここに紹介する1967年の広告には私が気が付いていない事がおそらく沢山あります。記事に書き加えておくべきこと、訂正するべきことはありますか?またここに載っていない1967年の広告を持っていて皆で共有してもいいという方がいましたらとても嬉しいです、ぜひ連絡をくさだい:contact@yukkana.com
他の年の広告も紹介する予定です。
What a shame that these 1967 advertisements are ignoring Ken/new Midge/Allan/Skipper/Skooter/Ricky completely, they were advertised as "Barbie's Family" in Japanese advertisement until 1966. they seem to had been sold in 1967 though I have never seen them appearing in Japanese advertisement after 1967.
I am going to make articles of other years. Hopefully, I can find more informations/advertisements which makes all happy.