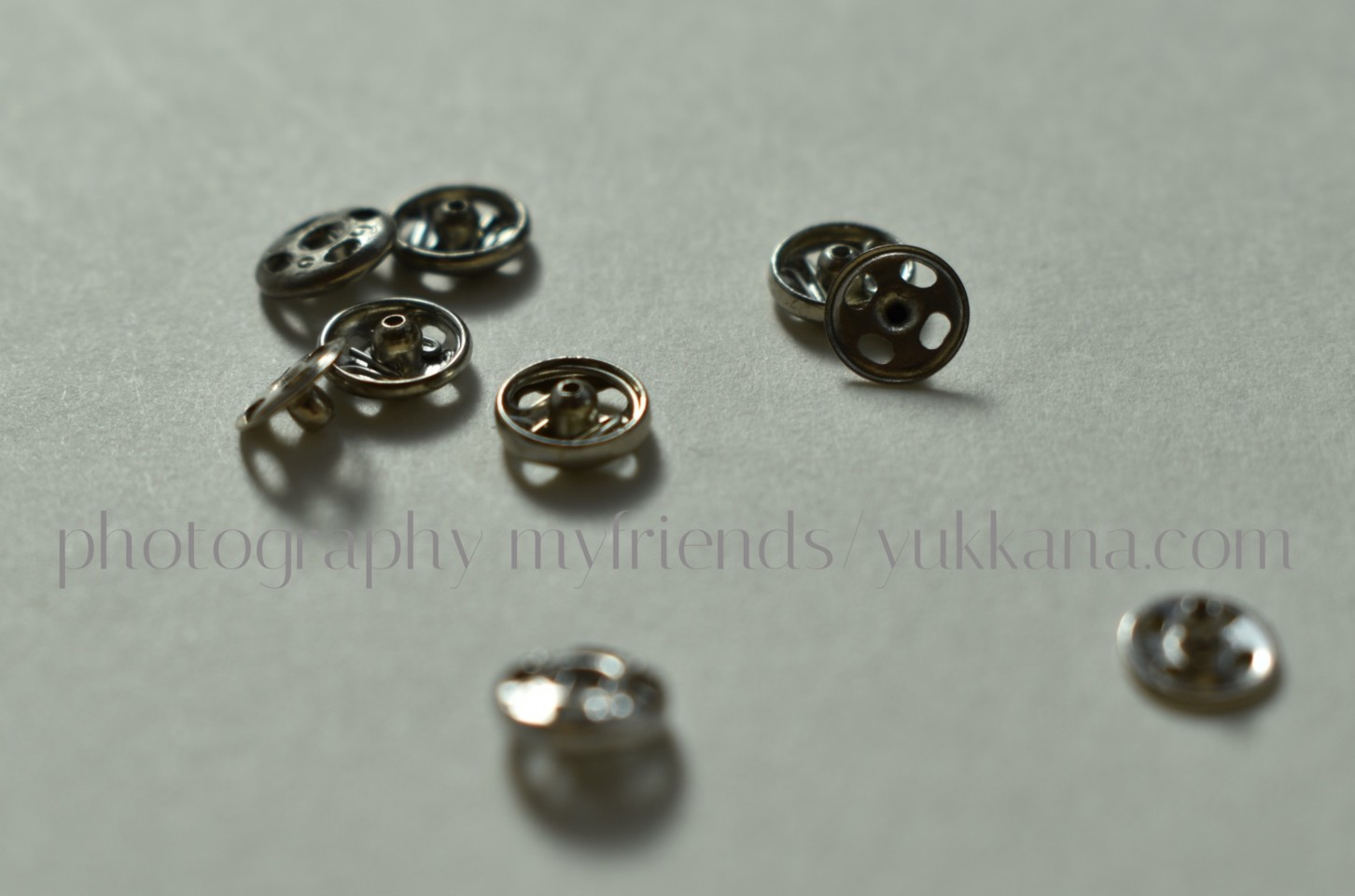 I have examined over 500 vintage Barbie family clothing 1959-1968(most of them are Ken's 1961-1966). this number is not large enough though, I examined them very carefully as much as I could. this note is about their Snap/Popper. the well-made 60's clothing has small metal snap and zipper like human clothing. those apparel materials were also made in Japan by Japanese maker and some of them still has been produced.
according to my research there are 5 types of snaps, their engravings are:*500,*555, K510,G510, and no-mark. if you look at your vintage Barbie family outfit, you can find one of these if it is not replaced with a new one.
they look almost the same, but the manufacturers are different. *500, *555, G510 snaps are still manufactured. yes, we can buy these types snaps even now!
K510 and G510     made by Gondola (JAPAN)
productions began around 1948. G510 had 'center-holes' on both sides of one pair. G510 is still produced for general use. K510 was produced for industrial use which had not 'center-holes'. K510 has been discontinued.
*500      made by Ishizaki Press Industrial(JAPAN)
production began before 1940 and this manufacturer Ishizaki Press Industrial has continued domestic production. *500 also has 'center-holes' and still has been produced.
*555      made by Prym(Germany. *555 was made in West-Germany at the time)
Prym developed sewing style snap '*555'. it is one of the oldest forms of sewing snap. Japan imported *555 in the 1940's and started to make imitating product. *555 has no 'center-holes'.
No-mark   made by unknown manufacturers
All no-mark snaps I have ever seen has no 'center-holes'. no-mark would suggest made by small companies. after this I will not mention about these no-clue snap.
Appearance order:*555, *500, K510, G510.
K510 has been discontinued.
Snaps/Poppers in vintage Barbie family product
In vintage Barbie family products, appearance order was *500, K510, G510,*555.  *500 is found very often in early outfits. G510 appeared around 1964. *555 is not found very much.
Vintage Barbie family clothing with *500 could be said to has been made early. if you have got completely the same two outfit which has the same labels, check their snaps. if their snaps are different for example *500 and G510, the outfit with *500 could be say older, but *500 were used for a long time, sometimes it can be found on 1966 outfit so it is impossible to verify clear age from snap type.
so far my snap research, different types snap were never used at once. for example when a shirt has two snaps their snaps should be the same type, but I am not sure yet there were something specific rules.
私は今までに500着のヴィンテージバービー達の衣装(1959-1968年)を観察しました、そのほとんどはヴィンテージケンの衣装(1961-1966年)です。この数字が充分に多くないですが、出来る限りの観察をしました。今回は彼等の衣装に付けられたスナップについてです。彼等の衣装には人間の服と同じようなスナップやジッパーが付けられていました、それらの多くは日本製で今でも製造されています。
私が調べた限りでは*500、*555、K510、G510、何も刻印が無いスナップ、の5種類がみつかっています。もしヴィンテージバービー達の衣装を持っている方は調べてみてください。新しいスナップが付け替えられていなければこれらの刻印が見つかると思います。これらは見た目はほとんど同じですが製造メーカーが違います。*500、*555、G510は今でも買うことが出来ます。
K510 G510     ゴンドラ(日本)
1948年辺りに作られた製品で、G510にはセンターホールという穴があります。G510は一般的な製品として現在も製造されています。K510は工業製品として製造されたセンターホールが無いスナップです。今は製造されていません。
*500      石崎プレス工業(日本)
*500 は1940年より前から作られたスナップで現在でも日本国内で生産されています。センターホールがあります。
*555      Prym(ドイツ/1960年代は西ドイツ)
Prym社が開発をした1番古いタイプ(縫いつけるタイプ)のスナップです。日本は*555を輸入して、その後に真似をした製品を作りました。センターホールがありません。
なにも刻印がない    メーカー不明
刻印が無いスナップには手がかりが何もありません。調べることが出来ないのでこのスナップについてはなにも言えません。私が見た刻印の無いスナップはすべてセンターホールがありませんでした。
製造順序は *555, *500, K510, G510になり、*500, *555, G510は今でも製造されています。
ヴィンテージ衣装に付いているスナップについて
ヴィンテージバービーファミリーの衣装に付けられたスナップは、*500、 K510、G510、*555の順番に登場しました。 *500は初期の衣装に多く見つかります、G510の登場は1964年頃と思われます。私が見た限りでは*555はあまり多くありません。
たとえば*500の付いている衣装は初期に作られたと言えます。もしまったく同じラベルを持った2着の衣装があり、それらのスナップが*500とG510の場合、おそらく*500の付いている衣装の方が古いです。
しかし、*500は長く使われたスナップで1966年の衣装からも見つかるので確実に*500の付いている衣装の方が古いとは言えません。
これまでに私が見た限りでは1つの衣装に複数の刻印のスナップが使われていることはありません。たとえばシャツに2つのスナップがつく場合はそれらは同じスナップです、しかしなにかルールがあったのかどうかはいまのところ判りません。
,